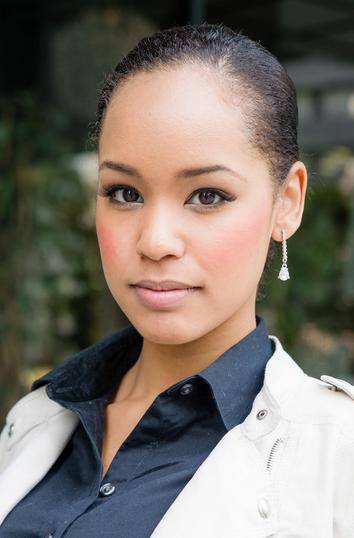 She was the reason why we were glued at her national pageant.  Many of us wanted her to win, and we rooted for her right from the start.  Yes, we first introduced her in our website and forum when no one else did.  Simply put, we just loved her even before the rest of the world had began to notice her, and we still do!
As the first Japanese woman of color who won the Miss Universe Japan title, Ariana Miyamoto has sparked controversy in her home country. A vast number of Japanese netizens were not happy that a mixed race Japanese woman will be representing their country.  She was bullied online for being a hafu (a derogatory term for Japanese of mixed race) with some urging her to give up the title. But in the international scene, Ariana became a celebrity for changing the conversation with regards to race in Japan. Her story of being bullied when she was growing up for a having a darker skin tone even up to the moment that she was crowned as Miss Universe Japan, is so compelling that she was even featured in The Washington Post, CNN and BBC. Even the official Miss Universe Facebook page had written a small tribute for her.
With all the attention that she is getting, Ariana and her story however risk of simply being a flash in the pan. The Miss Universe pageant where she will be competing is still months away with some suggesting that the next pageant might be held in China, a country that has a strained political relation with Japan. If so, her compelling story may eventually lose its luster and significance, and can easily shift into being a liability.  Parallels can be drawn to Yityish Titi Aynaw, the first ever black Miss Israel where she was the focus of too much attention for her groundbreaking achievements. She even got to meet US President Barack Obama. In the end she was a clapper.
It is crucial therefore that Ariana should not rely heavily on her compelling story. She should focus on things that really matter the most at Miss Universe. On top of the list is ensuring that her body structure would be fit for the swimsuit competition, and her catwalk is at par with the current Miss Universe standard.   Needless to say, her respective swimsuit and evening gown presentation during the Miss Universe Japan pageant were less than mediocre compared to the likes of Miss Colombia 2015 Ariadna Gutierrez, one of her fiercest competitors at this year's pageant.  She should also hone her interview skills, shifting the emphasis on the positive things about Japan because media outlets from all over the world have been banking on the negative issue of Japan's so-called xenophobic tendency.  As the country's bet to a major international competition, she must remember that she automatically becomes an ambassador of goodwill for her country, and not the other way around.  Her team must also study carefully on what kind of styling she should use because her recent appearances do not flatter her look at all, as evidenced by the bad makeup and hairstyle.
Since the legendary national director Ines Ligron had left the Miss Universe Japan organization, and the Mikimoto crown being out of the picture as a major sponsor, the country has lost direction in its Miss Universe campaign. The sash weight of Japan has shrunk considerably and it is the reality that Ariana should understand.  Going to the Miss Universe competition is not an easy task, and it is also true to all the delegates who will be competing against the world's best.  Each one has a story to tell, and the race issue has become a redundant topic. It is, in fact, overused. If MUJ does not pay attention on things that matter the most, it will be a shame if Ariana fails to enter the first cut, and it will be a vindication to all those who have been against her victory right at the very beginning.  And with that, MUJ will have everything to lose, and we certainly do not want that to happen.
So what do you think? Is Ariana Miyamoto heading towards the right path?