During the live telecast of Miss Universe 2014, you might have noticed a beautiful blonde woman waving the Dutch flag everytime Miss Netherlands Yasmin Verheijen was being called. She is actually the very same woman who was zoomed in by cameras back in 2011 when Kelly Weekers was called as one of the Top 16. Who is she exactly?
She's Kim Kotter, a name that is no longer strange to those who are avid followers of beauty pageants. As the director of Miss Netherlands pageant, she is responsible for choosing and training Dutch women for both Miss World and Miss Universe pageants. Her country is small and belongs to the European Protestant Belt – a group of industrialized and non-Catholic nations where the interest in pageantry are in the all time lows. These countries are antithesis to the European Catholic Belt which includes France, Spain and Italy where beauty pageants continue to thrive.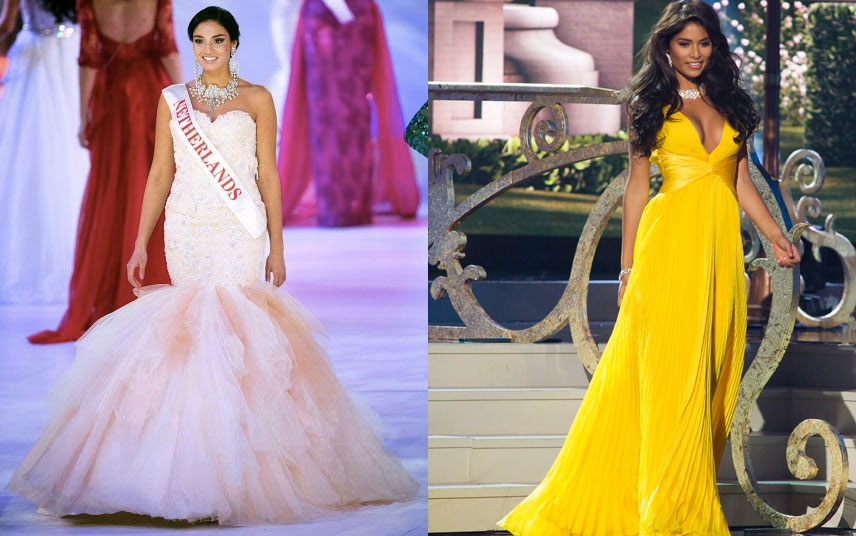 As the Dutch National Director, the odds are all against Kim. She has to struggle to find sponsorship. Not so many people will watch the finals of Miss Nederland as the only event that warrants attention in her country are soccer matches. So, unlike the bigwigs in pageant crazy nations, being the National Director of the Netherlands does not bring substantial monetary rewards and the cost would pile on as travel and wardrobe expenses could really put a huge dent on the wallet.
So what motivates Kim to continue choosing the delegates for the Netherlands? Kim was a Miss Netherlands herself and she has this pride of representing her nation. During the Miss Universe 2002, Kim almost made it to the Top 10 but she was edged out by Miss Canada Neelam Verma by a very narrow margin. Kim has a vision and with that vision she turned things around. At Miss World, the Dutch delegates began landing in the semis. Before she handled the Miss World franchise, Netherlands was in a dismal state with just few placements like in 1990 and in 2002. Under her supervision, the Netherlands made the cut in the years 2010, 2012, 2013 and 2014.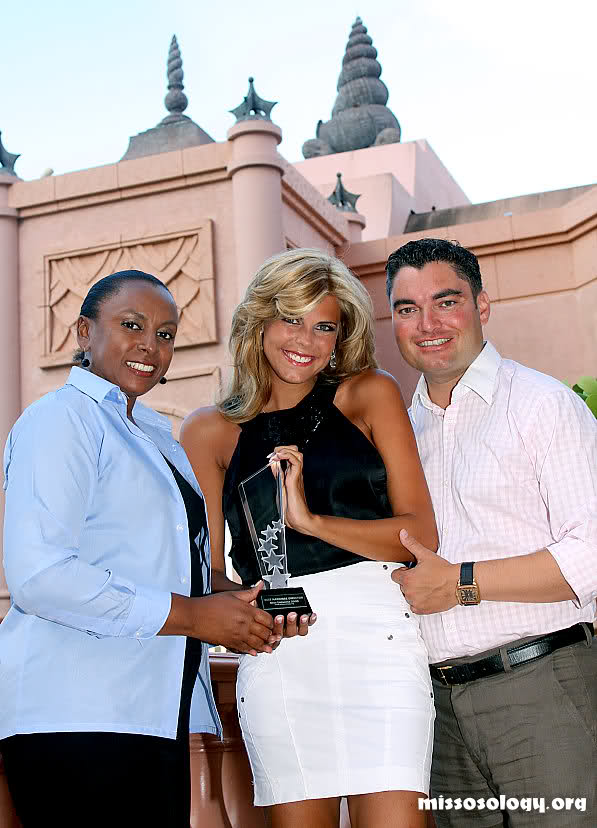 The Dutch National Director Kim Kotter is a recipient of a Missosology award
In 2011, Kim also orchestrated the end of the long Dutch drought at Miss Universe. And this year, for the first time since 1992, the Netherlands was able to penetrate the Miss Universe Top5/6! Kim's hard work are beginning to pay off and despite she started with so many failures, she was unfazed. Back in 2009, Missosology awarded her a trophy for her dedication as a National Director.
The year 2014 is banner year for Kim. She decided to choose two winners with Tatjana Maul competing at Miss World and Yasmin Verheijen competing at Miss Universe. Both of her contestants made the cut with Tatjana named as one of the Top 25 at Miss World and Yasmin even went as far as the third runner-up of Miss Universe – the highest achievement of Kim to date! It is indeed a momentous occasion for her and her country.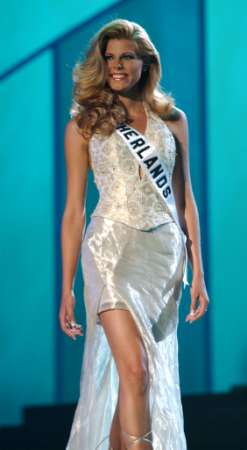 Kim loves her country as she too represented it
Truly, being a National Director is not just a job. It is a passion. It is not just about a money making process but having pride and joy with your work. Kim loves her dear Netherlands for it is the country where she was born and bred and the country that she had represented. When one is motivated by the love of her own country, all the obstacles are nothing. If you are a National Director of your own country, you have the best interest of your contestants at heart. Kim Kotter is indeed the epitome of a National Director with grit, character and a vision.