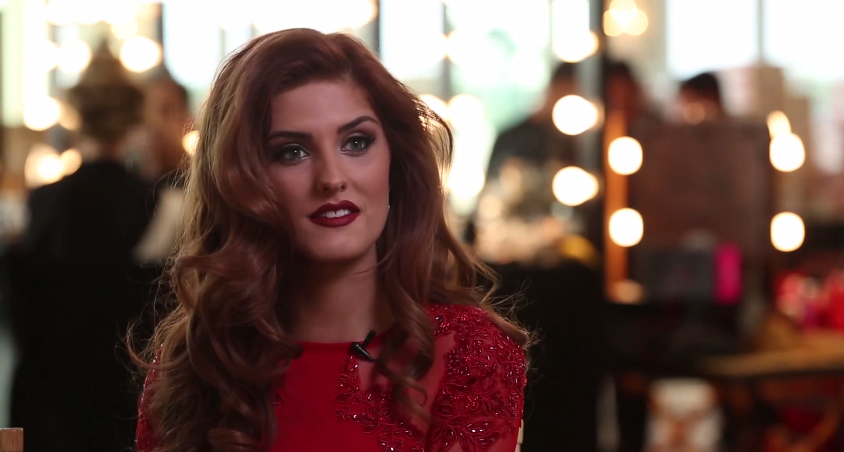 1.) Miss Serbia Andjelka Tomašević – She has an über-sweet personality, genuine and wow she is not only photogenic, this girl is extremely telegenic too! The camera just loves her, and one will be naturally drawn while simply looking at her.
2.) Miss Australia Tegan Martin – Very engaging, she was very bubbly and was able to convey her answers with crisp clarity. You can tell that she is intelligent and spontaneous.

3.) Miss South Africa Ziphozakhe Zokufa – We love the Mzanzi accent, and how she had her greetings in both Afrikaans and Zulu. She is the embodiment of the democratic and confident South Africa!

4.) Miss Jamaica Kaci Fennell – The "Halle Berry" of the competition, she has the accent that is the envy of the English world. She is just sweet and at the same time elegant. Her symmetrical facial feature is further highlighted in the video.

5.) Miss Venezuela Migbelis Castellanos– She's really easy-going and you can tell that this girl is pressure-free. She just let the words flow and her facial expressions are just adorable.

6.) Miss Philippines Mary Jean Lastimosa – She's calm and very in control of the situation and that makes her shine in the interviews. Very queenly and confident, and her beauty simply radiates. She tried her best to go away with the usual fake Hollywood accent that her predecessors had been accused of.

7.) Miss Japan Keiko Tsuji – Confident speaker, and she really knows what she is talking about. Keiko's strength even before she was crowned as MUJ 2014 has always been her ability to organize her thoughts, and putting them into words. She is truly a surprise!

8.) Miss USA Nia Sanchez– Well she is down to earth, spontaneous and just lovely. She did splendidly especially since her face simply lights up every time she stresses a word.

9.) Miss Mexico Josselyn Garciglia – Confidently beautiful! And that's what Miss Universe is all about.

10.) Miss Colombia Paulina Vega – This girl has a face that could launch a thousand ships. She is very candid in her answers and one has to love how she emphasized her dancing passion.