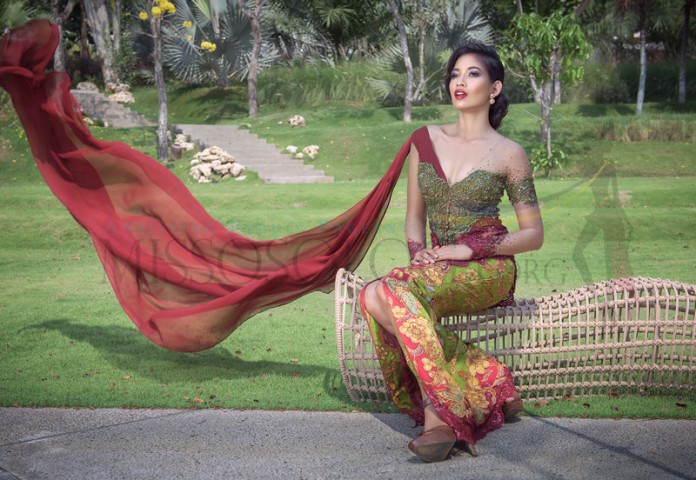 Indonesia [Big4 Rank No. 71] has been rising dramatically in the rankings as it has now flexed its muscle in the world of pageantry. With two straight semis placements in Miss Universe, there is a huge potential that Indonesia will make it to the Top 5 or perhaps win the crown. With Anindya Kusuma wearing the Indonesia sash this year, that potential will turn into reality. And it helps a lot that she is a dead ringer of Janine Tugonon and is being trained by Whulandary and Elvira. Here, Anindya talks to Missosology.
1.) How would you describe yourself?
I'm the kind of person who loves to explore with spirited curiosity and practical realism, independent, loves challenge and a risk taker. I'm a very active person who is not only into sports like badminton, basketball, soccer, and running but I also play bass. I was a TV host for an adventure program and a supporting actress. I lead an international organization called AIESEC, and I participated in the Ship for Southeast Asian and Japanese Youth Program.
2.) What makes you proud as an Indonesian?
Indonesia has 17,504 beautiful islands including Bali, 740 ethnic groups, 583 languages and dialects. So when you come to Indonesia, you will learn so many cultures. Besides the beauty of its nature and society, the struggle of Indonesian heroes has showed me the essence on why should I be proud as an Indonesian. I am so grateful to live in the country that respects the unity in diversity, and a country that loves and values peace.
3.) Indonesia won the national costume awards in all Big4 pageants in 2014, what would expect about your national costume this year?
Last year, the national costume that was designed by Jember Fashion Carnaval team has showed the beauty of Indonesia through many aspects. This year, Indonesia is focusing to strengthen our maritime tourism, and mental revolution. I imagine that the national costume of Indonesia that I will wear in the 64th Miss Universe is not only about the beauty of Indonesia but it will also show the power of leading the revolution of Indonesia.
4.) Pageants analysts have pointed out that you look like Miss Universe 2012 first runner-up Janine Tugonon. What is your reaction to this?
For me, Janine Tugonon is a smart and talented Asian woman that Miss Universe Organization and all of pageant fans are lucky to have her. I was surprised when I opened my Instagram notification then I found out many pictures of me comparing to Janine. I thought that it was all me! [Laughs] I think physically our face have similarities. Both of us were born and grew up in an archipelagic country but both of us must have different personalities that make us unique just the way we are.
5.) Do you think that swimsuits are still relevant in beauty pageants?
Swimsuit competition promotes fitness and healthy living. As I know, beauty pageants do not focus only in swimsuit competition. It defines beauty from the women that have intelligence, good behavior, and beauty inside out.
6.) What is your breakfast like?
Breakfast is the important part to begin our day because after long sleep, our body needs nutrition and energy to do activities during the day. So it's better to have breakfast with healthy and high nutrition food. I have egg, fruits, honey, and mineral water for my breakfast.
7.) How do you keep your body toned?
Toned body is what all the women in this world dream to have. To have toned body is not to look sexy and beautiful but the important thing is to be health and having a fit body. I love to do a lot of sports, not only gym but also running almost everyday and basketball twice a week. Being active in sports is not the only solution to keep our body toned, so I need to be consistent in consuming healthy and high nutrition food.
8.) Indonesia has a two year unbroken streak at the Miss Universe semifinals. Do you felt pressured in any way to match the performance of your predecessors?
Right after I was crowed as Puteri Indonesia 2015, I thought so. My predecessors had done a great job in the Miss Universe pageant. Yes, I feel pressured in the beginning, but then I think I just need to train everything that I need to improve and also I need to be coached by Whulandary and Elvira. It's not a pressure anymore, but it's a challenge that I need to break even better.
9.) Miss Universe was on crisis right because of boycotts by several countries in response to comments by Donald Trump directed against Mexican immigrants. What is your opinion about this?
It's actually a political situation that we cannot control and I cannot say many things about it. Miss Universe is handled by Miss Universe Organization, which is a private party and not related to politics. So, Miss Universe will still remain as stepping stone for women all over the world to be empowered.
Special thanks to Mega Angkasa for facilitating the interview. Missosology wishesAnindya Kusuma the best of luck at Miss Universe 2015.