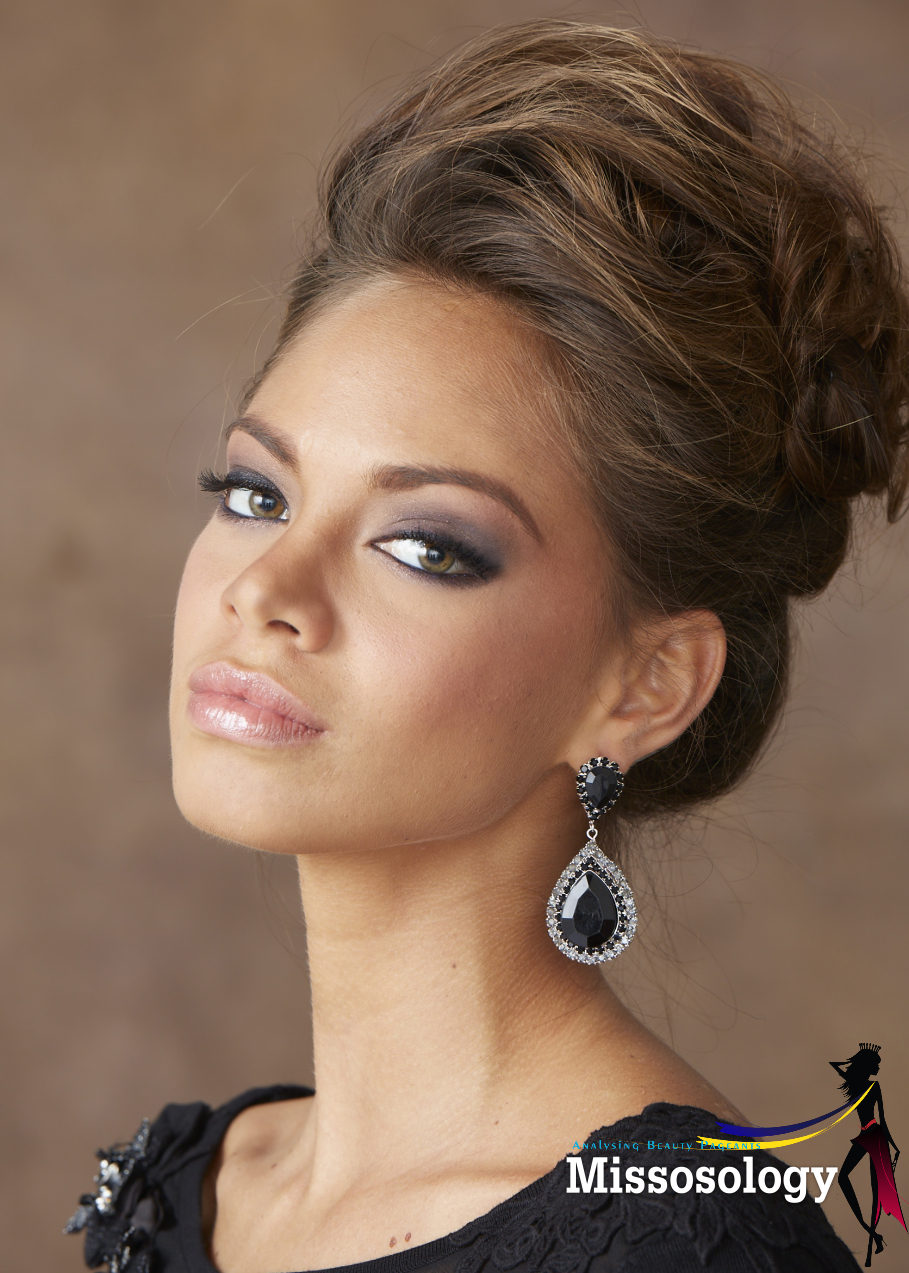 She's eminently likable, and has a body to kill for — she's got sweet, outgoing personality and sultry, tropical looks which make for an irresistible combination, and she can switch from one enticing mode to the next with ease. Her exotic appearance and gentle, come hither look have made her one of the top favorites for the crown – Hinarani's sex appeal is off the charts!
Who do you think is the sexiest man alive?

For me, he may nor be the most gorgeous man on earth, but he is so charming and and sexy. And as an actor , I just love the approach of acting in his playing in his roles, I'm talking about: Ryan Gosling.

Who is your all-time favorite Miss Universe, why?

Of course Christiane Martel our only Miss Universe from France, because she managed to have a full life with three children, she is still married with her husband since more than 52 years and Christiane is today more than ever an amazing beautiful lady and a fantastic human being .


What is the most difficult thing you did to prepare for the Miss Universe pageant? Why did you do that?
I think that the most difficult part, besides the physical and gym training was to learn how to do hair & make-up on my own. I'm a very natural girl and I'm not used to those things, but with a good training and practice with my artistic director Arnaud Sol- Dourdin, I'm starting to master and get to enjoy it. I had to do this because during the 3 weeks of Miss Universe, I have to prepare myself to be at my best every day.
What has been the biggest disappointment in your life & how did you deal with it?
May be it's that I haven't said enough: "I love you" to a dear friend that passed away recently. So I say I love you to this person every day in my prayers.
Describe your fashion sense & style.
I like to mix different styles and play with accessories . I would describe my style as casual with a touch of exoticism and elegance " à la française".
What does loving a boyfriend mean to you?
I think like many other human being , love is the most important present in life. So when you love someone as much as this person loves you, this is the best feeling, it's simply wonderful. That's what love is all about.
Any beauty secrets that you would like to share the readers of Missosology?
Besides treating my hair twice a week with monoï oil, I also make a mask for my face once a week for 30 minutes. This mask is made also with monoï oil and fresh mango. Its fantastic to rejuvenate, and moisturize the skin; When you are tired it makes wonders on any types of skin. You should try it.
Tell us about the most beautiful place in your country.
There are many beautiful places in my country , but I would say Paris. Besides being the most beautiful and visited city in the world, Paris has still her secrets even if you live there for several years: you discover new little streets and areas older than more than 8 centuries, very charming , full of an incredible historic atmosphere. And of course the amazing beaches of Tahiti ( french polynesia ) where I grew up.
Tell us about your mantra or secret to success.
I think that my secret of success is the love that my parents, family and friends gave me, and the positive energy this feeling is giving me.
When was the last time you cried? Why?
The last time I cried was last november 9th when my dear grandmother passed away. I had such a great relationship with her, we were very close and sharing many things together. She was a great and fantastic loving person. She is still close to my hart every day. And when the organisation gave me the date of the final of Miss Universe : The 9th of November 2013, I was shocked !!! Then I realized that it was a sign from her, telling me that she will be by my side during this important day of my life.
What do you like to do for fun with friends?
I like to go by the sea side in summer and do any kind of beach sports. I also like to go to the theatre and finish the day talking around a nice table in a good restaurant.
Miss Universe Organization now allows transgenders to compete in their pageant system, what's your take on this?
I think that if a person always been a woman in her heart and soul, and if that person does such an operation to have a feminine body to be in accordance to her heart and soul, and that she has the legal papers for her identity, then I don't see anything wrong with it.
What would you say to someone who thinks you're not qualified or pretty enough to represent your country in Miss Universe?
Everybody has the right to think what they want, but if they think I'm not pretty or good enough ; I will just tell them that I'm a loving and a good caring person and I will give all my heart to represent my country with proud and dignity .
What qualities do you feel you have that would make you a great Miss Universe?
I'm a daughter of a French father with blue eyes and a native Polynesian mother, so I'm mixed European, asian, african an American and my blood can't be more universal than that: I represent all the women of the universe. Besides that I'm full of positive energy , ready to share it with all the person I'll meet.

Hinarani de Longeaux, Miss Universe France greets everyone on Missosology!
Missosology wishes Hinarani the best of luck in her Miss Universe quest!