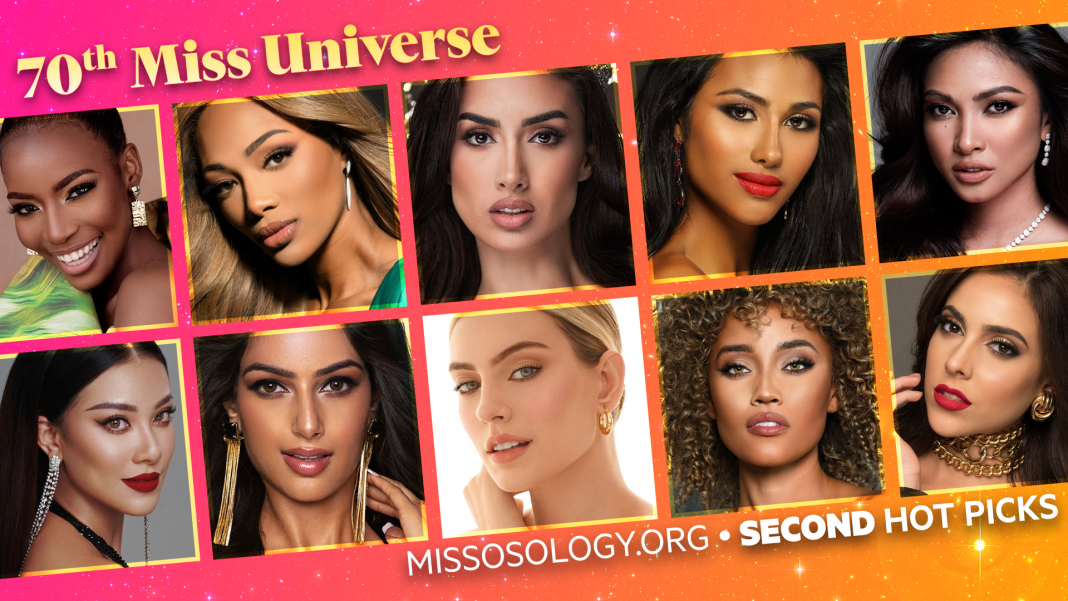 The 70th Miss Universe competition is now on its homestretch, and we are just a day away until the all-important preliminary competition. The overall mood has become more intense with the usual sweet and bubbly looks slowly changing into gentle fierceness, as these candidates are now feeling the pressure of winning the elusive crown.
Now, on to out pre-preliminary hot picks, let's get to know who have sustained the momentum and became the hottest items among our pool of correspondents and experts. Take note that while we have already confirmed a Top 16 format for this year's competition, we have decided to still show 21 faces on our Hot Picks, to highlight the ladies who have shown great potential since arrivals.
For the first time, the stunning Sarah Loinaz of Spain is leading out Hot Picks. Sarah is proving that she is indeed a force to reckon with. She is one of the most consistent delegates at this year's pageant. We have never seen Sarah with a bad wardrobe, and her makeup and styling has always been spot on. With Sarah's lovable and vivacious personality and dedication to her ocean and marine life advocacy, we expect Spain to finally win the crown after nearly five decades.
Up on the second spot is India's Harnaaz Sandhu. Since winning her national crown, Harnaaz has been consistent in always looking the best in whatever occasion. She always catches everyone's attention with her impeccable stance and graceful moves. She is also fluent in English, which makes it even easier for her to enter the final cut. India's renaissance has finally arrived at Miss Unvierse, and Harnaaz has all the goods to seal it with a victory.
Placing third is Puerto Rico's Michelle Marie Colon. Her popularity is soaring high among pageant aficionados. Michelle may not be the most photogenic, but she has a winning aura whenever she speaks and appears in public. Indeed, the power of the Puerto Rico sash in Miss Universe cannot be underestimated.
Paraguay's Nadia Ferreira has slid to fourth place, but that doesn't mean this stunner has lost her luster. She remains a consistent standout with her beauty and bearing. While we believe that Nadia is perfectly capable of becoming a great Miss Universe due to her physical attributes, character and intelligence, what is going to hurt her chances of winning is the fact that her country has no sash power at Miss Universe.
Finally, rounding out the Top 5 for now is the gorgeous Kedist Deltour of Belgium. The Miss Belgium organization made the right decision of sending Kedist to Miss Universe because this is the pageant where everything about her will be appreciated: beauty, body, personality and an interesting story (was born in Ethiopia, was sent to an orphange and was adopted by a Belgian family when I was 10 years old). Kedist is one of the most photographed delegates this year, and it is no surprising given her beautiful face!
Check out the full list below:
1 Spain, Sarah Loinaz
2 India, Harnaaz Sandhu
3 Puerto Rico, Michelle Marie Colon
4 Paraguay, Nadia Ferreira
5 Belgium, Kedist Deltour
6 Venezuela, Luiseth Materan
7 Brazil, Teresa Santos
8 South Africa, Latela Mswane
9 Colombia, Valeria Ayos
10 Philippines, Beatrice Luigi Gomez
11 Portugal, Oricia Dos Santos
12 Vietnam, Kim Duyen
13 Chile, Antonia Figueroa
14 USA, Elle Smith
15 Japan, Juri Watanabe
16 Dominican Republic, Debbie Aflalo
17 Denmark, Sara Langtved
18 Thailand, Anchilee Scott-Kemmis
19 Cameroon, Michèle-Ange Minkata
20 Sweden, Moa Sandberg
21 Nepal, Sujita Basnet
22 Great Britain, Emma Collingridge
23 Mexico, Debora Hallal
24 Australia, Daria Varlamova
25 Argentina, Julieta Garcia
26 Haiti, Pascale Belony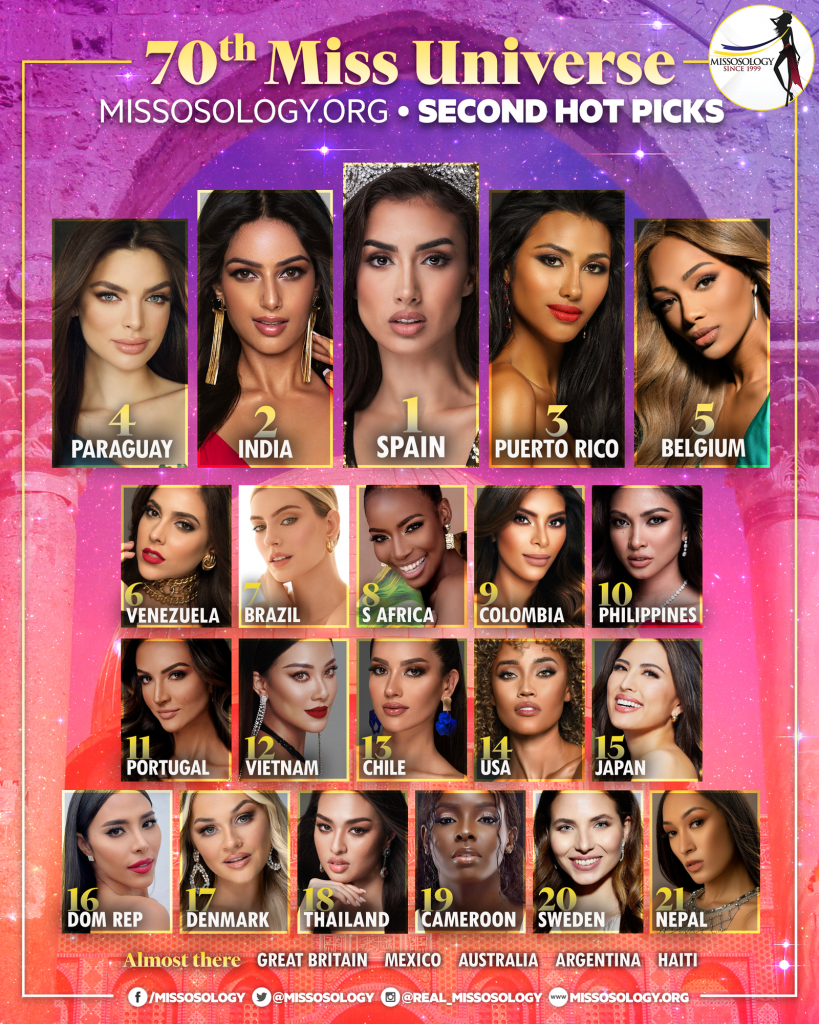 Follow Missosology's social media pages for more updates. Missosology.Org