Graphics by Krizza Enriquez @kxxenriquez
Texts by R. Galvez @the4ofustraveling
The biggest question these days for Miss Universe fans echoes the one back in 2016 and 2014. Is Miss Universe going to be held this calendar year or is it going to be held in January 2020? The air of uncertainty puts everyone on edge but the steady stream of fantastic candidates is quite reassuring. No one can deny that Miss Universe remains the most anticipated among the Big5 pageants whether it will skip the calendar year or not!
For the very first Hot Picks of Missosology for Miss Universe 2019, Miss Thailand Paweensuda Drouin tops the list. Last year, her country did an excellent job of hosting Miss Universe. Interesting to note that on the last two occasions that Thailand hosted the pageant, the local girl was always left out. Last year though, Sophida Kanchanarin performed splendidly going as far as the Top 10. This underlines the fact that Thailand is pretty much hungry for the crown which they last won more than three decades ago.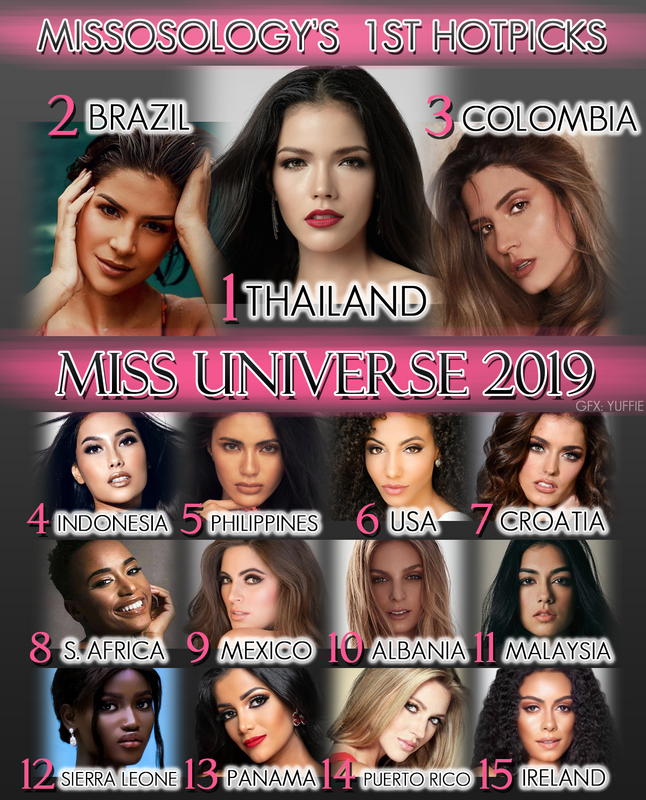 Paweensuda Drouin is a perfect candidate for Thailand. She is adept with the English language (as fluent as Porntip Nakhirunkanokin fact) and she is a very experienced beauty queen (she competed at Miss Earth 2017 where she is one of the Top 8). There is no doubt that she is Thailand's best opportunity to win its third Miss Universe title.
Thousands of miles away from Thailand, another country is equally hungry for a Miss Universe crown. Like Thailand, Brazil is also seeking its third title and like Paweensuda, the country's Miss Universe 2019 delegate has robust experience in the world of beauty pageants.
Miss Brasil 2019 Júlia do Vale Horta has impressive curriculum vitae having participated in Miss Mundo Brasil, Reinado Internacional del Café and Miss Tourism International pageants. Her vast improvement caught the eye of pageant analysts. She thus occupies the second place in the list after being tagged as Brazil's strongest Miss Universe candidate since Natália Guimarães!
On the third place is Miss Colombia Gabriela Tafur. Watching her onstage and on TV interviews, one can be reminded of Miss Universe Paulina Vega. Her confidence is oozing and her beauty will surely strike terror to her competitors. She had been working hard on her advocacy which is helping victims of crime and she is a lawyer by profession. Our panel of beauty experts think Miss Universe might love this fantastic lady!
Another Asian beauty has a strong shot at the crown and she is no other than Miss Indonesia Frederika Alexis Cull. Let's be honest that the Achilles heel of most Miss Universe Indonesia titleholders is the language barrier. Frederika will not have this kind of problem as her English skills are excellent. On top of that, her personality is radiant and she has a contagious smile. Just watch her video interview with Missosology and one can easily spot that she is a strong contender for the Miss Universe 2019 title. CLICK HERE https://youtu.be/tLTSiB2UzWs
Completing the Top 5 is Miss Philippines Gazini Ganados. If anyone thinks that the Philippines will be letting their guard down just because they won the crown last year, think again! Gazini is now under rigorous training and in a short interview with Missosology, her improvement is very evident. CLICK HERE https://youtu.be/CxWk6I0Stk0 Exactly a decade ago, Venezuela pulled off the first – and so far he only – back-to-back win at Miss Universe. Can the Philippines repeat such kind of feat?
Here's the complete list of Missosology's Miss Universe 2019 First Hot Picks
1.) Thailand – Paweensuda Drouin
2.) Brazil – Júlia Horta
3.) Colombia – Gabriela Tafur
4.) Indonesia – Frederika Alexis Cull
5.) Philippines – Gazini Ganados
6.) USA – Cheslie Kryst
7.) Croatia – Mia Rkman
8.) South Africa – Zozibini Tunzi
9.) Mexico – Sofia Aragon
10.) Albania – Cindy Marina
11.) Malaysia – Shweta Sekhon
12.) Sierra Leone – Marie Esther Bangura
13.) Panama – Mehr Eliezer
14.) Puerto Rico – Madison Anderson
15.) Ireland – Fionnghuala O'Reilly
Bubbling up:
16. Portugal – Sylvie Silva
17. Malta – Teresa Ruglio
18. Vietnam – Hoang Thuy
19. Bolivia – Fabiana Hurtado
20. New Zealand – Diamond Langi