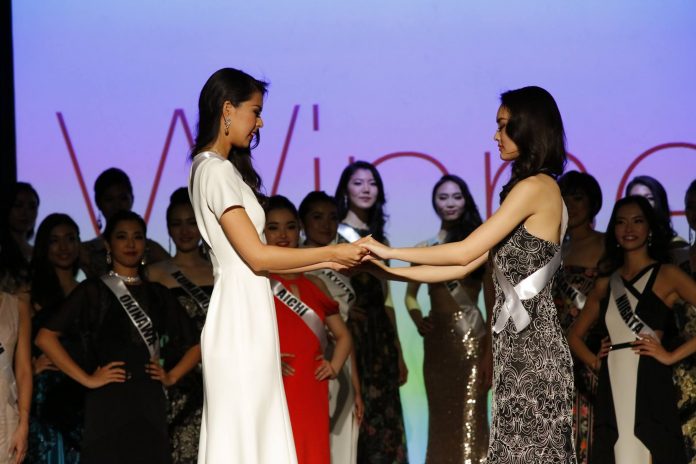 Post pageant review: Miss Universe Japan 2017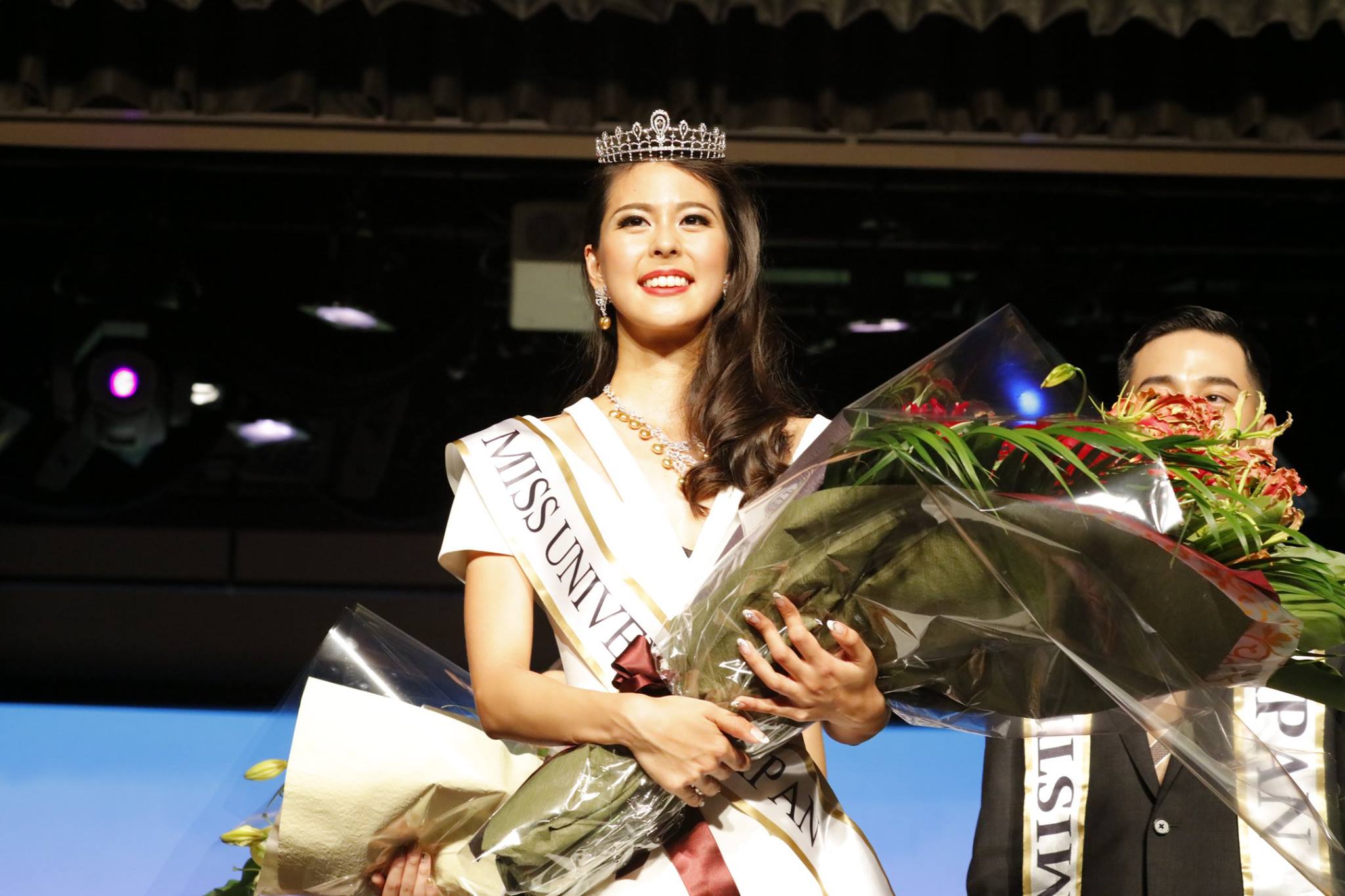 This year's Miss Universe Japan, which was held last July 4th in Tokyo, ended with a bang.   (Complete result click here) Thanks to the expected win of the early favorite Momoko Abe of Chiba, news outlets from everywhere gave the pageant a much needed boost and publicity.  It was almost of the same level as that of Ariana Miyamoto's win back in 2015.
Two weeks prior to the finals, the 46 delegates from all of Japan's prefecture, except Kochi, came to Tokyo for the traditional beauty camp and rehearsals at the posh Hotel Chinzanso.  During those weeks, the girls never had the chance to leave the hotel premises nor did they have any public appearances. So, unlike other national pageants where the contestants always have the chance to interact with the fans and local people, the Miss Universe Japan delegates always get "locked up" at their hotel with no outside interaction.  Some would mention "safetiness" as the primary reason for that system. However, for a country that is considered as one of the safest in the world, such reasoning is quite ironic.
Nevertheless, most of the delegates were active in their respective social media accounts. In addition, the MUJ staff also offered some live stream and quick updates on their Facebook account, so that gave the fans some glimpses of what was going on.
The judging system
Before analyzing the pageant, allow us to explain the new judging system of MUJ.
 Speech tournament where all the 46 delegates were grouped into pairs (one delegate represented red flag, while the other one was white).  Only one of them would move on to the next round based on the number of flags raised by the board of evaluators.  Out of the five judges, if a delegate got at least three flags raised on her favor, she would win that round.

Momoko Abe during the speech tournament round.

 From the 23 eliminated contestants, three would be considered as wild card finalists after receiving high scores during the preliminary judging.
All of the 26 remaining finalists were grouped into pairs, again, for the dance session while wearing skimpy bikinis.  Only one would survive based on the number of flags raised in her favor (same as the speech round).
Out of th 26, the remaining 13 finalists would wear sponsored evening gowns and a separate board of judges, which included MUJ 2003 Miyako Miyazaki, would determine the Top 5.
The Top 5 finalists would answer a question from the judge that she picked up, and based on their respective answer and overall performance, the final ranking was decided.
The good.
There is a tremendous focus on speech and communication skills at this year's MUJ pageant, and that is much appreciated.  At the international level, it is vital to have good speaking and media relations skills because it forms a major part of the duties and responsibilities of a Miss Universe.  It was also quite interesting to hear all of the delegates talk about their dreams and aspirations. That gave the audience and the contestants some sort of personal connection, especially when the delegate became emotional on stage.
Another thing that was commendable about this year's pageant was the transparency of the judging from the speech to the bikini dance sessions.  It was quite nerve-wracking which color would the judges raise, especially when it's a close battle.  Such system was never done in any pageant before, so it gave a new level of excitement to the fans and supporters.
The live stream!  Yes, we were very thankful for the free live stream with the perfect angle.  MUJ is definitely the premiere pageant in Japan and it is the one that has the most number of followers.  Fans who cannot afford to pay the $400 ticket will have the chance to watch and cheer for their bets, even from afar.
The bad.
We did not understand how the pairing for the tournament round was decided. According to our reliable sources, the delegates had no idea how the pairing was determined. None of them was asked to draw lots, like the way the High School Baseball tournament is being conducted here in Japan.  So, in way, it made us think that the MUJ staff did their best to form a perfectly balanced match up.  It is no coincidence that one stronger delegate was paired with a weaker one, making the decision obviously in favor of the stronger delegate.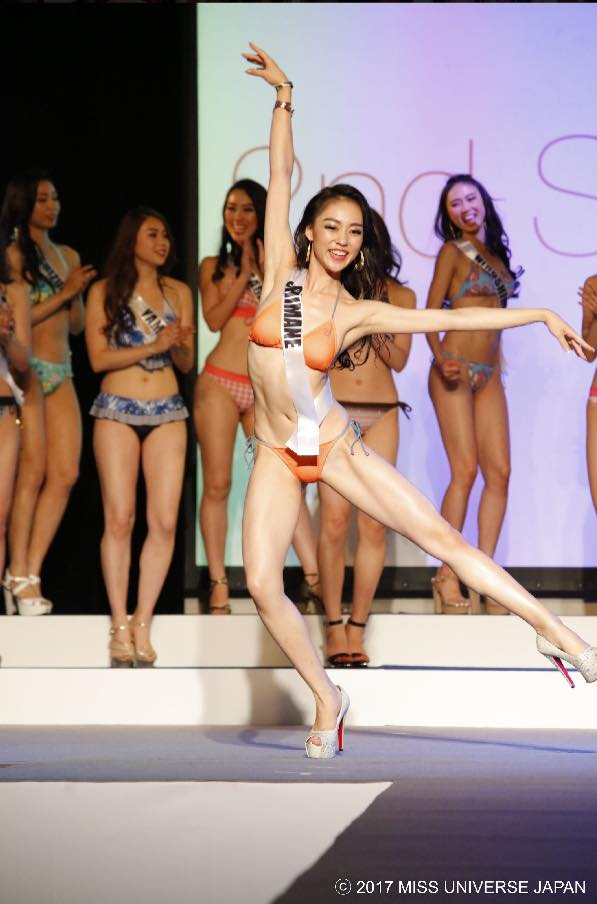 While we admire the emphasis on intelligence and communication skills, we thought that forcing the Top 26 delegates to have a dance showdown while wearing a bikini was totally unnecessary.  It did not help, at all, that most of the delegates were not comfortable with such system.  Needless to say, they were left with no choice but to do it because it's their dream to go to Miss Universe.  Some of the delegates confessed that they felt harassed or violated while being judged by male evaluators.  A female sponsor, in fact, was quoted as saying that "it is so painful and embarrassing to watch the young ladies do that."
Another thing that we did not like were the random distribution of evening gowns.  Some had free flowing dresses, others had demure and classy design, while there were those who had no choice but to wear a gown that looked like she was going to a funeral.  It was also quite suspicious that the eventual winner, Miss Chiba, had to wear the most classy gown, with perfect accessories to match it.  Despite how transparent the judging was during the first two sessions, this portion had raised suspicions that the show was somehow being cooked in favor of Miss Chiba.
The question and answer portion… (side note)
With the rigid screening that was all too perfect to be true, MUJ 2017 came up with these five delegates: Akita, Tokyo, Nagano, Ehime and Chiba. When all of the Top 5 finalsts were done with the Final Q&A, none of them was considered good enough to leave a strong impact.
Miss Akita, Tomoka Konno, gave the weakest answer as to who was the most influential person in her life is.  She answered "Marilyn Monroe".  Regardless of how she justified her answer, that simply reflected how shallow and totally clueless she was with what she was talking about.  What a waste of space in the Top 5!
Next was Tokyo, Ayaka Koshiba, who was asked about her beauty regimen.  Tokyo's response to her question (what in the world was the judge thinking by asking her the longest question we have ever heard in the history of pageantry?) was good at the beginning. She emphasized on inner beauty, on how being beautiful starts from the heart. However, she went on and on until she extended her speech to one minute and 36 seconds.  It was just too long.  Not to mention that her toughts were totally scattered, with no core point.  So, after that, we thought that she was definitely out of crown contention.
Miss Nagano, Natsuki Konishi, whom we thought was a dark horse and a pleasant surprise in the Top 5, came next.  She was asked to describe her "idea of a properous life".  Although her answer was good as she personalized and connected it with her life story, we thought that she was too nervous.  For her, being able to work hard to achieve her personal goal, and trying not to be influenced or affected by the achievement of others, was her idea of a prosperous life.  The nerves killed her chances, so being fourth place was understandable.
Then came Miss Ehime, Kanako Fukushima, who is an aspiring physician, was asked what she would do if she became Miss Universe.  Well, at the back of our mind, she had to become Miss Universe Japan first before she should think about becoming Miss Universe!  But anyway, she was poised enough to relate her profession, which is being a doctor, and that she would do her best to save as many lives as possible.  It was a short, concise and well-kept response, but sadly, no matter how composed she was, it's just enough for second place.
Which leads us to the eventual winner, Momoko Abe of Chiba.  The judge was very specific about his question, which pertains about taking care of teeth.  But just like the previous four delegates, Momoko opened her mouth by saying "thank you for that wonderful question."  Pageant girls, beware of this!!!  Do not use "Thank you for the wonderful question" if such statement has been used a million times before you, and most especially if the question is NOT that wonderful!  What is so wonderful with being asked about your teeth?  Anyway, Momoko handled her question with a safe response, by saying that her teeth and her smile form part of her charm point, and she is very thankful for that.  Was her response crown worthy?  Well, the judges thought so, and they obviously ignored how many times Momoko almost got lost in relaying her thoghts with fluidity.
Overall, the absence of good speakers in the Top 5, such as  the delegates from Yamagata, Shimane, Kanagawa, Okinawa and even Kyoto, made it a lot easier for Momoko to easily win the nod of the judges.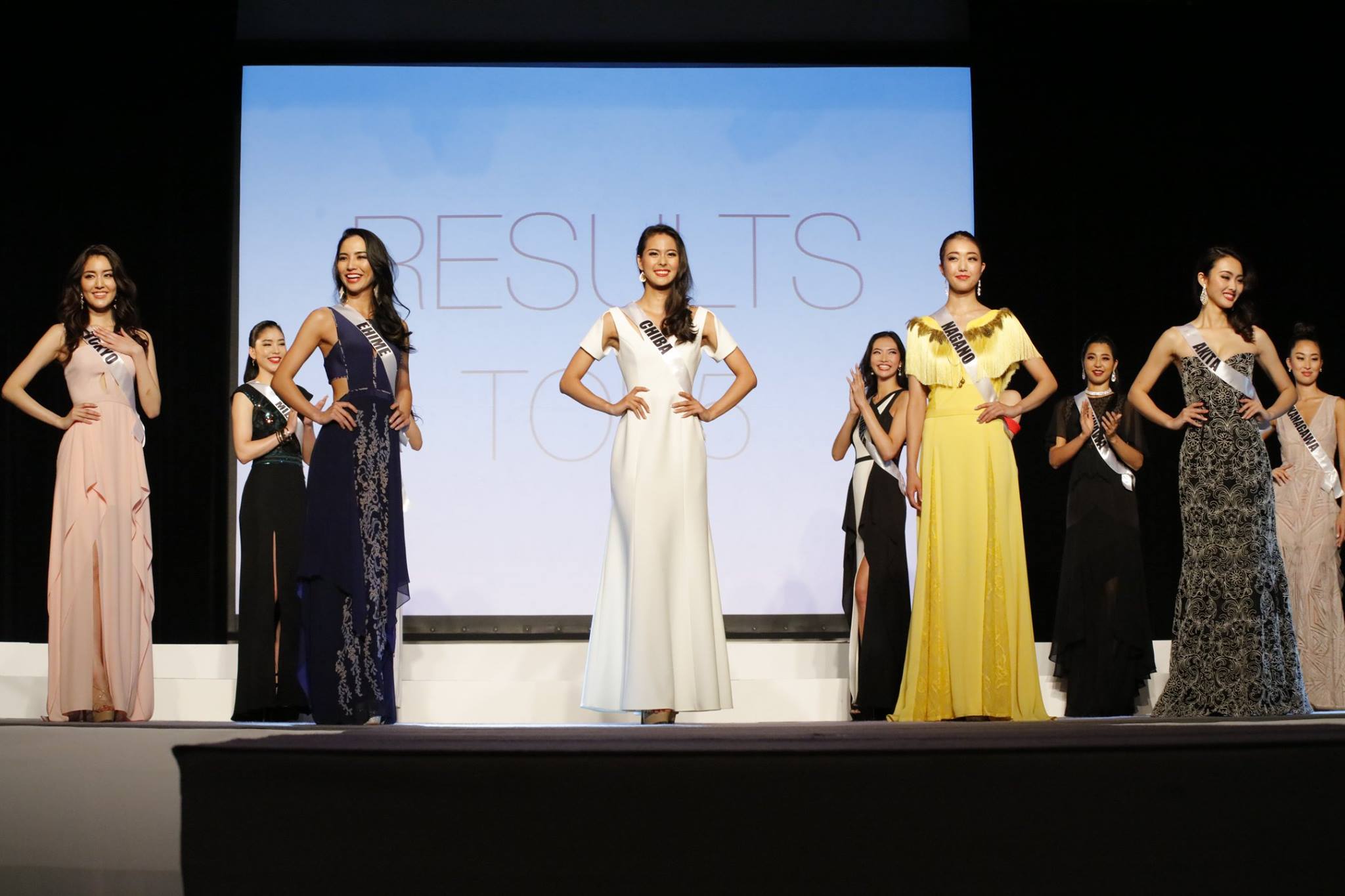 The expected.
Our final hot pick had pegged Miss Chiba, Momoko Abe, as the one to beat, and we predicted that correctly.  This year's MUJ final result was not surprising at all.  Since her crowning as Miss Universe Chiba 2017 last year, all eyes were set on Momoko before the actual MUJ competition even started.  During the finals, we thought that unless she fell or screw up with her speech, she would win the crown no matter what.  How could we be so right!  Momoko did her homework, and she made no mistake during the finals.  It was a victory that was reminiscent of how China won the Miss World crowns in 2007 and 2012.
As for the Top 5 finalists, we started to feel that the list was already pre-empted, considering how their dresses stood out compared to the eliminated delegates. To make it even more obvious, the host called Miss Chiba the last, putting her at the middle of the pack.  Sometimes, at the actual Miss Universe stage, that is considered a signal that they want the girl to win.
Interestingly, many observers – and even the contestants themselves – believe that the whole tournament system was designed to make Momoko win.  Her first rival at the speech tournament was the unmarked Miss Toyama, which made it easier for her to go to the next round.  During the bikini dance session, she was paired against Miss Fukushima. The verdict was 5-0 in favor of Chiba, although Fukushima was obviously the better dancer.  Perhaps they paid more attention on the face value rather than the dance itself.  Coincidentally, maybe out of guilt, the MUJ staff had decided to give Miss Toyama the Thylakol Special Award.  Meanwhile, Miss Fukushima was given the Leg Slim Special Award.  We thought that this was done as some sort of consolation prize for the unfortunate situation of being paired against the eventual winner.
Conclusion
With all these being said, we felt bad for the rest of the contestants this year. It was as if, no matter how much they tried, all they could aspire for was a runner-up or Top 5 placement at best. This was indeed Momoko's year.  Her famous parents definitely had an effect on her winning, but that's not the only reason why she won.  Her determination and luck paved the way for her eventual victory.  Just like what she said in the press interview after her crowning, now is her starting point.  She still has a lot of things to improve, and there is still time.  While in Japan, she may be labeled as the only daughter of two famous parents, but in the international arena, she is a nobody.  Except for Japan, the whole world does not care that his father is Yuji Abe.  At the world stage, she needs to stand on her own feet and be consistently strong and confidently beautiful.