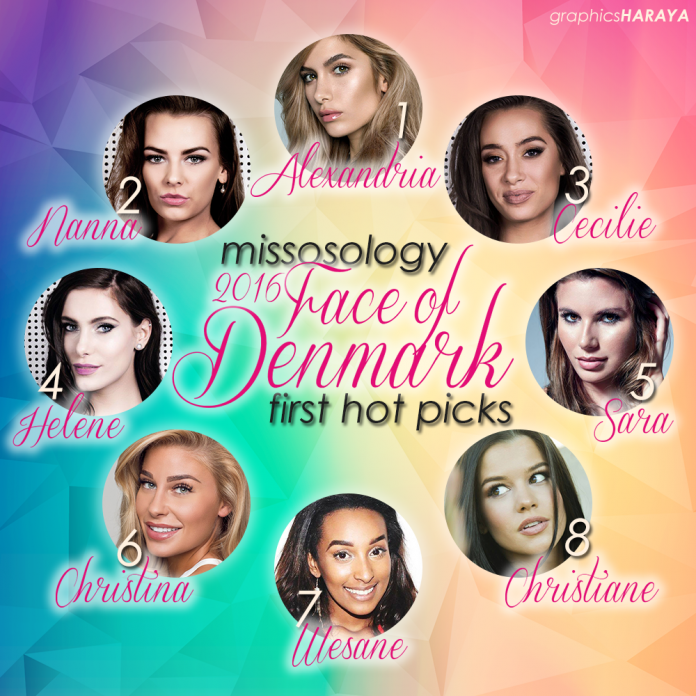 There is no stopping Denmark as the country moves all full ahead towards the challenging year. The Face of Denmark pageant is making sure that the country is well represented at Miss Universe, Miss International and Miss Earth for the year 2016. With the finals coming up, Missosology-Scandinavia came up with its first Hot Picks.
Miss Universe Roskilde Alexandria Eissinger tops our first-ever hot picks for Miss Universe Denmark 2016 competition. Alexandria caught the eyes of our pageant analysts for her Hollywood-like glam that will have a strong impact should she be lucky enough to represent Denmark at Miss Universe. She has competed at three international pageants, with the most experience abroad, she is a strong competitor.
In second place, Miss Universe Esbjerg Nanna Vestergaard. With a fresh face and a sophisticated beauty, Nanna exuded dedication and energy. She will definitely fare well in the competitoom.
Cecilie Tausen, Miss Universe Østerbro, is currently third in our ranking. She spent a year in Australia growing up, so a bit of that Southern Hemisphere infusion will help her go far.
Helene Hylling Jensen, Miss Universe Køge has a strong look that is hard not to pay attention to. Her well-shaped lips and blue eyes are simply mesmerizing.
Sara Skals Danielsen, Miss Universe Odense is a mix between Olivia Culpo and Miss Colombia 2015! Her tanned skin and honey brown hair is just what Miss Universe loves!
Miss Universe Copenhagen, Christina Mikkelsen has the face, but does she have the whole package? Her styling hasn't changed since she first began competing, but she has the classic Danish look the rest of the world longs to see.
Wesane Ashine, Miss Universe Bronshøj, is a unique stand out given her Ethiopian heritage, and beautiful smile. Her exotic beauty simply makes her a stand-out from the rest.
Christiane Krøll, Miss Universe Lyngby, will be a strong candidate given her extensive background in acting and time spent in Los Angeles. Her natural beauty would be appreciated at Miss Earth.