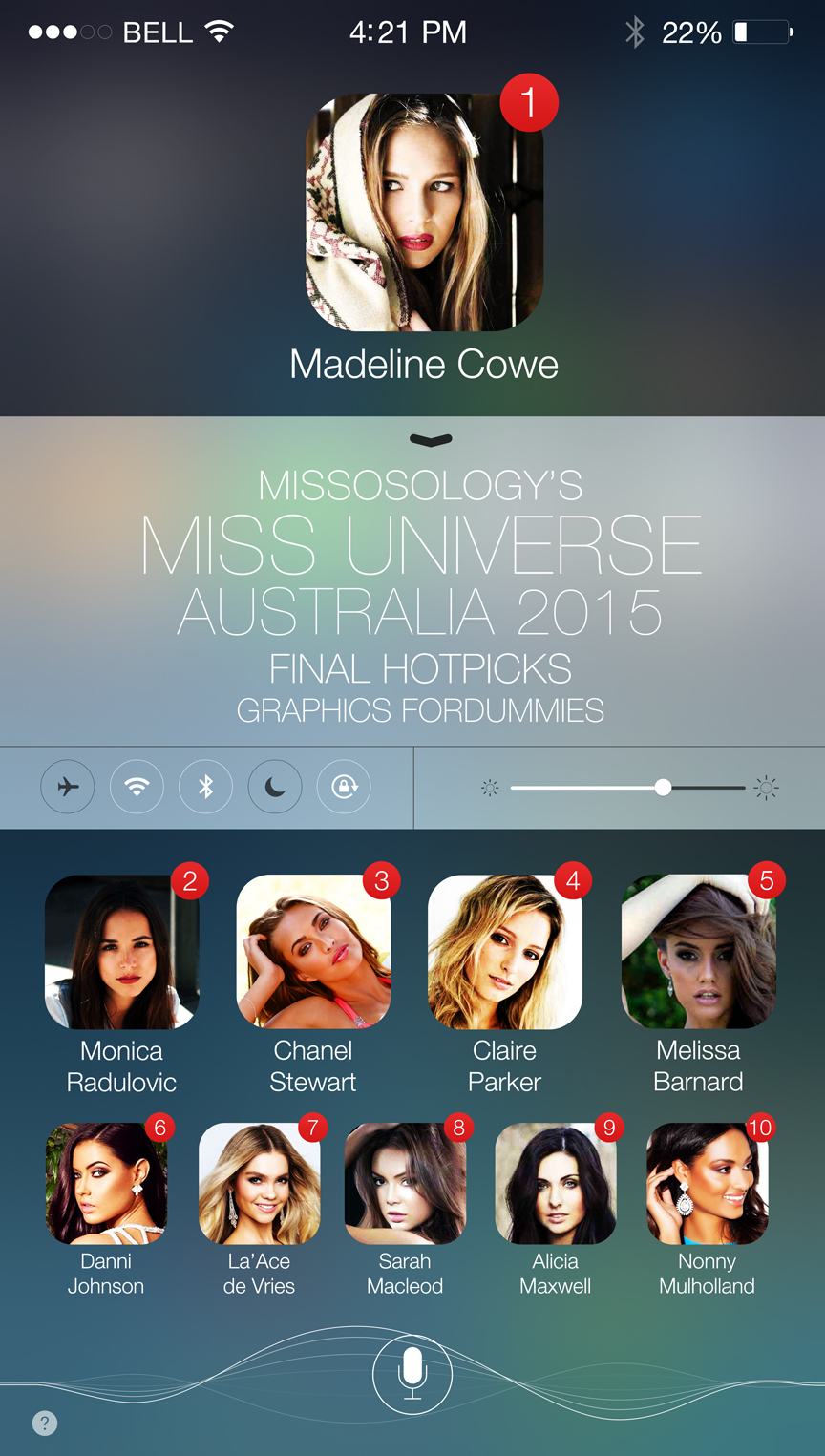 Winner – Madeline Cowe
Madeline Cowe's beauty can be best described as angelic. It is therefore of little doubt that she will be the runaway winner on Friday's final of Miss Universe Australia 2015 contest.  Madeline grew up as rural girl and it is amazing how the Australian "outback" is keeping the best secrets of the island continent.  Those perfect eyebrows and lips will sweep off the feet of any connoisseur of beauty. Her image is Hollywood worthy and while her modelling career is just beginning, it will be a matter of time before we can see her in the catwalks of Milan or being in the cover of the Vogue magazine. That is unless, of course, if she wins the Miss Universe pageant. Indeed, the hopes of Australia for a third crown will get a significant boost with Madeline as the next Miss Universe Australia.
First runner-up – Monika Radulovic
Monika Radulovic comes in second in this list but she is one of the sentimental favorites to take it all. Of Bosnian origin, Monika represents the Balkan demographic of Australia. The sheer class and glamour that Monika's beauty exudes is simply divine. Her smile will melt a lot of hearts and her aura is something that Miss Universe truly loves – vivacious, charming and confidently beautiful!
Second runner-up – Chanel Stewart
If there's anyone among the finalists of Miss Universe Australia that could rule the Victoria Secret catwalk, that would be Chanel Stewart. She has a statuesque figure, a long swan-like and very graceful neck and a facial beauty that simply screams sexy. The Sydneysider beauty who loves yoga and reading will be a tough competitor to beat and has now landed in Missosology-Australia's third spot!
Third runner-up – Claire Parker
How can you describe the beauty of Claire Parker? Landing at our fourth place, Claire is a major head turner, blessed with an easy going Aussie style and above all fresh!  Her laid back, confident and radiant demeanor brings a fresher alternative to the glam and sophistication of the competition. Truly she embodies the spirit of Australia and she will do well in representing the country internationally.
Fourth runner-up – Melissa Barnard
On the fifth place in the list is Melissa Barnard. She is a beauty that is oozing with sex appeal and spunk. A beauty from The Wildflower State as beguiling and rare as the acacias and darwinias of the wild. She is both fierce and glamorous and a beauty that commands respect and attention.
Rounding up the top ten are as follows:
Top 6 – Danni Johnson.  Her beauty is very 1990s, somewhat reserved, but can be metamorphosed into a goddess!
Top 7 – La'Ace de Vries.  What a name!  And what a stunner!!!  She is someone who can spoil everything from the front runners!
Top 8 – Sarah Macleod.  Although somewhat comparable to Danni, Sarah has the oriental exoticity that is well appreciated in the West.
Top 9 – Alicia Maxwell.  Her overall look is very vogue-ish, perfect for fashion magazines!
Top 10 – Nonny Mullholland.  If a person of color will be given the rare chance to represent Australia at Miss Universe, then it must be Nonny!