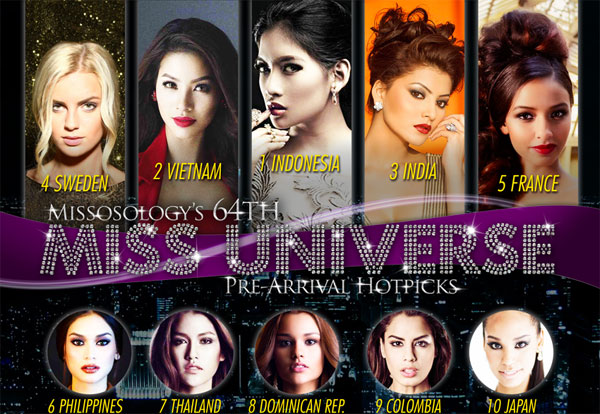 Welcome to our Miss Universe Pre-Arrival Hot Picks! Or shall we say Arrival Hot Picks? It's day one at Miss Universe 2015 and the competition is just really getting started. Topping in our list today is Miss Indonesia whose organization left no stone unturned. She was subjected to trainings in her country's more successful northern neighbor – the Philippines. Puteri tapped designers and pasarela master's up north to ensure that this beauty queen jewel will never be wasted. Indonesia is a fast emerging nation at Miss Universe and with the top-notch beauty of Anindya, the country is poised to place at least in the Top 5 this year.
The stiff competition however will come from East Asia as well. Miss Vietnam Phạm Thị Hương has caught the attention of pageant observers for her elegance and Oriental charm. Not to be outdone, Urvashi Rautela, representing the superpower India will simply become the "face" of the competition. Her fierce beauty can be considered as the best among the contestants right now. India's third crown is on it's way indeed!
On the fourth place in this list is Miss Sweden Paulina Brodd. Considered as the best contestant from Europe, Paulina's blonde hair and angelic eyes will surely win hearts and minds in Las Vegas. Completing the Top 5 is Miss France Flora Coquerel whose dark skin tone and exotic beauty will attract a lot of attention. She is also known for her sophisticated look and her experience in Miss World will certainly boost her confidence.
In the sixth place is Miss Philippines Pia Wurtzbach. She is battle ready and is one of the most disciplined contestant we have seen in the history of Miss Universe. Even if she fails to win her country's third crown, no less than a Top 5 finish will bestowed upon her.
Next in this list is Miss Thailand Aniporn Chalermburanawong. This statuesque model will gain the nod of the judges and fans alike for her fabulous wardrobes and out of the box national costume. She has an elegant aura and she will simply rule the catwalk with ease and confidence.
Also in contention is Miss Dominican Republic Clarissa Molina. In her poses and the way she walk and talk, there is that some kind of "wow" factor in her.  Miss Colombia Ariadna Gutiérrez, on the 9th place, also belongs to the same category as Miss Dominican Republic. While a back-to-back win will be highly unlikely this year, Ariadna also has this "wow" factor and there is no denying that she has all the qualities that could make her a good Miss Universe winner.
Finally, rounding up our Top 10 is Ariana Miyamoto whose compelling beauty opened up the discussion regarding race in her native country of Japan. Her story of being a hafu (a rather derogatory word describing half-blood Japanese) fascinated the Western media and she will surely place high in the competition.
The other contestants that are bubbling-up are:
11.) Miss Jamaica Sharlene Rädlein
12.) Miss USA Olivia Jordan
13.) Miss Brazil Marthina Brandt
14.) Miss Ireland  Joanna Cooper
15.) Miss Mexico Wendolly Esparza