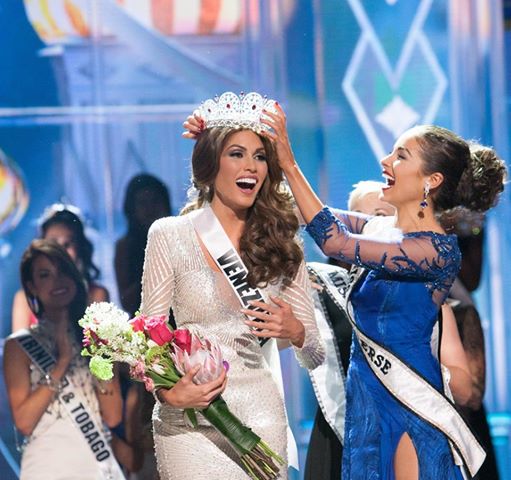 Tuesday in New York, where the Miss Universe Organization headquarters can be found, came and went but the supposed press release of Miss Universe Organization did not happen. But here's the hard truth for the optimists – the official Donald Trump twitter account retweeted a news report by a local NBC station in Florida saying that Miss Universe 2015 will be in Doral. The good news for the optimists? The very same news report failed to state the exact date. So maybe, Miss Universe 2015 will be in Doral in December 2015! Hope springs eternal indeed.
SIDELINE – Did you notice the Miss Universe website? Earlier, we reported that the banner saying that Miss Universe 2014 (referring to Ma. Gabriela Isler) visit the Dominican Republic was deleted. But sometimes we can see it and sometimes we can't. But the link associated to the banner brings us to a Youtube video referring to Ma. Gabriela as Miss Universe 2013. So there you go. Ma. Gabriela Isler is Miss Universe 2013 and not Miss Universe 2014.
But it looks increasingly likely that there will be no Miss Universe 2014. If Trump retweeted the news report that Doral will indeed host the Miss Universe 2015, we can always go back to the tweet of Doral city mayor saying that there will be no Miss Universe 2014. And that's really really bad news for fans out there. There is a sliver of hope though – the Miss Universe website is mum about it including Gabriela Isler's official twitter account, including the FB of Miss Universe. The plain and simple truth – it's not official unless you see at the official Miss Universe website. Even the National Directors are yet to know the venue and date of the pageant.
The uncertainty causing a lot of stress among the fans. We need a Miss Universe 2014. Period and full stop. If MUO skips 2014, it will never be the same again and there is no turning back. One missosologist said that skipping a year is not a big deal – Filipinos, Puerto Ricans, Thais, Indonesians, Venezuelans, Colombians and many more will still turn up in droves in this affluent Miami suburb. But MUO should not take for granted its prestige. Miss Universe is the best in the world largely because it is one of the longest running pageants in the world and has never skipped a year. That's prestige and should be protected at all cost. Simply put, without a 2014 edition, Miss Universe's image will be tarnished forever.
Question: If MUO skips the 2014 edition of the Miss Universe pageant, will you still believe that Miss Universe is a prestigious pageant? Have your say at the comment box below.