Miss Supranational 2017 Final Hot Picks
This is probably one of the hardest hot picks selection we have ever encountered.  This year's edition of Miss Supranational – despite only having 65 delegates – is one of the most competitive batches to date.  A lot of these young women are capable of becoming the next Supra queen.  Given all the attributes needed to become the successor of the indefatigable Srinidhi Shetty, we consider not just the looks and physical aspects of each of the delegates.  Their social skills were also evaluated, as well as their ability to adapt to different kinds of situations without complaining and murmuring.  To become the next Miss Supranational, the final show is not enough to determine who should become the next queen.  So, here are the favorites to the crown!
1. COLOMBIA (Tica Martinez).  This year, we feel that Colombia is going to celebrate their big win in Krynica-Zdroj!  Tica may be very young at 20, but we can feel a sense of maturity in her that is capable of carrying the crown and title which will be passed on by Srinidhi.  Aside from that, she has been very consistent throughout the pageant, and would always show up perfectly glammed up!  If Tica wins the title, it will be great for Miss Supranational because they will be crowning someone with superior beauty, which is of same caliber as Miss Universe's Demi-Leigh Nel-Peters and Miss International's Kevin Lilliana.
2. PUERTO RICO (Larissa Santiago).  It only took a few days for Larissa to prepare for this pageant.  The original contestant could not come, so she became the replacement.  Now currently living in New York, Larissa flew all the way from the Big Apple to Poland and represent her island at this year's Miss Supranational.  This Penelope Cruz lookalike is a stage performer, and has a pleasing personality to boot.  For Missosology, it is a toss between her and Tica, so we'll see what the judges will be thinking of.
3. PHILIPPINES (Chanel Olive Thomas).  She is simply wonderful!  The Philippines must be very proud of Chanel because she has been a great representative, and is loved by many in Poland.  Her bubbly persona makes her such a nice person to talk to, and if ever she wins the second Miss Supranational title for the Philippines, there will be lots of other contenders who will be very happy.  She is also a shoo-in for the Miss Friendship or Miss Personality award!
4. ROMANIA (Bianca Tirsin).  Tall, friendly, and is always ready with a smile.  She is one of the most sociable girls this year, so we won't be surprised if she places this high, or even better.  She was underrated during the previous hot picks, but not this time!  In still photos, Bianca has this amiable look, but she can also switch to a sexy vixen if she wants.  On stage, she has a commanding presence, so we better watch out for her!
5. ETHIOPIA (Bitaniya Yosef).  If there will be an award for Miss Photogenic, we believe that Bitaniya deserves it.  She registers well on photos, while in person, she looks even more radiantly beautiful.  This 23-year-old model has a bright future ahead of her, as she has been doing a lot of modeling jobs, aside from acting on film and TV.  One of her movies is set to start shooting next year!  If Miss Supranational is open with the idea of crowning a black African for the very first time – which is something that Miss International has not achieved in 57 years – then it will be a huge boost to their reputation!  Bitanya is that African woman!
6. SLOVAK REPUBLIC (Michaela Cmarková). Tall, blonde and very pretty!  Michaela reminds us of the winners of Miss International back in the 1990s, when being tall and blonde would easily merit a title or a runner-up position.  Even in the 21st century, Michaela's type of beauty doesn't fade out.  Being one of the host nations has certainly boosted Michaela's confidence as she always commands attention with her beauty and poise.
7. VENEZUELA (Geraldine Duque).  Although placed only at seventh position, we are confident that if lady luck is on her side, Geraldine might go further into the Top 5 or even win this outrightly.  She has a perfect face and a great body to boot.  Geraldine is a sweet young lady who can lighten up a room with her warm smile and friendly personality.
8. THAILAND (Jiraprapa Boonnuang).  Known as "Gift", this Thai beauty was crowned last summer in Phuket, with no less than Srinidhi Shetty and Gerhard von Lipinski as guests of honor.  The Thai franchise is considered as a business success story, and Gift won the spectacular national pageant with ease and poise.  She is backed up with a strong team, so we expect her gowns at the finals to be amazing!
9. POLAND (Paulina Maziarz). Just fresh from her stint at Miss International in Tokyo, Paulina has gained more confidence on home soil, and is more relaxed than before.  She may have failed to enter the Top 15 at her previous pageant, but we are sure that she has learned a lot from that experience.  That makes her an even stronger contender at Miss Supranational.
10. KOREA (Jenny Kim).  Her experience at Miss Universe last January has made this Korean stunner a force to reckon with at this year's Miss Supranational.  Indeed, such exposure has made her even better and stronger.  Her everyday make-up is on point, and she is definitely one of the best dressed contestants this year!  If Jenny wins, it will be historical for Korea!  They have never won a major international pageant, although they came so close to winning three of the Big 5, namely Miss Universe (1988), Miss World (1988) and Miss International (2000 and 2009).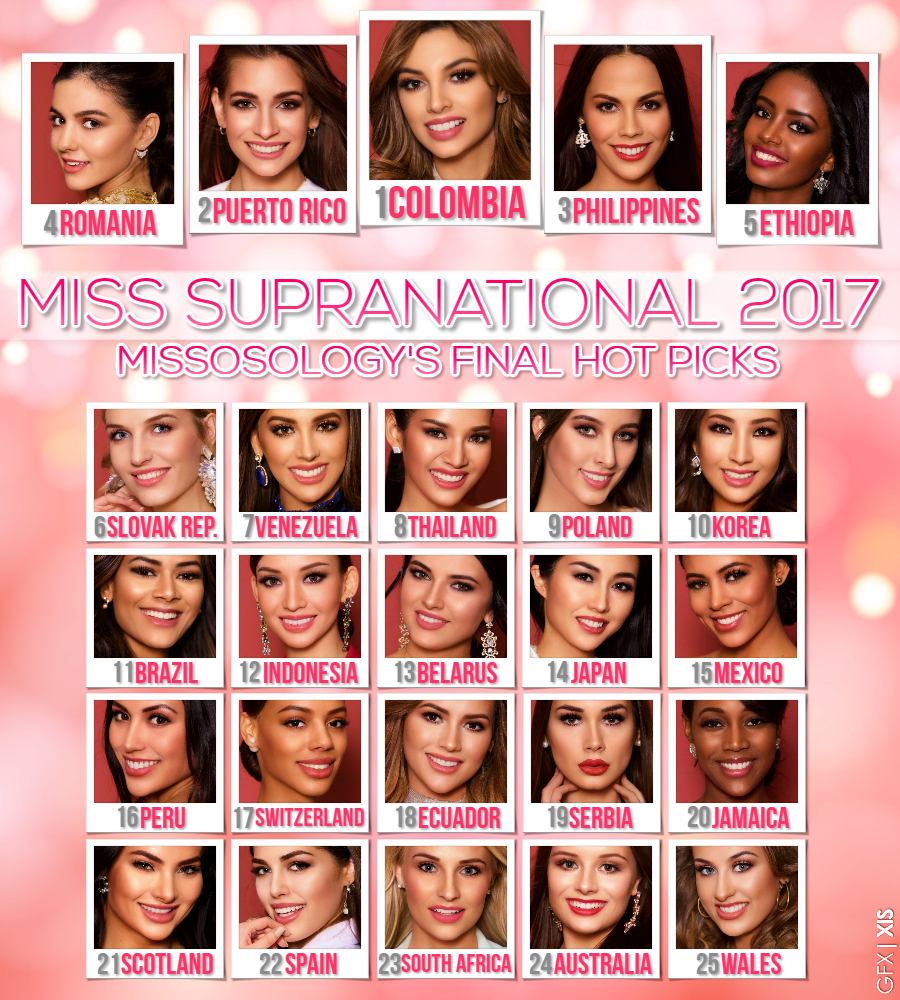 11. BRAZIL (Thayná Lima).  She may be simple looking, but this dusky beauty is actually a stage diva.  She will definitely rock the swimsuit and other rounds competitions, and from there it might be an easy way to the Top 10 for Thayná!
12. INDONESIA (Karina Nadila Niab).  She is a famous actress in Indonesia, that's why she has lots of fans, and has consistently kept the lead in the Vodi votes.  When she joined Puteri Indonesia 2017, a lot of her fans were disappointed when she did not get the Miss Universe Indonesia title.  At Miss Supranational, her loyal fans still continue to support her and she has not disappointed is.  A Top 10 finish is very possible too!
13. BELARUS (Olga Gribovskaya).  We have observed that Belarus has been doing really well at this competition, and they have already one win.  Belarus is also the country apart from Poland and Slovakia to host the pageant, and this happened in 2013.  Olga has the goods to be noticed by the judges so we might be seeing more of her at the stage.
14. JAPAN (Yuki Koshikawa).  This sweet looking Japanese lass is probably one of the prettiest Miss Japan at Big5 in recent years.  Yuki's strengths lies on the fact that when she is already on stage, she switches on to competition mode and she will be unstoppable!
15. MEXICO (Samantha Leyva).  We love Samantha!  She is unique, and has a lovable personality too!  She may look a bit muscular on swimsuit, but who knows what the judges may look for!  They may appreciate Samantha's athletic built, so we won't be counting her out.
16. PERU (Lesly Reyna Salazar).  This former Miss Universe contender is one of the nicest contestants this year.  She has improved a lot since her last pageant, so we expect her to qualify in the Top 25.
17. SWITZERLAND (Mariela Nova).  Exotic and lovely, Mariela is very charming and has an engaging personality.  We really love her when she sports a clean bun because she looks like royalty!
18. ECUADOR (Katheryne Eliana López).  The pretty Ecuadorian with an infectious giggle and winsome smile, Katheryne has a vavavoom body and an energetic stage presence.
19. SERBIA (Bojana Bojanić).  During the preliminary swimsuit competition, Bojana shoed us the sexiest body at this year's edition.  She can be a pleasant surprise in the Top 10!
20. JAMAICA (Nicole Stoddart).  Nicole's beauty is one that we can stare for a long time, yet we will never get tired of it.  She has a wonderful personality, and a great catwalk too!  Well, what can you expect, she is from Jamaica!
21. SCOTLAND (Chloe Kempson).  She has this seductive look that can easily attract any male specie in the audience.  She is a bomb during the swimsuit round.
22. SPAIN (Beatriz Balseiro).  The sweet and pretty Beatriz is also someone to watch out for in the finals.  She has prepared a lot for this, so expect her to be great on stage.
23. SOUTH AFRICA (Bianca Olivier).  She has already competed in a modeling contest where she was a semifinalist.  That proves that Bianca is simply great especially on the spotlight.
24. AUSTRALIA (Alecia Marie McCallum). The Aussie charm is very evident with Alecia, and she can pull a surprise too!  We love her smile!
25. WALES (Rachel Tate).  The former Miss Grand Wales is doing quite well here, and we won't be surprised if she goes even further because she has wonderful evening gowns!