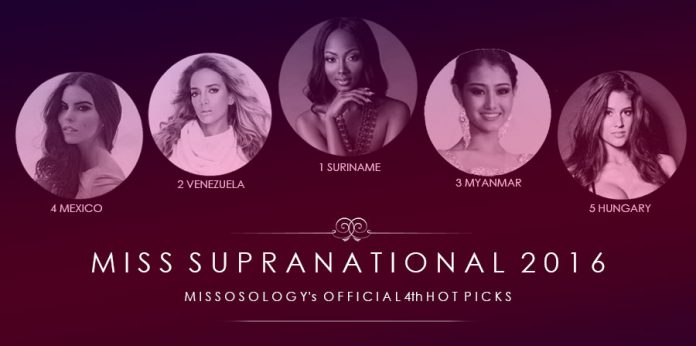 It's a few days to go and Miss Supranational 2016 will come into conclusion. The atmosphere is awash with so many speculations. Will Asians reign supreme? Or the Latinas will steal the limelight? Perhaps it is time for a European to be Miss Supranational once again or will the Africans triumph for the first time ever?
Missosology's panel of beauty experts is predicting this week that 2016 could be the first time that a black beauty will be crowned Miss Supranational. Jaleesa Pigot of Suriname is the clear front-runner among the women of color in the pageant. Jaleesa is a well-spoken beauty with curvaceous body and a very classy aura.
Venezuela's Valeria Vespoli is in the second place. She is the delegate who is perfect in every way and is truly deserving to win her country's first ever Miss Supranational. She's turning heads wherever she goes and it is very evident that she has that winning temperament.
Super sexy Swe Zin Htet of Myanmar is in the third place. Her model-like bearing is a huge plus. Meanwhile, Miss Mexico Cynthia de la Vega is winning a lot of hearts. There is no wrong angle for this fiery Latina beauty. She's curvaceous, intelligent and truly beguiling. The fourth place finish in this Hot Picks is perhaps the most modest of all predictions of her placement in the finals night.
Rounding up the Top Five is the beauty queen who hails from the heartland of Europe. Korinna Kocsis of Hungary is leading the pack of European beauties. She is truly a beauty to behold and it wouldn't come as a surprise if she will actually win the crown.
After topping our pilot list, Miss Indonesia Intan Aletrino is now on the sixth place. She is still a force to reckon with and she has the momentum on her side. The pageantry world's attention is on this country especially on its potential to become a beauty superpower nation in the future.
At the 7th place is the ever lovely Miss Ecuador Maria Isabel Pineyro who is without doubt an epitome of confidence and class. Ukraine's Lenna Anastasiia who can be hailed as the face of Miss Supranational 2016 comes next at 8th pace. Her beauty has indeed a broad appeal.
Blonde bombshell Talitha Bothma who is representing South Africa is one of the underrated candidates. In this list, she is no longer ignored and a decent 9th place means she caught the eye of the observers just in time for the final stretch of the competition.
Taking up the 10th place is Miss Sri Lanka Ornella M.J. Gunesekere. Her beauty which blends the East and West in just the right amount of proportion makes her a universal beauty. She's confident, she knows how to carry herself and some think she is a good conversationalist.
Here's the rest of the ladies who made in this list
USA Alexis Sherrill
Philippines Joanna Eden
India Srinidhi Shetty
China Xuan Huang
Thailand Chatchadaporn Kimakorn
Poland Ewa Mielnicka
Japan Risa Nagashima
Slovakia Lenka Tekeljakova
Denmark Malane Sorensen
Angola Maria Moises
Gibraltar Aisha Ben Yahya
Belgium Amina Serroukh
Australia Silka Kurzak
Bolivia Yesenia Barrientos
Mauritius Ambika Callychurn