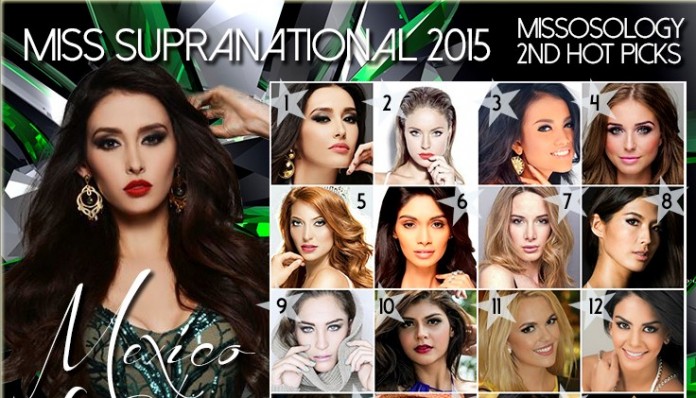 MISS SUPRANATIONAL 2015 2nd Official Hot Picks
1. MEXICO  – There is no doubt, at this point, that the competition simply revolves around Karina Martín Jiménez.  Some even say that only the runner-up spots are being contested.  Mexico is poised to win the 7th Miss Supranational crown!
2. SPAIN – If there is one delegate who can spoil it for Mexico, it is none other than Raquel Bonilla.  She will give Karina a run for her money!  She was Miss Universe Spain's 1st Runner-up, and being a Spanish speaker herself, she can cater to the Latina or Spanish speaking market as well!
3. INDONESIA – Gresya won the Best National Costume award, which is an important award, by the way.  Her fans will protest if she does not place high in this contest, and we are pretty sure that the organization is paying attention to that.  The Facebook LIKES are powerful!
4. ICELAND – If it is just about pure merits, based on beauty and looks alone, Tanja Ýr Ástþórsdóttir can go really far in this contest.  But, what can an island nation with a small population give for Miss Supranational in terms of media attention and popularity? Your guess is as good as mine.
5. USA – Kelly Kirstey is very determined to do better than her predecessor who placed 3rd Runner-up last year.  She is well-prepared for this, as she is being handled by a great national director.
6. INDIA – Aafreen has good and some bad photos lately, but this Indian beauty never fails to lose her charm.  Her tall figure is indeed an asset.
7. AUSTRALIA – Christiana is our German-Australian beauty who is expected to do really good in the finals!  She will wear a great gown from a famous Filipino designer!  Guess who?
8. JAPAN – In terms of overall package, never will you meet another Miss Japan who is as good as Mieko.  Not in another 20 years!
9. CHILE – Valentina comes from an organization which specifically held a pageant for Miss Supranational, where she emerged as the winner.  Plus points for that!
10. MALAYSIA – The hordes of fans of Tanisha were complaining why she was not in the 1st Hot Picks, and we understood why!  We may have missed her at first, but not this time!  She is indeed a top caliber Malaysian, but having Aafreen as the Indian flag bearer might give Tanisha some hard time.
11. ESTONIA – Madli is slowly stepping up her game, and her blonde look is great!
12. ECUADOR – Maria Emilia's strength would have been her singing talent, but without that, we know that she will still be recognized with her beauty.
13. POLAND – Ada may have dropped a few notches down the rank, but we know that she will place high!  Host nation normally does!
14. UKRAINE – Alina is a pure beauty!  Naturally pretty and stunning!
15. ISRAEL – Hodaya is looking sexier and fiercer this time, compared to her Miss Grand International stint last year.
Bubbling up…
16. EGYPT
17. PHILIPPINES
18. CANADA
19. THAILAND
15. EQUATORIAL GUINEA