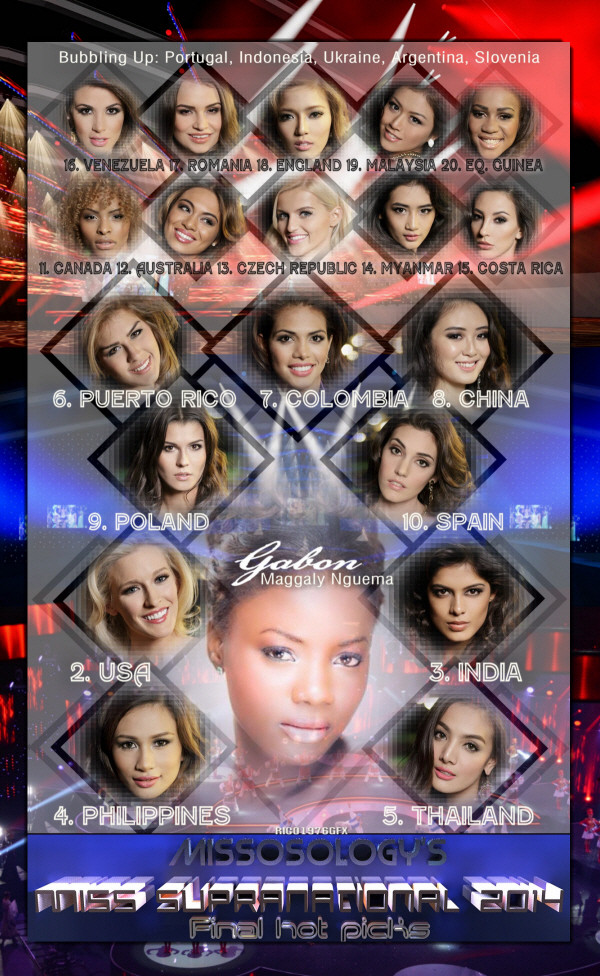 MISS SUPRANATIONAL 2014
OFFICIAL FINAL HOT PICKS
Miss Supranational 2014: GABON
1st Runner-up:  USA
2nd Runner-up:  INDIA
3rd Runner-up:  PHILIPPINES
4th Runner-up:  THAILAND
TOP TEN
6. Puerto Rico
7. Colombia
8. China
9. Poland
10. Spain
TOP TWENTY
11. Canada
12. Australia
13. Czech Republic
14. Myanmar
15. Costa Rica
16. Venezuela
17. Romania
18. England
19. Malaysia
20. Equatorial Guinea
Bubbling up:
Portugal, Indonesia, Ukraine, Argentina, Slovenia
---
Africa's ray of hope in the world of pageantry now rests in the hands of Miss Supranational, a comparatively new pageant compared to the BIG 4, but is showing a lot of promise for its history of crowning non-traditional powerhouse countries.  Topping the final hot picks is Maggaly Nguema, the reigning Miss Gabon 2014, and is probably the only national queen who is competing at this year's Miss Supranational beauty pageant.  Most of the other candidates are either appointed, co-winners of a national pageant or runners-up.  In second place is the unstoppable Allyn Rose of the USA.  This blonde stunner placed in the Top 8 of Miss USA 2011, representing Maryland. In third place is Asha Bhat of India who is a major head turner, and her winsome smile is perfect for a queen.  The Philippine bet, Yvethe Marie Santiago is in fourth place, and is in a difficult situation to win a back-t0-back for her country, well known for passionate pageant fanatics. Parapadsorn Disdamrong of Thailand is now feeling the pressure after her constituent just won the Miss Intercontinental 2014 crown in Germany.  However, he is pegged at fifth place.  Overall, anyone in our Top 5 is perfect to win the Miss Supranational crown!
TOP TEN.  Puerto Rico is a very pretty young woman who is very photogenic. Colombia has that diva-ish beauty queen look that is normally being appreciated in any beauty pageant.  China is has the very sweet oriental look, representing the world's largest demography.  Hometown girl Poland looks very determined to win her country's second Miss Supranational crown, and for a change, she's a brunette.  And Spain, who is considered the "Face of the Pageant", finishes our Top 10 list.
TOP TWENTY.  The girls from the 11th to 20th position have the possibility to place high in the pageant, and if ever one of them will win, it can be considered as a pleasant surprise.