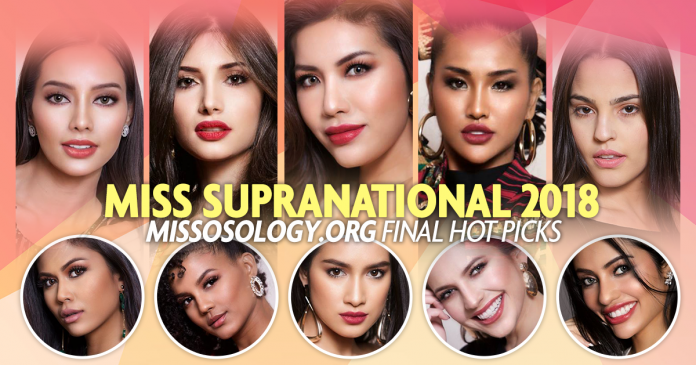 Text by Vincent Tanedo; Graphics by Drew Francisco
KRYNICA-ZDROJ, POLAND – After weeks of nerve-wracking activities, the candidates of Miss Supranational 2018 managed to weather the storm and sail through the pre-pageant activities. They are all set to conquer the stage and will absolutely give you a "Supra Show" on the pageant's 10th year celebration.
Tonight, we will witness the crowning of the Miss Supranational 2018 and thousands of spectators will flock in Kynica-Zdroj, Malapolska, Poland. This edition is special as it will be judged by the reigning and past Supranational queens.
With few hours left before the finale, pageant enthusiasts are already speculating on candidates who will most likely clinch the coveted title and will succeed Jenny Kim. Brace yourselves as we present to you our Final Hot Picks:
Topping our list is Minh Tu Nguyen of Vietnam. This 26-year old professional model is one of the heavy favorites for the title. This runway diva has what it takes to be an image of the Miss Supranational brand. With a voguish aura, consistent excellent performance, absolute confidence, and perfect styling, she can definitely snatch the crown.
Another strong contender for the crown is the beautiful Nariman Battikha of Venezuela. This tall head-turner who recently won Reina Hispanoamericana will surely make an astounding performance in the finals night. Her divine beauty, jet-black hair, towering height and strong stage presence are her assets but her dedication and unswerving focus will help her lock a spot in the finals night.
Progressing to the third position is Indonesia's Wilda Octaviana Situngkir. This exotic beauty has an overflowing positivity and enthusiasm. With her perseverance and hard work, she has proven that everything is possible and achievable. We must say that Wilda among the most prepared candidates and she is just waiting to have a sweet taste of victory.
On the fourth spot is Jehza Huelar of Philippines. She may be shy and timid at the start of the competition but Jehza bloomed and transformed into a woman who is full of prowess and resilience. Her experience, motivation and willpower helped her climb the ladder. Is this the right time for the Philippines to get the second Miss Supranational crown? We believe the time is ripe!
Heading her way as one of the top 5 is a front-runner of the competition, Ana Paula Cespedes of Paraguay. This stunning lady is a gem. Her inner beauty radiates and her innocent charm and glamorous aura make her stand out. She has undeniably the most likable personality. Watch out for her killer smile and jovial character as this can make her shine.
Also racing for the coveted title are: the darkhorse Katrina Jayne Dimaranan of USA, the modelesque Barbara Reis of Brazil, the social media queen Shwe Eain Si of Myanmar, the immaculate beauty Diana Romero of Mexico and the vivacious Sanjna Suri of Malaysia.
Check out the full list below:
1 Vietnam – Minh Tu Nguyen
2 Venezuela – Nariman Battikha
3 Indonesia – Wilda Octaviana Situngkir
4 Paraguay – Ana Paula Cespedes
5 Philippines – Jehza Mae Huelar
6 USA – Katrina Jayne Dimaranan
7 Brazil – Barbara Reis
8 Myanmar – Shwe Eain Si
9 Mexico – Diana Romero
10 Malaysia – Sanjna Suri
11 Pakistan – Anzhelika Tahir
12 Puerto Rico – Valeria Vazquez
13 Ukraine – Snizhana Tanchuk
14 Switzerland – Thaina Vieira
15 South Africa – Belinde Schreuder
16 Czech Republic – Jana Siskova
17 Equatorial Guinea – Maria Lucrecia Nve Maleva
18 England – Romy Simpkins
19 India – Aditi Hundia
20 Poland – Magdalena Bienkoswka
21 Korea – Eunbi Lee
22 Argentina – Lali Dieguez
23 Belarus – Margarita Martynova
24 Colombia – Mimi Carranza
25 Australia – Maddison-Clare Sloane