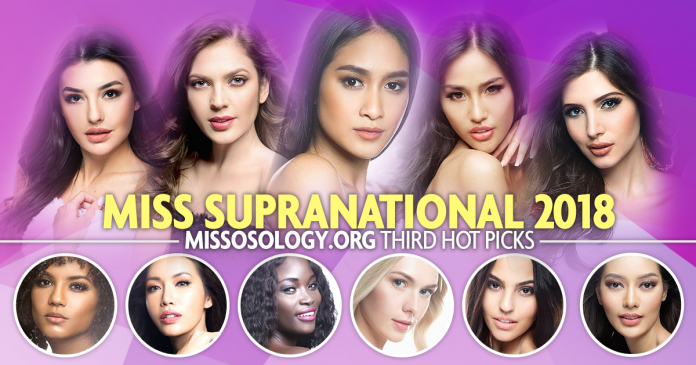 The Miss Supranational 2018 competition is nearing the finish line. As we count the days to the grand finale, a number of ladies continues to impress our pool of correspondents in Poland.
Leading our Third Hot Picks is the "social media queen" from Myanmar, Shwe Eain Si. Totally refined is what we can tell you about this lady. She arrived several days late in the pageant but she made a huge impact in Poland with her great confidence and determination. If Miss Supranational Organization wants a queen with universal appeal and massive followers, then she's the one who can perfectly fill up Jenny's spot.
In second place is Diana Romero of Mexico. If we compare her "facially" with any other delegate, she is No.1. Her hair style, eyes & a super model looks are some of her vital assets which might force the judges to put a 100% "YES" Vote for her. She has finally gained her momentum in the competition
Now occupying the thrived spot is Indonesia's Wilda Octaviana Situngkir. Day by day she is improving and her training in the Philippines really gave her the right elements to shine in the pageant. Beating the supermodel from Vietnam in the Top Model pre-pageant event is a milestone for her in the pageant. She's a good thinker, speaks confidently & blessed with a beautiful warm smile, enough to attract judges attention.
Not far behind is Ukraine's Snizhana Tanchuk. She's extremely beautiful and one of the top contenders, but probably an inch away from "PERFECT". Her magnetic eyes sexy smile, as well as her perfect body make her an easy pick.
Completing the Top 5 for now is Nariman Battikha of Venezuela. Truly the the best delegate Venezuela has sent to Miss Supranational. Her wardrobe is spectacular. This Venezolana is not only striking, but she exudes enough warmth to heat up the entire Poland!
Very close behind are the beauties from Brazil, Vietnam, Equatorial Guinea, Belarus & Paraguay – these girls also have everything it takes to place in the Top 5 with their stellar presence in the pageant. Heavy preparation always pays off and it is very evident with the packaging and performance of our Top 11-20 delegates from the Philippines, Netherlands, Poland, Malaysia, Puerto Rico, Belgium, Slovakia, India, Czech Republic and Korea.
The candidates from USA, Colombia, Laos, Guatemala and Switzerland can pull off a surprise and snatch the crown from the heavy-favorites.
Check out the full list below:
1 Myanmar | Shwe Eain Si
2 Mexico | Diana Romero
3 Indonesia | Wilda Octaviana Situngkir
4 Ukraine | Snizhana Tanchuk
5 Venezuela | Nariman Battikha
6 Brazil | Barbara Reis
7 Vietnam | Minh Tu Nguyen
8 Equatorial Guinea | Maria Lucrecia Nve Maleva
9 Belarus | Margarita Martynova
10 Paraguay| Ana Paula Cespedes
11 Philippines | Jehza Mae Huelar
12 Netherlands | Kelly van den Dungen
13 Poland | Magdalena Bienkowsk
14 Malaysia | Sanjna Suri
15 Puerto Rico | Valeria Vazquez
16 Belgium | Dhenia Covens
17 Slovakia | Katarina Oeovanova
18 India | Aditi Hundia
19 Czech Republic | Jana Siskova
20 Korea | Eunbi Lee
21 USA | Katrina Jayne Dimaranan
22 Colombia | Miriam Carranza De Moya
23 Laos | Santhany Saimanyvan
24 Guatemala | Stephanie Ogaldez
25 Switzerland | Thaina Vieira