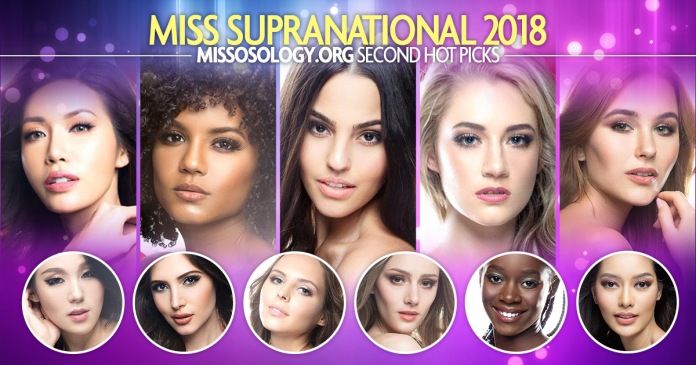 Text by Vincent Tanedo; Graphics by Drew Francisco
KARPACZ, POLAND – In just 10 years, the Miss Supranational pageant has achieved great heights by producing outstanding shows and evolving into an annual world-class event. With lots of beautiful, admirable women who are making their own mark in this year's competition, the road to the crown is undeniably an arduous battle.
We couldn't believe that the first week has passed by in a snap of a finger. However, this period gave us sufficient time to scrutinize the performances, attitude and looks of the delegates from their arrival, photo shoots and pre-pageant activities. Now is the perfect time to rightfully cast the list of delegates who exceeded our expectations and deserve the coveted title.
Up on our list is the pilot beauty queen, Miss Paraguay. Ana Paula Cespedes has the classic Miss Supranational aesthetics: a pretty face and a divine aura. She is a breath of fresh air who magnificently shines in a crowd. Her soft features, bubbly smile and appealing personality are doing magic for her. We won't be shocked if she is next to Stephania to get the second Miss Supranational crown for her country!
Hanging on the second spot is Miss Brazil, Barbara Reis. This ebony beauty is a strong contender for the crown. Her fierce eyes, natural kinky hair and dreamily-sculpted jaw lines are making waves are tremendously working well on photo shoots. Her modelesque image sets her apart and can be a huge point in clinching to the top.
Making her way to the third spot is the head-turner, Miss South Africa, Belinde Schreuder. Her lovely eyes, glowing skin and full lips are her huge assets. With her wit, striking body and elegant and remarkable fashion sense, this lady is a threat and one to be watched out!
On the fourth spot is Miss Vietnam, Minh Tu Nguyen. This Asia's Next Top Model runner-up is a grace on the catwalk as seen in the swimsuit preliminary. Her prowess in modeling is one to beat in the race for the crown. Her magnetism, charisma and enigmatic personality would be her powerful means for a noteworthy finish.
Completing the top 5 for now is Miss Czech Republic, Jana Siskova. This blonde beauty has a fresh and lovely face. Her elegant charm and cheerful persona entangle people. With simple yet remarkable styling, this silent killer is one to beat!
Here's the complete list of our second hot picks:
1 PARAGUAY  | Ana Paula Cespedes
2 BRAZIL | Barbara Reis
3 SOUTH AFRICA | Belinde Schreuder
4 VIETNAM | Minh Tu Nguyen
5 CZECH REPUBLIC | Jana Siskova
6 KOREA | Eunbi Lee
7 VENEZUELA | Nariman Battikha
8 POLAND | Magdalena Bienkowska
9 ARGENTINA | Lali Dieguez
10 KENYA | Ivy Marani
11 UKRAINE | Snizhana Tanchuk
12 PAKISTAN | Anzhelika Tahir
13 MEXICO | Diana Romero
14 SWITZERLAND | Thaina Vieira
15 PHILIPPINES | Jehza Mae Huelar
16 ECUADOR | Carla Prado
17 CROATIA | Tihana Babij
18 MALAYSIA | Sanjna Suri
19 PUERTO RICO | Valeria Vazquez
20 INDONESIA | Wilda Octaviana Situngkir
21 DENMARK | Celina Riel
22 GUATEMALA | Stephanie Ogaldez
23 MALTA | Natalia Galea
24 PANAMA |  Keythlin Saavedra
25 ROMANIA | Andreea Coman