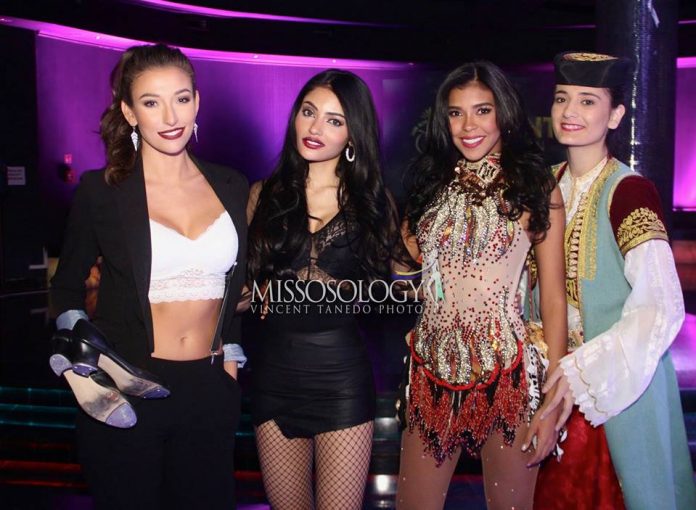 Text and photos by Vincent Tanedo
KARPACZ, POLAND – The night was filled with fun, laughter and music as the Miss Supranational 2018 candidates entertained and amused us with their innate talents and showed us their artistic side and ingenious abilities. Twenty-three (23) amazing girls performed in the Talent show held at the club room of Hotel Golebiewski. Their confidence, gracefulness and creativity were witnessed as they displayed their singing prowess, flawless moves and great acts.
The candidates who wowed the audience and received huge admiration and round of applause were: Miss Belgium who effortlessly did tap dance in the tune of "Smooth Criminal"; Miss Colombia who seamlessly executed an Afro-Colombian rhythm of dance "Mapalé" Colombian dance; Miss Jamaica who performed a Latin ballroom and Afro-Caribbean dance on point; Miss Korea who got the crowd wild as she sang Something New by Nikki Yanofsky; and Miss New Zealand who was a total performer by delivering two different songs namely Wairua Tapu and then, Kia Tau which depicts the spiritual and brave sides of their people and ended her performance with a famous warrior dance called Haka.
Watch this!Miss Supranational 2018 Talent Competition: Miss ThailandView more supra talent videos here: https://www.facebook.com/pg/missosology/videos/

由 Missosology 發佈於 2018 年 11 月 27 日 星期二
Other girls who gave their best in showcasing their talents are: Miss Bolivia who sang "Bring Me To Life" by Evanescence; Miss Czech Republic who executed a Biathlon exhibition; Miss Ecuador who did a fusion of dance and martial arts; Miss France who danced hip-hop; Miss Greece who performed a traditional dance; Miss Guatemala who delivered a spoken word poetry that talks about hope, energy and faith which was dedicated to every woman in the pageant; Miss Indonesia who presented a mixed of traditional and modern dance called "The Mondinal Dance of Kalimantan"; and Miss Laos who performed a Lao traditional and modern dance called "Fhon" and Laos traditional boxing.
Watch this!Miss Supranational 2018 Talent Competition: Miss USA

由 Missosology 發佈於 2018 年 11 月 27 日 星期二
Other standouts were Miss Malaysia who entertained the crowd by singing "I Love Rock 'n Roll"; Miss Mexico who performed a traditional dance from Sinaloa; Miss Mauritius who swayed a traditional dance called "Sega" in a sexier way; Miss Montenegro who performed a folk dance called "Crnogorsko Kolo"; Miss Panama who also danced Salsa; Miss Pakistan and Miss Portugal who presented oriental dance inspired by Arab culture and belly dance; Miss Slovakia who did a Slovak folk dance from Podpol'anie city; Miss Thailand who performed "Loy Krathong" festival dance; and Miss USA who rendered the song, "Can't Help Falling In Love."
Watch this! Miss Supranational 2018 Talent Competition: Miss Belgium

由 Missosology 發佈於 2018 年 11 月 27 日 星期二
Check out more photos on our Facebook album here.