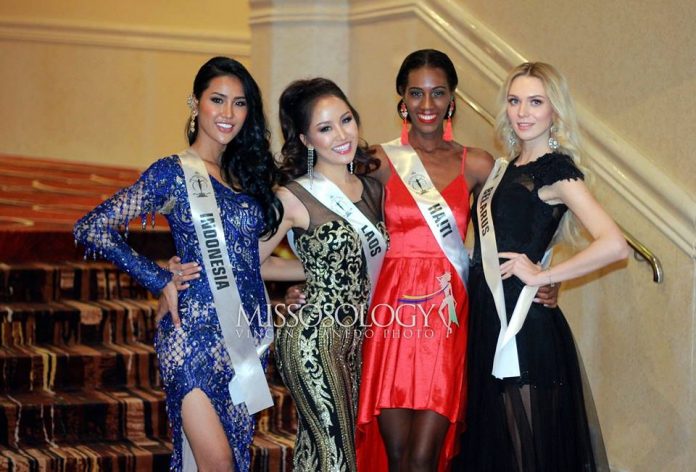 Text by Pawee Ventura; Photos by Vincent Tanedo
KARPACZ, POLAND – The Miss Supranational 2018 ladies presented themselves in their most glamorous and classy form during the evening gown photo shoot held yesterday at Hotel Golebiewski, Karpacz, Poland. Some pleasant surprises and wonders filled the hall as the ladies magnify supreme femininity and embodied absolute charm and allure.
From tightly-fitted gowns which emphasize every curve to exquisitely tailored-ball gowns, from bare arms to shimmering and glittery covers and from the shade and various kinds of fabrics down to the frills and embellishments, the Miss Supranational 2018 candidates delivered significant appeal and attractiveness.

Here's a preview of some of the candidates who made remarkable appearance during the evening photoshoot:
Miss Argentina, Lali Dieguez shined in her white long gown and red lipstick. This 19 year-old lady manifested versatility as she exudes so much charisma and registered well in portraits in different angles and expressions.
As plain as it may seem but Miss Czech Republic's powder blue gown and wavy red locks completed her princess aura. Jana Siskova proved that with a gorgeous face and a simple dress, one can still pull off a regal look.
Miss Malaysia, Sanjna Suri's sparkling low-neck gown, jet-black hair, sexy figure and naturally tanned skin gave her an exquisite, lovely vibe. She made her presence felt this time around.
The bubbly and perfectionist, Miss Finland, Evaliina Tikka also made a noteworthy stint as she took time achieving more volume for her wavy blonde hair.
Speaking of high-fashion, Miss Kenya, Ivy Marani's exceptional beauty is a jaw-dropper. Her dark brown skin tone and sleek hairstyle did the magic!
Miss Dominican Republic, Yomaira De Luna's brown complexion matched her low-cut backless gown. This Latina beauty who also has a Filipina blood showed so much poise as she posed for the camera. The photographers even compared her to Jennifer Lopez.
Miss Bolivia, Ilssen Olmos' lavender gown harmonized her updo hairstyle. This 27 year-old TV presentor's subtle and soft-colored gown channeled her inner beauty and cleverness.
A top notch evening gown and a polished hair is definitely a perfect combination which Miss Panama, Keythlin Aleman possesses. The design and embellishments of the gown made by a Lebanese designer absolutely gave an illuminating and fresh vibe.
Miss Puerto Rico, Valeria Vazquez wore a gown that gave her the freedom to execute her vivaciousness and maintained her spark during the shoot.
Who would have thought that you can match a red gown to a red earrings and lipstick? But Miss Moldova, Nicoleta Caun showed us that you can bring so much fierceness in executing this kind of bold styling.
Other girls who ruled the formal wear shoot were: Belarus, Brazil, Denmark, Indonesia and Ecuador.
Check out more photos on our Facebook album here.