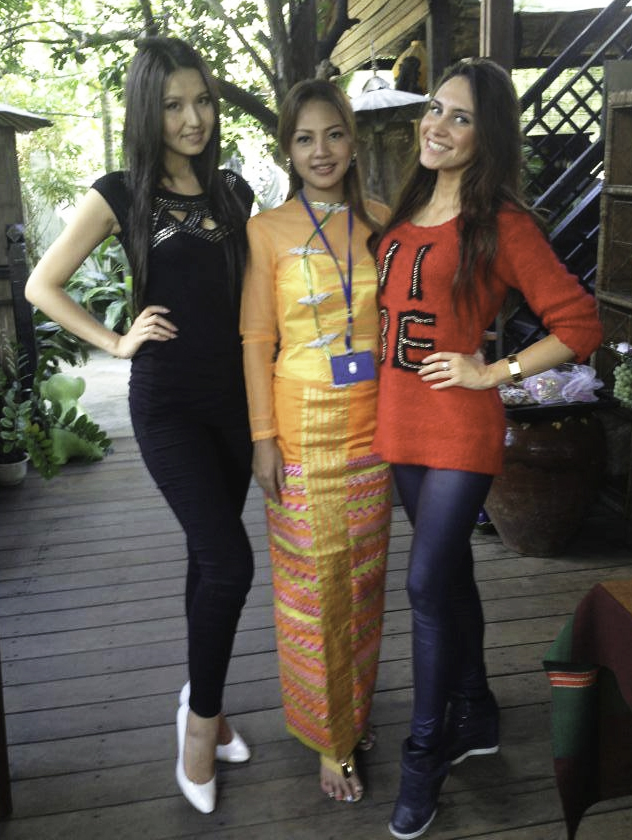 If you think that the BIG 4 pageants are all about winning and placing, think again!
Seven alumnae from the 2012 edition of Miss International Beauty Pageant are now in Myanmar for a series of charity events and guided tour, as organized by Miss International Myanmar 2012 Nang Khin Zay Yar.  Nang, the recipient of the Missosology People's Choice Award last year in Okinawa, invited her friends and co-candidates to come to her country as her guests of honor.    Excluding the hostess, the six other girls were Hannah Carson of New Zealand, Xenia Likhacheva of Estonia, Giulia Masala of Italy, Marion Amelineau of France, Dolgion Delgerjav of Mongolia who was Nang's roommate last year, and  Leong Ying Mae from neighboring Singapore.  Although none of these girls had advanced to the semifinals in the pageant held exactly one year ago, they have proven that it does not need such recognition to work for something cause-worthy.
As a kick-off to the 2013 Southeast Asian Games, which will be hosted by Myanmar this December, the girls will first participate in a charity concert featuring the famous group Carabao.  This will be highlighted by a fashion show featuring  the seven former Miss International beauties.  Entitled "Road to SEA Games, Road to Myanmar", the event will be held on October 21st at the Junction Square in Yangon.
"We were here on the full moon festival and the roads were busy and lit till the wee hours of the morning with firework display . I'm impressed with Myanmar's rich culture.. Awesome to see the efforts they are putting in to prepare for the SEA Games.. Building hotels for accommodations. Setting the scene for an amazing show this December!" exclaims Miss International Singapore 2012, Leong Ying Mae.
Myanmar hosted the Peninsular Southeast Asian Games twice, but this is the first time that they will be hosting the modern-day SEA Games, which was restructured in 1977 to include countries that are not part of the Southeast Asian Peninsula.
Coming all the way from New Zealand, Hannah Carson even celebrated her birthday while in Yangon.  "I just think we are so so lucky to be invited here. We are being looked after very well and the Burmese people are so lovely. We are learning some words like mingarlaba. It is also a very humbling experience. We are all looking forward to going to the famous pagodas…", she says.
On October 22nd, the the girls will visit poor villages and orphanages, and they will also be involved in a book donation drive.