Calibrated and measured, the changes that the fans anticipated at Miss International are still no match to the pageant's traditions and predilections. Seeing a Miss Venezuela winning the crown and a Miss Philippines placing as first runner-up last year, Miss International had its obstinacy in full display. Some things just don't change as fast as we wanted.
With the above facts in mind, one can't blame the panel of beauty experts to conclude that a Latina might be crowning yet another Latina this year. Miss International Colombia 2019 Alejandra Vengoechea can be called as a prototype for the pageant. The term prototype could be politically incorrect but apt given to the penchant of the Japanese for Western beauties. Alejandra is like a mestiza with a Latino father and an Asian mother (or the other way around which does not really matter) and that could play well in Tokyo this November.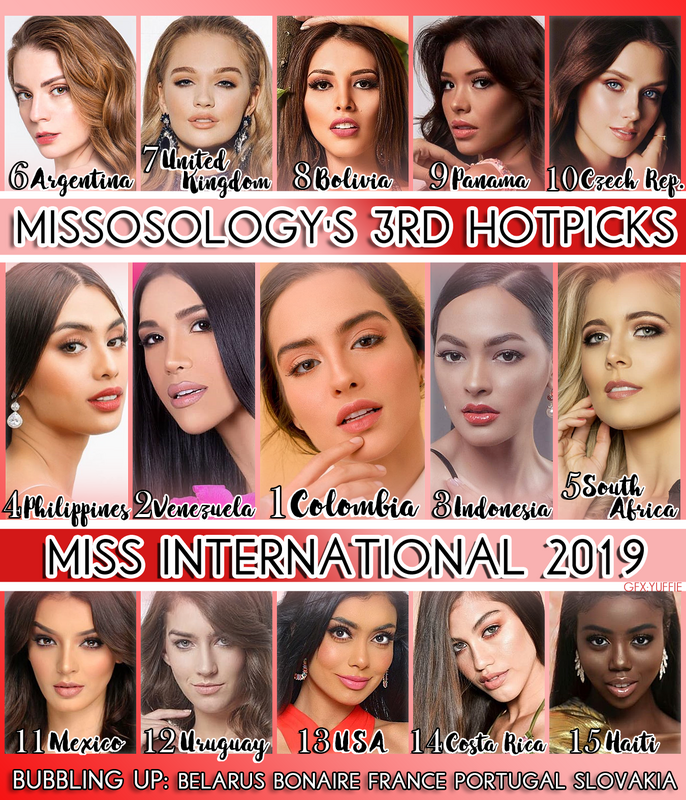 Or maybe Miss International would like to depart from the usual by awarding a back to back win for the first time. Still, it wouldn't be groundbreaking if Melissa Jiménez will be crowned by Mariem Velazco. It would more like a given since Melissa is a drop dead gorgeous contestant with a strong sash named Venezuela. If this will happen, the country will cement its lead as the nation with the most number of winners.
What the panel of experts warned us all however is that the strongest challenger could come from Indonesia. She's smart, she's articulate, she's well-trained and she's Jolene Marie Rotinsulu. Jolene is crown ready and she all she needs is a swimsuit, a gown and a national costume to ace the competition. The second Miss International crown for Indonesia is not that farfetched as most of us would like to think.
Of course, the Philippines will not take this competition lightly. Not so long ago this beauty superpower nation is the only Asian country to win the Miss International crown and now it is second only to Venezuela when it comes to the number of victories. Carrying the Philippine banner this year is Patricia Magtanong who is both a lawyer and a fashion model. It seems safe to say that this Filipina is already a frontrunner even before she sets foot in Tokyo.
Meanwhile, if we are to take the changes in Miss International seriously, something out of the box should happen this 2019. Like crowning an African candidate for the first time ever. Nicole Middleton is from the Rainbow Nation and she represents the racial diversity of her native South Africa. It would be an exciting moment if her country will finally win the Miss International crown.
Whether Miss International 2019 will have a predictable outcome or not, we expect an exciting competition. There's just so many strong candidates and on the succeeding list are the women who caught the attention of our beauty experts thus completing this 3rd Miss International Hot Picks. Still, it will be a hell of a fight. There's no guarantee that this list will remain as it is on the next Hot Picks.
6. Argentina – Milena Sofía Judt
7. United Kingdom – Harriotte Lane
8. Bolivia – Valentina Pérez Medina
9. Panama – Betzaida Rodriguez
10. Czech Republic – Andrea Prchalová
11. Mexico – Andrea Toscano
12. Uruguay – Betina Margni Vilas
13. USA – Ghazal Gill
14. Costa Rica – Tamara Dal Maso
15. Haiti – Lory-Anne Charles