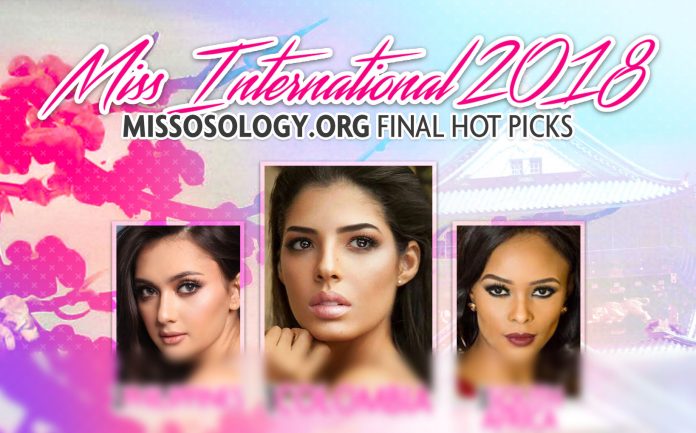 After weeks of activities in several Japanese locations, the Miss International 2018 pageant will finally come into conclusion. Missosology's Hot Picks for Miss International have seen several changes and a closer look reveals that while there are those who are consistently on the list, no one can really claim the frontrunner position.
This can only mean one thing – Miss International 2018 is anybody's game. After an intense deliberation, our panel of beauty experts concluded – albeit not unanimously – that Colombia is on the road to its fourth Miss International title. Miss Colombia Anabella Castro was ranked 6th in our first Hot Picks before topping it in our second hot picks. It's been a roller coaster ride for her in our lists but she is consistently in the list. Her mile-long legs, flawless complexion, an acquiescent beauty and great rapport with fellow contestants makes her a perfect Miss International.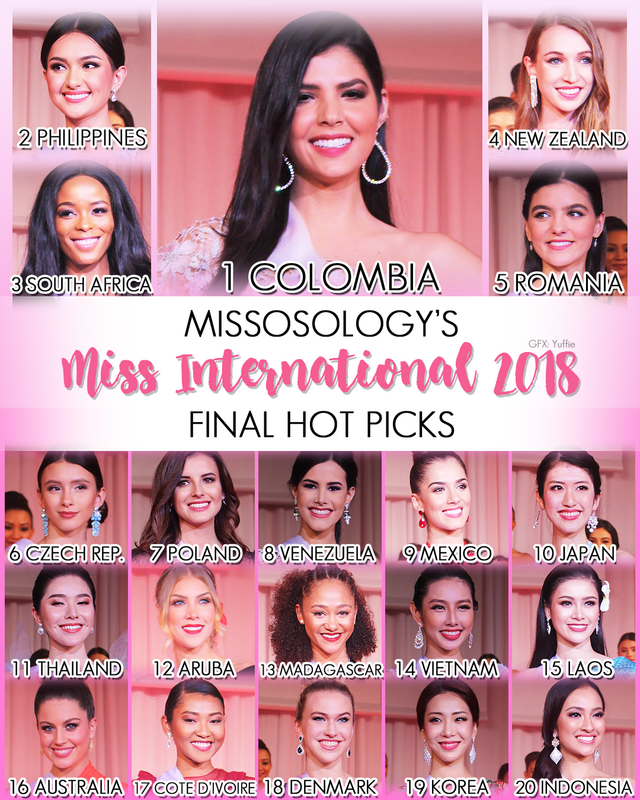 Meanwhile, Miss Philippines Ma. Ahtisa Manalo may deliver her country's 7th Miss International crown which will put the Philippines in equal footing with Venezuela in terms of titles won. Missosology correspondents covering the pageant believe that Ma. Ahtisa has blossomed further in the last stretch of the pageant. The finesse and approachability she displayed during the Hikari TV anniversary gala reinforced these observations.
Miss South Africa Reabetswe Sechoaro came off strongly among African candidates. Her class is undeniable and she speaks with ease and conviction. It would be a history if a black African woman will finally clinch the title! Miss New Zealand Natasha Kristina Unkovich meanwhile exudes a personality worthy of a crown. She's often described as an impeccable beauty.
Leading the European contingent is Miss Romania Bianca Tirsin. Prior to contestants' arrivals, she was largely outside the radar but then she began to steal a lot of attention thanks to her iridescent beauty and approachable personality.

Miss Czech Republic Daniela Zálešáková is still running strongly for the crown. Her beauty continues to blossom and she has a legion of local fans. Miss International superpower countries are also well represented. Miss Poland Marta Pałucka is a worthy winner and don't be surprised if she will walk away with her country's fourth crown. This is also true for Miss Venezuela Mariem Velazco. She can easily bring home her country's eighth title further cementing Venezuela's superpower status.
Our panel of experts are also keeping an eye on Miss Mexico Nebai Torres and the local bet Miss Japan Hinano Sugimoto.
As this year's edition is anybody's game, it would be an exciting pageant to watch. There are also some changes that will be introduced and one can only hope that this would bring the entertainment level of Miss International up a notch or two. Here's the complete list of our final Hot Picks for Miss International 2018
Miss International 2018 : COLOMBIA – Anabella Castro Sierra
First runner-up: PHILIPPINES – Ma. Ahtisa Manalo
Second runner-up: SOUTH AFRICA – Reabetswe Sechoaro
Third runner-up: NEW ZEALAND – Natasha Kristina Unkovich
Fourth runner –up: ROMANIA – Bianca Tirsin
6. CZECH REPUBLIC – Daniela Zálešáková
7. POLAND – Marta Pałucka
8. VENEZUELA – Mariem Velazco
9. MEXICO – Nebai Torres
10. JAPAN – Hinano Sugimoto
11. THAILAND – Keeratiga Jaruratjamon[75]
12. ARUBA – Stephanie Anouk Eman
13. MADAGASCAR – Esmeralda Malleka
14. VIETNAM – Nguyễn Thúc Thuỳ Tiên
15. LAOS – Piyamarth Phounpaseuth
16. AUSTRALIA – Emily Tokic
17. CÔTE D'IVOIRE – Jemima Gbato
18. DENMARK – Louise Arild
19. KOREA – Yejin Seo
20. INDONESIA – Vania Harlembang
Text by R. Galvez/Missosology