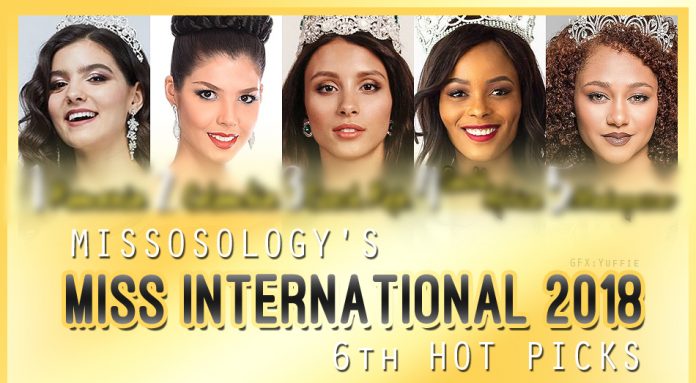 Since our 5th Hot Picks, our panel of beauty experts have shifted gears with it comes to their assessment of what's going to happen at the Miss International 2018 finals night. In this 6th Miss International Hot Picks, the livestreamed swimsuit prelims – the first for the pageant – were given adequate weight plus what our correspondents observed during several activities.
Miss Czech Republic Daniela Zálešáková, who was tagged as an elegant beauty, was on the top of the 5th Hot Picks but now, she's settled in the 3rd place. Miss Romania Bianca Tirsin meanwhile, redeemed herself and now occupies the top spot. She caught the attention of beauty watchers and it looks like the Miss International Organization is keeping an eye on her as well.

Miss Colombia Anabella Castro Sierra has been consistently gaining ground. She was ranked 15th in the last hot picks but is now a runner-up to the frontrunner. Miss South Africa Reabetswe Sechoaro is now leading the African continent thanks to her shapely figure and good public speaking skills. She is closely followed by another African, Miss Madagascar Esmeralda Malleka who occupies the 5th place.
Here's the complete list of the Miss International 2018 6th Hot Picks by Missosology:
ROMANIA – Bianca Tirsin

COLOMBIA – Anabella Castro Sierra

CZECH REPUBLIC – Daniela Zálešáková

SOUTH AFRICA – Reabetswe Sechoaro

MADAGASCAR – Esmeralda Malleka

LAOS – Piyamarth Phounpaseuth

FINLAND – Eevi Ihalainen

VIETNAM – Nguyễn Thúc Thuỳ Tiên

MOLDOVA – Daniela Marin

PARAGUAY – Daisy Diana Lezcano Rojas

THAILAND – Keeratiga Jaruratjamon

VENEZUELA – Mariem Velazco

PHILIPPINES – Ma. Ahtisa Manalo

KOREA – Yejin Seo

SPAIN – Susana Sanchez

JAPAN – Hinano Sugimoto

GUADELOUPE – Sarah Eruam

MYANMAR – May Yu Khatar

UKRAINE – Bohdana Tarasyk

POLAND – Marta Pałucka