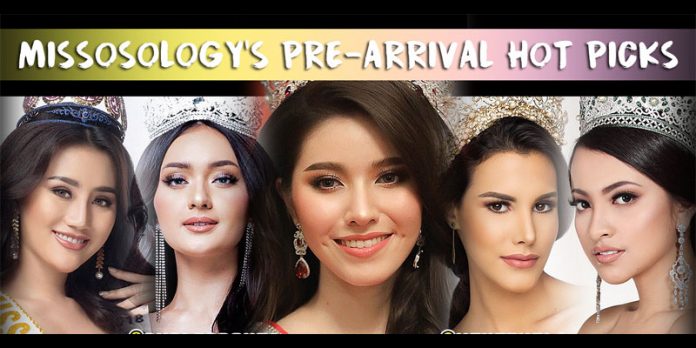 With the arrival of the contestants forthcoming, the ground is fluctuating at Miss International 2018. The dynamics of the rivalry has now turned our focus to the ladies from Asia. After all, the current winner comes from this region.
Keeratiga Jaruratjamon of Thailand currently leads the race. This chic beauty from central Thailand has a great potential to become her country's first ever Miss International titleholder. Our panel of beauty experts believe that this accolade is long overdue for a country that is one of the most passionate when it comes to beauty pageants.
Not to be outdone is the ever queenly Ma. Ahtisa Manalo who is representing the second strongest country in the pageant. The Philippines has already six crowns in its kitty and is hungry for more. Ma. Ahtisa is an example of a well-trained candidate and our panel of experts believe that it will pay-off this November.
In the Third Hot Picks, Miss Venezuela Mariem Velazco was on the top and now she steadied for the third place. She is so far the only Latina who made it to the Top 5 of the pre-arrival hot picks. This tells you a lot about her strength and her resilience despite the shifting dynamics of the rivalry.
On the fourth place is May Yu Khatar of Myanmar. She is just 19 years of age and her beauty has a lot of youth and freshness. Her country has religiously participated at Miss International since 2012 and it is now the time that it could finally have its semifinalist.
Climbing up three ranks since the last Hot Picks is Indonesia's Vania Fitryanti Herlambang. While the current winner is from her country, her resolve remains and hopes that a back to back win is not that farfetched. Her bubbly personality and easy going vibe will definitely help her in this competition.
Europeans may still find this race at play with Miss Poland Marta Pałucka on the 6th place and Miss Denmark Louise Arild at the 7th . Meanwhile, we've been saying this for weeks and we will not get tired in saying it again that the strongest from the African continent is Reabetswe Sechoaro of South Africa. In fact, our panel of experts would love to see her winning.
Miss Paraguay Daisy Diana Lezcano Rojas settled for the 8th place and she is the second strongest Latina in this list. Moldova's Daniela Marin rounds up the Top 10 and she has been touted as a front-runner in our previous hot picks.
Miss International 2018 promises changes and by how much is the question of the hour. Check out the complete Pre-Arrival Hot Picks for Miss International 2018 below: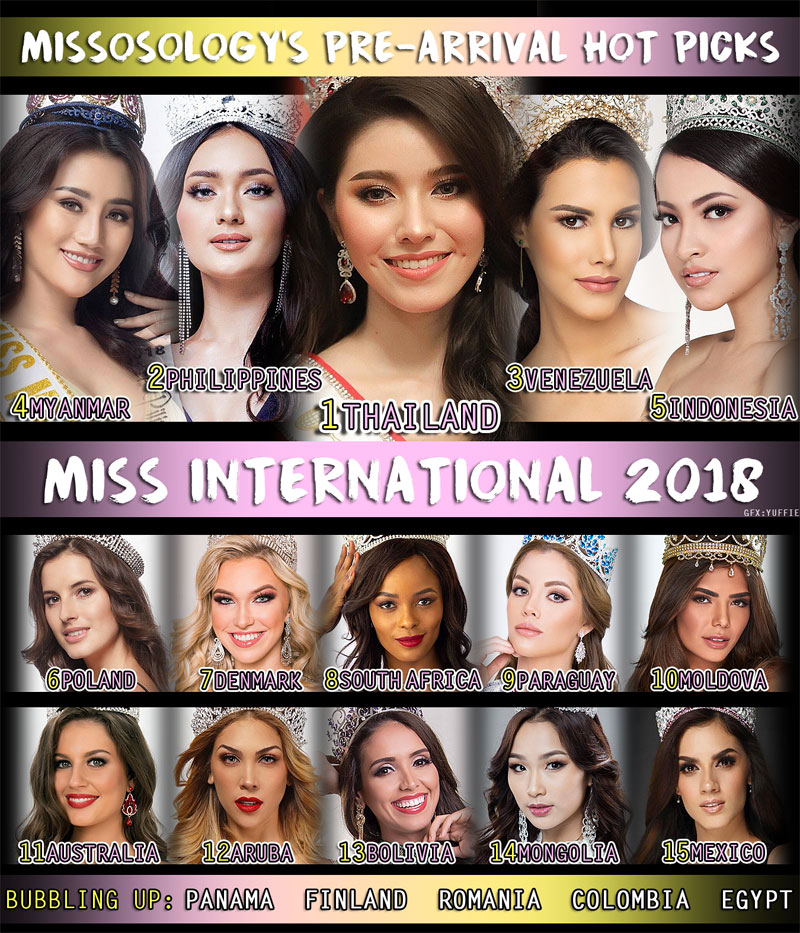 THAILAND – Keeratiga Jaruratjamon

PHILIPPINES – Ma. Ahtisa Manalo

VENEZUELA – Mariem Velazco

MYANMAR – May Yu Khatar

INDONESIA – Vania Fitryanti Herlambang

POLAND – Marta Pałucka

DENMARK – Louise Arild

SOUTH AFRICA – Reabetswe Sechoaro

PARAGUAY – Daisy Diana Lezcano Rojas

MOLDOVA – Daniela Marin

AUSTRALIA – Emily Tokic

ARUBA – Stephanie Anouk

BOLIVIA – María Elena Antelo

MONGOLIA – Munkhchimeg Batjargal

MEXICO – Nebai Torres
Bubbling up: PANAMA FINLAND ROMANIA COLOMBIA EGYPT