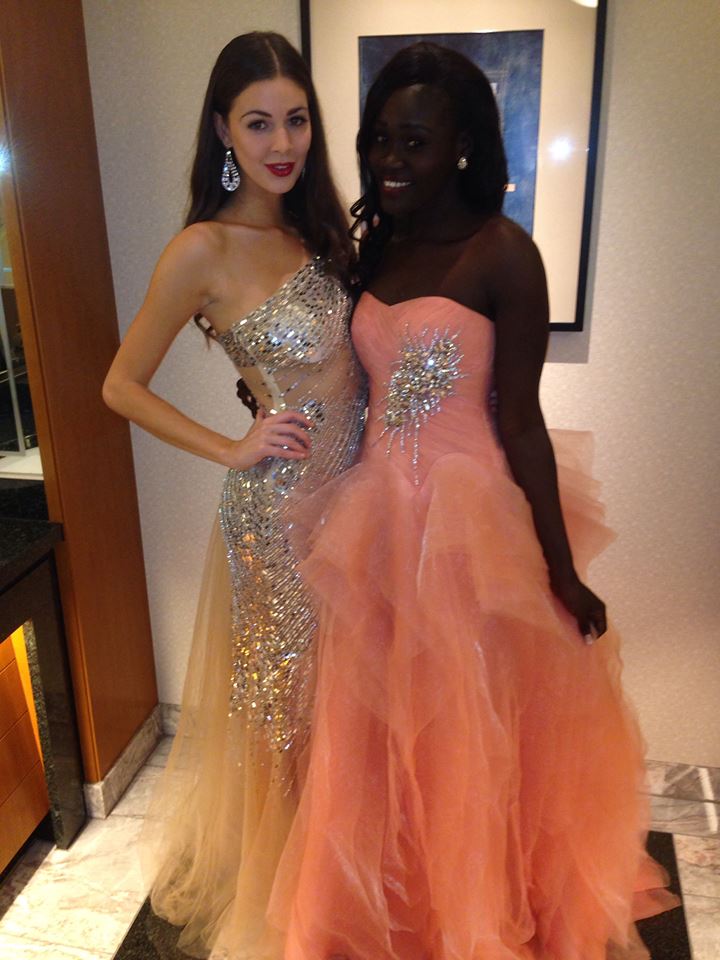 Part 2 of the Halfway Review…
35. MACAU (Adela Ka-Wai Sou).  Her name is actually very interesting (kawai sou in Japanese means "pity that girl"), but this delegate needs no pity at all.  She is one of the "most expensive" girls in the pageant, with amazing gowns, clothes and topnotch sponsors supporting her stint.  Although she was earlier pegged as a darkhorse, that status does not anymore belong to her as she is gaining more and more believers at the official forum.
36.  MALAYSIA (Charissa Chong).  She is actually very good looking in person, and has one of the most beautiful skin of the pageant.
37. MEXICO (Lucero Montemayor).  The hype and support over Lucero is undeniably overwhelming, and for some reason, she quite deserve it.  But, when you remove the "Mexico" sash, and you put her behind the other girls, she would easily blend in, and would go unnoticed.  This stunning Mexican must step up her game, and try to find that winning presence in order to place high.  Many fans are hopeful for her to give Mexico their third MI crown.
38. MONGOLIA (Namshiryn Anu).  The very friendly and lovely Mongolian delegate can pull a surprise at the finals, with her stage presence and winsome smile.
39.  MYANMAR (Gonyi Aye Kyaw).  This smart and talented delegate from a country that is so supportive of their delegate is now leading the Missosology People's Choice Facebook Poll.  And if she gets the nod of the Missosology Forum members, she will take home the crystal trophy that her predecessor also won in Okinawa last year.
40. NEPAL (Shritima Shah).  This Nepalese beauty is quite shy and demure, but her physical beauty has captured the eyes of those who have personally met the ladies.
41.  NETHERLANDS (Nathalie den Dekker).  Up until now, she has kept the front-runner status and no one can deny the fact that this pageant veteran, with a solid educational background to boot, is one of the most consistent delegates halfway through the competition.  Some may not be happy with the way she sports her new hairstyle, but she is more than happy to be who she really is at the MI activities, without trying to be someone that she isn't.
42. NEW ZEALAND (Casey Radley).  This tall, intelligent and lovely blonde is actually one of the friendliest delegates, who never fails to smile.  It will be a breath of fresh air to someone with such natural beauty in the Top 15 this year, and so far, Casey is doing everything that she can to put her country back in the semifinals, or even win the crown.
43. NICARAGUA (Celeste Castillo).  She is very underrated.  Celeste is one of the best Latinas in the pageant, but only a few seems to talk about her.  We at Missosology believes that if Celeste goes far in the competition, it is not totally surprising at all.
44.  PANAMA (Betzy Madrid).  Sending a woman of color from Panama may be unconventional for this central American country, which last won the pageant in 1998.  However, many believe that Betzy is a great contender for the crown as she is blessed with flawless skin, and a compassionate smile.  You can easily relate to her.
45.  PARAGUAY (Maria Marta Raviolo Vera).   She has this classic look that could easily remind someone of those years when movies and TV shows were shown in black and white.  A rare beauty, indeed!
46.  PERU (Maria Gracia Figueroa).  One thing that makes her standout is her cute smile, which is not intimidating.  She has this piercing stare, but, you can be drawn to her beauty, in a good way.
47.  PHILIPPINES (Bea Rose Santiago).  She is definitely the most talked about delegate in the forum.  One thing that most people do not like about Bea is her hairstyle, which makes her look older than her age.  However, when you see her in person, she actually looks fresh.  Now that she has slowly adapted to the harsh winter in Japan, her glowing skin is slowly appearing once again.
48. POLAND (Katarzyna Oracka).  A lot of people only has positive words for Kasia.   Her pictures are everywhere in our forum.  But, one thing that she strongly left an impact was her swimsuit presentation.   Many believe that she has the best body in the competition.
49. PORTUGAL (Ana Claudia Ornelas Bomfim).  This exotic beauty can be easily seen with the Portuguese-speaking group, that is why it is very rare to find pictures of her in our forum unless someone would share a picture of Brazil or Suriname.  We certainly want to see more of Ana in the coming days.
50.  PUERTO RICO (Ashley Beth Perez).  Many say that she is like the long lost twin of MUPR Monic Perez (interestingly, they have the same family name)!  Her styling is very "Monic-ish" as some forum members would say.   But, will this look do well in Miss International?  We surely hope so because Ashley is one of the nicest girls in this batch!
51. ROMANIA (Diana Maria Tiron).  She is sexy!  Her aura fits the pages of a lingerie magazine.
52. RUSSIA (Olga Gaidabura).  From Russia with legs!!!  During the Press Conference, this lovely delegate walked with an amazing pair of legs, despite not being one of the tallest delegates this year.  Her simplicity has made her a standout in many of the activities done so far.
53. SINGAPORE (Chew Jia Min).  Some say that she resembles last year's winner, Ikumi Yoshimatsu.  But, will MI crown a look-a-like of the reigning queen?  We certainly don't know, but, this smart delegate from the island state wore a national costume that made her truly memorable during the Press Conference.
54. SLOVAK REP (Nikoleta Duchonova).  She is actually making a strong presence at the activities, considering that she is the only blonde delegate who would sport a curly hair.  Hopefully, the judges will also notice how kindhearted sweet of a girl she is.
55.  SOUTH AFRICA (Cindy Rosslind).  She is representing the country that has become the talk of the week in Japan because of the death of their highly respected former leader, Nelson Mandela.   Although she came a little bit late – missing the Tokyo Trip as well as the Hakone escapade – Cindy showed up with a bang with her hair down, looking so natural, sweet and exotic.
56.  SOUTH SUDAN (Ayak Abiel).  This beauty who was educated in the United States is definitely one of the candidates with loyal followers in our forum.  She stood out during the Press Conference, proudly displaying her ebony skin and winning form at the swimsuit presentation.  One thing that we would like to see her improve is her hairstyle, that look a bit messy at times.
57.  SPAIN (Araceli Carrilero Martinez).  All three Spanish delegates at the already concluded Big 4 pageants have placed, and one of them almost grabbed a crown.  Will Araceli finish it with a victory next week?  Well, we can't really tell as of now as she is keeping a low profile.  The 2008 winner of Miss International, Alejandra Andreu of Spain, is here to fulfill the job of the reigning queen, who cannot attend due to security reasons.  So, maybe this could help Araceli a little bit to get noticed, but we also believe that she can score high on her own.
58.  SURINAME (Janet van Klaveren).  The mere fact that Janet's pictures are always featured both in the forum and the website mean that her presence is strongly felt halfway through the competition.   She has the aura of last year's 2nd Runner-up, Madusha Mayudanne of Sri Lanka, and if she play her cards well, leading to the finals, she might give her country their first ever placement in Miss International!
59. SWEDEN (Eleonore Lilja).  Sweet Smart Simple.  That's triple S, for the delegate that comes from a country that also starts with letter S.  These three qualities were enough to put Eleonore on the top spot of our 7th Hot Pick.   What many people really love about Eleonore is the way she carried herself in almost all pictures that we see of her.  The initial fear that was too skinny for the pageant was shed off, because she came out with a very healthy physique.   The only thing that she needs to do is to sustain that momentum, and not to overdo things, especially during the finals night.
60.  TAHITI (Ohana Huber).  The sweet beauty from the South Pacific did not disappoint her fans all throughout the competition.  She is well-styled, and her tropical elegance has been truly felt.  Although she is one of the shortest delegates this year, she has a well-proportioned body and a good poise that makes her appear taller than her measured height.
61.  THAILAND (Chonticha Tiengtham).  She has one of the most beautiful faces in the competition.  Her skin is impeccable and blemish free.  A tall delegate, with the fabled elegance of a true Thai beauty, Chonticha can win this pageant easily!
62. TUNISIA (Sondes Zamouri).  Never count out this demure beauty from North Africa, just yet.  Although she came from a region that normally does not support pageants, Sondes is just too pretty to be wasted.  She is here to show to the world what Tunisia can offer to the world in terms of beautiful and accomplished young women.
63.  UKRAINE (Margaryta Gorbyk).  She is a typical blonde Caucasian beauty who does not really stand out in a group.  However, when glammed up properly, she can be a force to reckon with!
64. UNITED KINGDOM (Elizabeth Grenham).  At the start of the pageant, many did not like her curls, but as the pageant progresses, she is slowly capturing the heart of many fans, with her more relaxed looks.
65.  USA (Andrea Neu).  The American delegate is very down-to-earth.  She is simple, yet, her unique look is what sets her apart.  Aside from that, she has a commanding height that can easily draw attention.  Wait for her when she opens her mouth because she is one very eloquent speaker!
66. VENEZUELA (Elian Herrera).  The pressure is on Elian because two of her fellow Venezuelan queens from the 2012 Miss Venezuela pageant had won their respective Big 4 pageants.  She is the tallest delegate this year.  Many may not like her strong features, but in flesh, she is actually a major head turner!  She is, after all, Miss Venezuela!  We just hope to see a softer look in the days to come.
67.  VIETNAM (Lô Thị Hương Trâm).   Simply beautiful!  She is one of the most beautiful Oriental beauties this year.   Her porcelain skin, and great body were noticeable during the Press Conference.  She's definitely one strong delegate to watch out for!