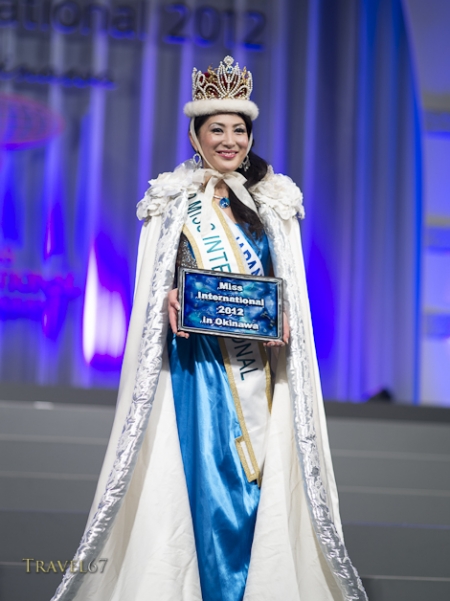 "What is a role model? Is someone who inspires good in all things. Someone who gives hope and helps encourage, and facilitates solutions. Someone who is active with endless love for humanity, and the energy to express that love. I believe that the success of winning a title is based on how many people you can inspire… how many communities you can help… how much change you can bring to the world. As a woman, we have endless potentials. We can be anything we want to be. We can accomplish anything we choose to accomplish… Be it in politics, business, science and education. We are uniquely capable of leading the future, and in the eyes of our children we can all share the title of the most beautiful and important woman in the world." – Ikumi Yoshimatsu
As soon as Ikumi finished her speech during the final round of Miss International 2012, a thunderous applause followed from all corners of the Budokan Hall in Okinawa, Japan. It is very rare for a Japanese delegate to use the English language when the pageant was being held in Japanese soil, but Ikumi bravely faced the challenge of not using her native tongue in front of her constituents. One would wonder if the Japanese crowd and judges had genuinely appreciated what she had just spoken, but her powerful message had come across and transcended barriers. And for that, Japan finally got their first Miss International crown – more than four decades since they first hosted the pageant in 1968.
Ikumi's journey to the Miss International crown was first chronicled here in Missosology.Org. Coming from a family of athletes – her father being a former Moscow Olympian – Ikumi inherited such athletic prowess and used them to propel her competitive edge at a very young age. During her primary and middle school days, she was an active volleyball player, while in high school, she became Saga Prefecture's 100-m hurdle champion. Last year, then as Miss Japan International, she competed and finished a full course at the 2012 Tokyo Marathon.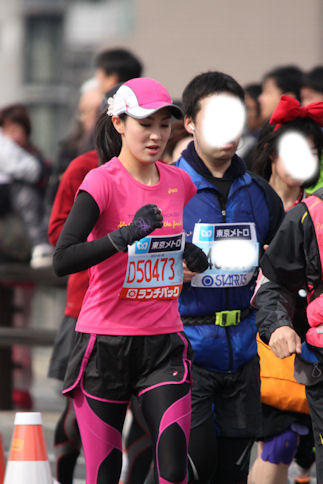 Beauty pageants are nothing new to our reigning Miss International. She first competed at the Miss Universe Japan 2007 pageant – the same batch with Miss Universe winner Riyo Mori – and ended up as one of the semifinalists. She was first runner-up at the Japan finals of Miss Bikini International 2010 but was was eventually sent to represent her country in the international finals in China, just a year before Tereza Fajksova -the reigning Miss Earth 2012 – competed. Who would have thought that two years later, both of them would become Big 4 Queens? In fact, Ikumi also tried her luck at Miss Earth Japan 2011, where she was given the title of Miss Water, equivalent to third place. With all these experiences in her pocket, Ikumi eventually bagged a major title when she won the Miss International Japan 2012 crown, giving her the right to represent her country in a Big 4 pageant.  The rest is history.
It's only been three months since Ikumi was crowned, but her schedule has already been full.  After a warm reception in her native Saga Prefecture, she had appeared since then in several TV shows, including the very popular noontime show "Waratte Ii Tomo" as one of the daily telephone guests. She is also a part of FM Inter-Wave Inc. with a regular program being aired every Friday from 13:00 to 15:00 in Japan. She is officially designated as the "face" of Tokyo Tower, where the said FM station is also based. Tokyo FM also airs her regular Saturday night program entitled "Tokyo Tower Presents 吉松育美のDiamond Veil" (Diamond Veil of Ikumi Yoshimatsu).
To jump start her international activities, Ikumi went to Washington DC to witness the second-term inauguration of US President Barack Obama, as one of the officially invited Japanese delegates. She met up with soon to be installed US Secretary of State John Kerry and had a chance to discuss with him her advocacy, particularly in the field of child education. This also led her to visit a Brooklyn-based elementary school where she talked to impoverished American kids about the importance of education, and not giving up on their dreams.
Ikumi Yoshimatsu's driving force is simple. She believes in sharing one's dream. She believes that her status as a woman does not and must not hinder her to reach for endless possibilities. For her, being Miss International is not based on physical beauty alone.  She believed that all the girls whom she competed against with last year in Okinawa were all uniquely beautiful, so what matters now to her is to prove that beauty defies any border. She is determined to work for her causes by inspiring the next generation on the importance of having a firm opinion, good communication skills and sense of leadership – the same qualities which she believed were the reasons why the strict judging panel had chosen her as Miss International 2012.