THIS TIME FOR AFRICA!
By Uno Rodriguez
Waka-waka "This time for Africa" is a hit song by Shakira and was the official song of the 2010 FIFA World Cup.  Can Africa finally sing this tune at this years' Miss International?Well, pageant aficionados worldwide know the that very first time a woman of color was crowned Miss International was ten years ago, courtesy of Jeymmy Paola Vargas of Colombia.  Many hoped that a black queen would soon follow and be hailed the fairest of them all.  Six years later, another woman of color was crowned in 2010 via Elizabeth Mosquera of Venezuela. Though Elizabeth underwent several cosmetic enhancement, still, she is considered a woman of color.   Come to think of it, Miss International may have crowned these girls,  but never a queen coming from Africa.
Is there something wrong with African women? Or maybe there are reasons behind this?
In our search for answers, it is wise to dig first into the history of this pageant as well as the cultural background of the people within the Miss International Organization.
Black beauties and the Japanese stereotype
For the longest time, Miss International is being held in Japan. Though in some occasions, China had hosted this pageant.
Miss International originated in Long Beach, California, USA in 1960. From 1968 to 1970, Japan hosted this pageant and after a year, from 1972 until present, Japan has been the home-base of this pageant.Are the Japanese the reason why a queen from Africa hasn't won Miss International yet?
Based on a study, most Japanese stereotype the "blacks" differently.  What are their basis?
There are many TV programs which implant bad stereotype of other countries or races. In an article I read few years back, some Japanese people have stereotypical images of black Americans, gleaned from American television and press accounts. Black people are often described like with black skins, dangerous, funny, strong or lazy. We are not trying to say that these descriptions are all true but media can sometimes affect their viewers.
Part of the article had mentioned that a lot of Japanese people believe Japan is a homogeneous nation. That they sometimes do not accept foreigners. There is this belief that because black people look totally different from the Japanese and they don't speak Japanese well, it is assumed that they are disliked.
So from there, can we formulate that because most judges at the finals of Miss International are Japanese, then no black woman of African heritage may win?
Actually, it is a wrong notion. There are quite a few young Japanese who love the black culture, be it like hip-hop, dances or clothing style.   Japanese even go to some hiyake salon to burn their skins.   Why?  Because they want to look like black people.   So there is this rising trend among Japanese that revere the black culture to the point of imitation.  There should not be any issue about Japanese being racist against black people just because they have not crowned any African woman yet.
Africa at Miss International
So, why Africa then hasn't won Miss International?  Let's look at the statistics.
This year, the only four African countries competing at Miss International are Egypt, Gabon, Mauritius and Zambia.  Both South Africa and South Sudan withdrew this year. Come to think of it, Africa is the world's second-largest and second-most-populous continent with sixty-three (63) countries in total.Last year in 2013, only four African countries competed at Miss International – Gabon,  South Africa, South Sudan and Tunisia. Guinea-Bissau, Mauritius and Namibia withdrew that year and no contest was held for Cameroon.
To date, since it's participation in 2012, Gabon is the only African country who is consistent in sending a delegate. They are even sending their national winner to compete.  The best placement of Africa at Miss International was in 1996, courtesy of Ibticem Lahmar from Tunisia.  The last time that a black African had placed as a semifinalist in Miss International was in 2012, courtesy of Paulina Malulu from Namibia.
Black winners at BIG4 pageants
Miss Universe first crowned a woman of color in 1977 with Trinidad and Tobago's Janelle Commissiong. A year after, they crowned the very first African winner, South Africa, with Margaret Gardiner.  But Margaret is white.  Namibia's Michelle McLean won Miss Universe 1992 but she is also white.  In 1995, the very first black Miss Universe winner from USA was crowned, Chelsi Smith, but she was bi-racial and was raised by the "white" side of her family.   In 1998, another black was crowned courtesy of Trinidad and Tobago's Wendy Fitzwilliam.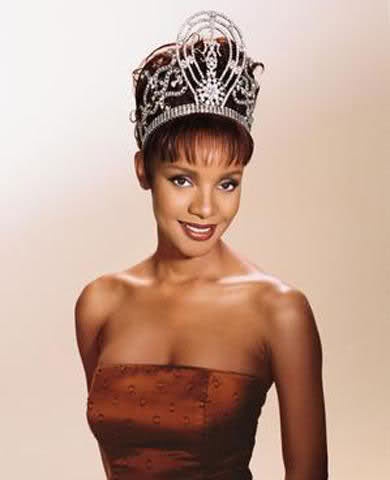 In a monumental year, debuting at Miss Universe, a "Black to Black" crowning happened. This time for the first time, a black queen from Africa was hailed Miss Universe 1999 through Botswana's Mpule Kwelagobe.  In 2011, Angola's Leila Lopez won Miss Universe, thus becoming the second black African to win the Miss Universe crown.
Dating back from 1954, Egypt was crowned as the 4th Miss World winner. It was followed by South Africa in 1958 with Penelope Anne Coelen.  But the first woman of color to ever won Miss World was in 1970 when Jennifer Hosten of Grenada ousted a black woman from South Africa, Pearl Jansen. In 1973 when Miss USA Helen Morgan resigned, South Africa's Anneline Kriel assumed the title.  Another win for Africa but, she was not black.
Other notable women of color who won Miss World are Giselle Laronde of Trinidad and Tobago (1986) and Lisa Hanna of Jamaica (1993). It took a while before Miss World finally crowned a black woman from Africa and it only happened in 2001 when Agbani Darego won the crown for Nigeria.
Do you think Miss International should crown a black African woman so that it can attract many African countries who are discouraged to join? Or crown Miss Egypt who represents the light colored women of Africa?   Will it motivate the African countries to consider Miss International as a serious pageant with it's relevant mission, vision and purpose?
In the second year of Miss Earth, after the dethronement of Džejla Glavović  from Bosnia & Herzegovina, Kenya's Winfred Omwakwe assumed the title, and is still recognized as the official Miss Earth 2002 queen.  This year, the 14-year-old pageant has fourteen (14) African countries expected to compete in Manila on November 29th.  They are Botswana, Egypt, Gabon, Ghana, Kenya, Madagascar, Mauritius, Namibia, Nigeria, Réunion Island, South Africa, Tanzania, Zambia and Zimbabwe.
Conclusion
Powerhouse countries who had won BIG4 crowns from the African continent are missing at Miss International 2014 edition. The likes of South Africa who had won both Miss Universe and Miss World is missing.  Botswana, Kenya, Angola, Namibia, Kenya and Nigeria seem to ignore Miss International.There is this big market out there for Miss International Organization to dig in Africa. Described as the "Cradle of Humankind", crowning an African queen as Miss International is not far and impossible to happen.
Is it time for Miss International to market and penetrate the African region by crowning either Egypt, Gabon, Mauritius, or Zambia this year? Well, only time can tell.
About the author:

Uno Rodriguez is a resident pageant expert of Missosology who is based in Paris, France.

He has written several blog entries and pageant analysis of the BIG 4 Pageants.