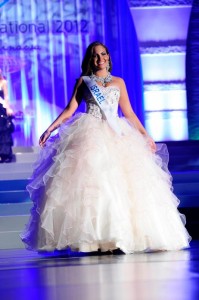 Israel is a nation that is celebrating her 66th Independence Day this month.   Although it is being squeezed by surrounding nations that are hostile against them, one cannot miss the regular presence of the Israeli delegates in the Big4 Pageants.  Perhaps, only Lebanon and Egypt are as equally visible, although the latter is currently inactive and unsure of its return.  Nevertheless, the racial smorgasbord of the Israeli people has given us, in recent years, the likes of Jewish-Ethiopian Yityish Titi Aynaw, blonde Arab-Israeli Lina Maschola, and Sephardic Jew Shani Hazan, as top winners in the annual Miss Israel pageant.  Whether in good or bad times, Israel is a country that many look forward to in the annual Miss Universe and Miss World pageants.
Despite the fabled endless supply of beautiful women in Israel, and the outstanding turnout of amazing contestants in the annual Miss Israel pageant, we barely see an Israeli delegate in  Miss International – a pageant based in Japan – during the past 10 years.  The sexy and lovely Yael Markovich, who is based in Los Angeles, was the last to compete in 2012, but that was after six years of absence.  In 2013, Israel had failed to send a delegate once again, so that would naturally leave a legitimate pageant fan to ask "What were they doing with the beautiful girls who were wasted at the Miss Israel pageant?"
This is not to say that Israel has a very poor performance in the Miss International system.   In fact, it is one of the more successful countries in this annual pageant, having ranked 14th overall with 2110 points in the Big4 Ranking.   They have competed since its first staging in 1960, and have placed in all but two in the semifinals up to 1971.  They stopped competing in 1972, which was the same year that Israeli athletes were murdered in the Munich Olympics.   They were back again in 1976, and since then, they had never failed to send a delegate for almost three decades.
Israel may have won the Miss Universe and Miss World crowns before, but the Miss International crown remains elusive to them.  Their best placement was a 1st Runner-up finish in 1967 courtesy of Yaffa Shafrir.  They have numerous semifinalists, and one Miss Photogenic awardee.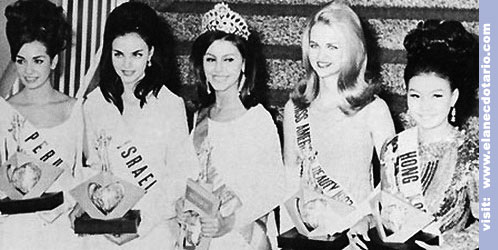 In the past, the organization behind the Miss Israel pageant had been sending one of their four winners to the Miss International pageant.   In 2001, Dikla Elkabetz won the Miss Photogenic award, and was one of the semifinalists.    A year later, the Lebanese delegate, Christina Sawaya, won the Miss International crown.  Interestingly, Christina was supposed to compete in Miss Universe 2002, after her failed stint in Miss World 2001, but refused to compete because she said that she did not want to be in a pageant competing with Israel, being her country's arch nemesis.   Ironically, at Miss International, Christina had to compete with Miss Israel, Shelly Dina'i but the latter did not place in the semifinals.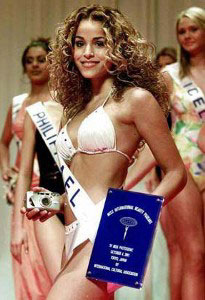 It is quite intriguing to note that Israel, a country that has been more or less loyal with Miss International as compared to Lebanon, has never won this crown yet.  Even after Lebanon's victory in 2002, the people behind Miss Israel had been sending delegates, until they had sent Moran Gerbi as the last girl from their organization to compete in Miss International.  That was in 2005.
Now, Israel has a new national director for Miss International.  Mike Landers of Modelina Management, together with Miss International Israel 2012 Yael Markovich, have been screening topnotch girls who can compete in Tokyo this autumn.  They are not just looking for a girl who will represent Israel, but, they are determined to find someone who can win the first ever pearl crown for the Jewish state, a gift for Israel's 66 years of existence as the only free nation in the Middle East.    Who knows, they might be able to tap one of the past winners of Miss Israel.
For more information about the casting of the next Miss International Israel, check the details below:
By:  Stephen I. Diaz
Photo Credits:  Yael Markovich, www.elanecdotario.com and Miss International Organization