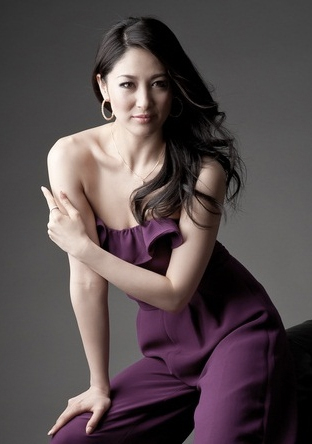 If you think that Miss Universe 2007 Riyo Mori is the most transformative beauty queen in modern Japan, you may want to rethink that after reading this article. While it is true that Riyo elevated Japan's stature in the international pageantry, there is one Big4 winner from Japan that is shaking things up in her country. She's no other than Miss International 2012 Ikumi Yoshimatsu.
Ikumi Yoshimatsu is all smiles after winning Japan's first Miss International crown
Ikumi was crowned amid the claims of hometown favoritism. After all, in 2012, three out of the Big4 queens where from the host nations. Nevertheless, Ikumi was an instant hit in her native land. She was invited in many shows and events and was even feted in her own hometown. But for pageant observers outside of Japan, Ikumi was best known for being a beauty queen that never finished her reign. In December 16, 2013, the teary-eyed Ikumi told the foreign correspondents in Tokyo that she is being harassed by a talent agency which has links to the yakuza. Fearing for her security, she was not able to attend the Miss International 2013 events including the finals night where she was supposed to pass her crown.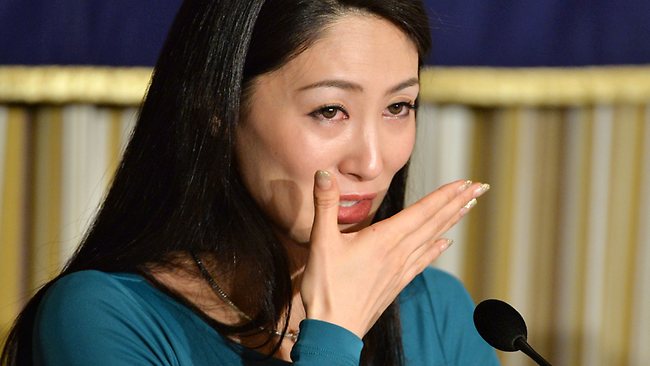 Ikumi cries during a press conference where she revealed that she is being threatened by a talent agency
The failure of Miss International Organization to protect Ikumi puts the organization's honor and credibility into question. Ikumi was simply abandoned by the organization which is a shame for them. Rising through adversity, Ikumi bravely fought back using her popularity as a weapon. She put up a campaign called "Stalker Zero" where she intends to end the 'culture of silence' towards crimes against women. Her campaign was reportedly supported by Yoko Ono and had a very strong ally  in Akie Abe, Japan's current First Lady.
Last month, Ikumi was again on the spotlight when she tackled the issue regarding comfort women – women who were sexually abused by the Japanese Imperial Army during World War II. When asked by a CBS anchor regarding the plan to backtrack the apology issued by Japan on comfort women, Ikumi replied that as a Japanese she feels embarrassed and ashamed. "As a woman, I'm outraged that apologizing was even a issue," she added.
Ikumi's campaign is being supported by the First Lady of Japan
Her remarks drew strong objections from the Japanese right calling her a dumb beauty queen and flooded her Facebook page with strong comments. While Ikumi clarified her position and claimed that the context of her statement was not fully understood, she had some unlikely supporters. In Korea, Ikumi was hailed as a courageous beauty queen who has a true heart with regards to the pressing issues regarding the abuse of women.
Unfortunately, Ikumi's courage is barely being talked about outside Japan. The ineptitude of the Miss International Organization also aggravated Ikumi's predicament. She is after all a Miss International and the organization is obliged to help her especially that she was under threat during her reign. Anyway, if there is one beauty queen who dared to challenge the dark traditions of Japan, it's Ikumi Yoshimatsu. Her courage and and her vision may not be appreciated these days, but her struggle to fight the culture of abuse among Japanese women is actually getting traction. Ikumi will probably become an unsung heroine, but heroine nonetheless.