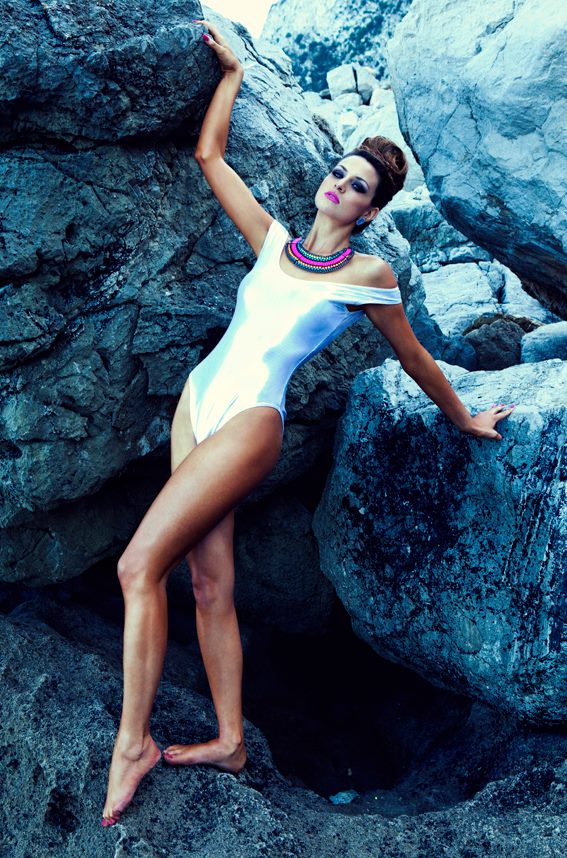 BEAUTY TALKS WITH JAMIELEE RANDALL – MISS INTERNATIONAL GIBRALTAR 2013
By Stephen I. Diaz and Kerianne Massetti
Gibraltar became well-known in the pageant radar scene after the surprising and well-deserved victory of Kaiane Aldorino in Miss World 2009.  This year, also at Miss World, Maroua Kharbouch entered the Top 6 through the power of public voting, well, despite the fact that Gibraltar is just a small pint in the whole continent of Europe with a population of around 30,000.  Interestingly, those were their only two placements in the London-based pageant, despite being a loyal participant since 1959.   Meanwhile, at Miss Universe, they had consistently participated in the 1980s, which unfortunately ended in 1990.   At Miss Earth, they competed for three straight years from 2001 to 2003, and never to participate again.   Last year at Miss International, Kerrianne Massetti became the first ever Gibraltarian to compete in this annual Big 4 pageant.   Being the 1st Runner-up at Miss Gibraltar 2012, she flew to Okinawa, Japan and proudly introduced the Gibraltarian culture to the world as she joined the 68 other delegates from around the globe during the three-week pageant.  This year, the 1st Runner-up of the Miss Gibraltar pageant is once again assigned to compete at Miss International, a news which was well-received by pageant fans from around the world.  After all, the beautiful and statuesque Jamielee Randall won't be wasted, and is given the chance to represent Gibraltar in a prestigious international pageant.
Kerianne Massetti assisted us in this edition of Beauty Talks, as we get to know more about Miss International Gibraltar 2013, Jamielee Randall.
1. Please tell us about yourself, your family and your ambition in life.
My name is Jamielee Randall, I am 21 years old and I live in Gibraltar. I have a younger sister and brother which I am very close too and live with them, my parents and our family dog Butch! My ambition in life is to be a role model for girls within the community, and use my current title to be involved and actively support local and international charitable organisations.
2. Tell us something about a typical childhood memory in Gibraltar, based on your personal experience.
A typical childhood memory in Gibraltar which is somewhat unique is going up the rock of Gibraltar and visiting the apes! Or spending hot summer days at the beach or at a bbq with family and friends.
3. Please inform our readers. Is Gibraltar a country? An independent state? Or a territory administered by the United Kingdom?
Gibraltar is an overseas British territory and a peninsular on the southern tip of Spain. Gibraltar is considered to be Britain in the sun, however, even though we are governed by Britain, as a nation we very much consider ourselves to be Gibraltarian, as we are all very passionate and proud about where we are from.
4. Are beauty pageants well-received in your country? Do you believe that beauty pageants are still relevant in today's society?
Within Gibraltar, the beauty pageant Miss Gibraltar is one of the most anticipated events of the year. A title holder is considered to be a role model within our community, a person who exudes elegance and grace and will use the title to help the community. Since I entered Miss Gibraltar, and now have the chance to represent Gibraltar as Miss International Gibraltar, I have just received support from my family, friends and the community! It is a real honour to have the chance to represent the country which I love abroad, especially after Kaiane Aldorino won Miss World and for us it was a National Victory.
5. In Japan, "Gibraltar" is normally associated with the famous insurance company. How will you introduce your country to the Japanese people and to the other girls who will be competing for the Miss International title?
I will introduce Gibraltar as a very small peninsular with a population of just 30,000 but with pride to compete a nation of 5 million. It is considered to be a melting pot, because of the mixture of religions and cultures all living united as one. It is a place where you are surrounded by family and friends and can never feel alone, we are Gibraltarian first and anything else comes second to that, which is why I am proud to call Gibraltar my home.
6. Tell us something that you know about Japan, and what do you expect when you arrive in Tokyo this December?
I am familiar with the rich culture and history Japan has to offer, but as I have never been to that part of the world, I really do not know what to expect but I have no doubt that it will exceed my expectations in every way. I have been told that the food is fantastic, I have never tasted authentic Japanese food so I am excited try it out!
7. Finally, why do you think you should be the next Miss International? 
The winner of Miss International should embody everything that the organisation represents and more, I feel I have the attributes to be able to carry the title with pride and make both my country and the organisation proud. This for me is a once in a life time opportunity, winning the title would be life changing as I will be able to see the world and use the title as a platform to help as many people as possible.