Graphics by Yuffie
For weeks, the Miss International 2019 Hot Picks is kind of a classic tug-of-war. It boils down to the question whether the pageant is open for new possibilities or not. Will it go the usual way or will it embrace modernity and diversity?
Soon, beauties from around the world will converge in Tokyo for the ultimate showdown. The biggest news is that this year will see the largest delegation from the African continent. Miss International has successfully marketed itself Africa but that should come with an attached responsibility of not ignoring the frontrunners from the continent. It would be a disgrace to deny for example, Miss Uganda Evelyn Namatovu Karonde with at least a place in the semis. She is currently the frontrunner among the African delegation and is now on the third place of pre-arrival Hot Picks.
Latinas should continue to dominate at the pageant and Miss Mexico Andrea Toscano leads the pack. She was basically left out in the last Hot Picks but now she zoomed in to the prime position. Her radiant looks and well-toned body would certainly be enough to reward her country with the third Miss International crown.
Miss Vietnam Nguyễn Tường San continues to perform strongly according to the opinion of Missosology beauty experts. Ever since she was named as Miss International Vietnam, there is no stopping her. She's in the second position as of the moment after finishing first in the last hot picks.
Exuding great vibes is Miss India Simrithi Bathija. India has basically conquered every Big5 pageant except Miss International. Could Simrithi finally deliver? Well, her beauty and charm propelled her to the 4th position in this week's hot picks. Hope she can convert this into something meaningful once the pageant kicks off.
Rounding off the Top 5 is Miss Spain Claudia Cruz. She was on the 10th place on the previous hot picks and now she's getting the attention she truly deserves. Her country boasts 3 Miss International titles and it isn't really an improbability that Claudia will clinched the 4th.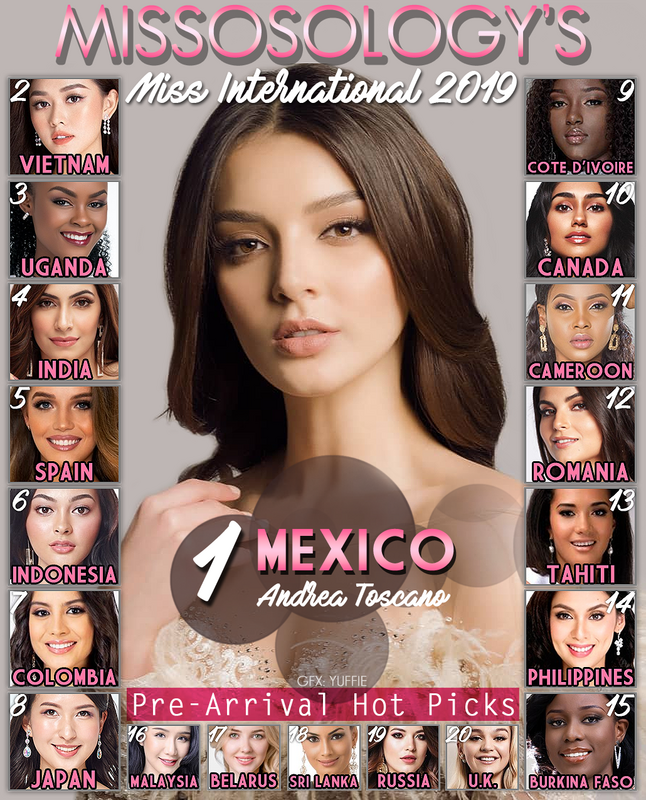 Here's the complete list of the beauties who made it to the Miss International 2019 Pre-Arrival Hot Picks:
Mexico – Andrea Toscano
Vietnam – Nguyễn Tường San
Uganda – Evelyn Namatovu Karonde
India – Simrithi Bathija
Spain – Claudia Cruz
Indonesia – Jolene Marie Rotinsulu
Colombia – Alejandra Vengoechea
Japan – Tomomi Okada Sevaldsen
Cote d'Ivoire – Tara Gueye
Canada – Megha Sandhu
Cameroon – Angele Kossinda
Romania – Andreea Maria Coman
Tahiti – Poevai Garnier
Philippines – Bea Patricia Magtanong
Burkina Faso – Wendlasida Flora Ouedraogo
Bubbling up
Malaysia – Charmaine Chew Qi En
Belarus – Maria Perviy
Sri Lanka – Pawani Vithanage
Russia – Marina Oreshkina
United Kingdom – Harriotte Lane