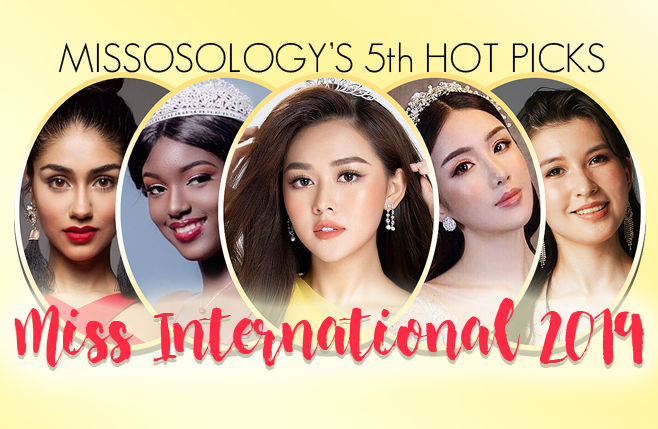 Graphics by Yuffie
In about a month from now, a new Miss International will be crowned and our beauty analysts and experts are keeping a sharp look-out for any possible changes in trends. As of the moment, it is a toss-up between Miss Vietnam Nguyễn Tường San and Miss Cote d'Ivoire Tara Gueye. Either one of them will make history because they will be the first from their respective countries to win the title. Even more exciting is that if Tara will win, she will become the first black African to do so. Meanwhile, Nguyễn Tường San will allow Vietnam to join Philippines, Japan and Indonesia – the only three Asian countries that managed to win the Miss International crown. This will further cement Vietnam's ascent in the Big5 Ranking.
Meanwhile, Miss Malaysia Charmaine Chew Qi En landed on the third place of this Hot Picks a few days after she was named as Miss International Malaysia 2019. She's a social media influencer and a public speaker and these qualities will surely be her edge at the pageant.
Miss Canada Megha Sandhu retains her place as one of the Top 5. This amazing beauty queen has been the talk of the town since her national competition. She will be probably the strongest Canadian that we will ever see at Miss International. Interesting to note that no Canadian woman has ever won the title to date!
Miss Japan Tomomi Okada Sevaldsen rounds up the Top 5 of this list. Her country is experiencing the upswing of the national fervor thanks to several high profile international events like the Rugby World Cup 2019 and Tokyo Olympics 2020. If the performance of the Japanese Rugby team is an indicator, it will be likely that Tomomi will place high at Miss International!
Check out the complete list below.
1. VIETNAM – Nguyễn Tường San
2. CÔTE D'IVOIRE – Tara Gueye
3. MALAYSIA – Charmaine Chew Qi En
4. CANADA – Megha Sandhu
5. JAPAN – Tomomi Okada Sevaldsen
6. SRI LANKA – Pawani Vithanage
7. BELARUS – Maria Perviy
8. INDONESIA – Jolene Marie Rotinsulu
9. UKRAINE – Marina Kiose
10. SPAIN – Claudia Cruz
11. COLOMBIA – Alejandra Vengoechea
12. UGANDA – Evelyn Namatovu Karonde
13. PHILIPPINES – Bea Patricia Magtanong
14. FINLAND – Jutta Kyllönen
15. SOUTH AFRICA – Nicole Middleton
Bubbling up:
16. CZECH REPUBLIC 17. ROMANIA 18. TUNISIA 19. ZAMBIA 20. DOMINICAN REP