Text by: Ric Galvez
Graphics by: Yuffie
It wasn't long ago when Missosology conceded that Miss International will continue its ways and tradition of preferring Latina and East Asian beauties. Two weeks ago, the Top 5 of the Miss International Hot Picks were filled with countries which has already a crown. Now, we have Miss Cote d'Ivoire Tara Gueye topping the list? What has changed?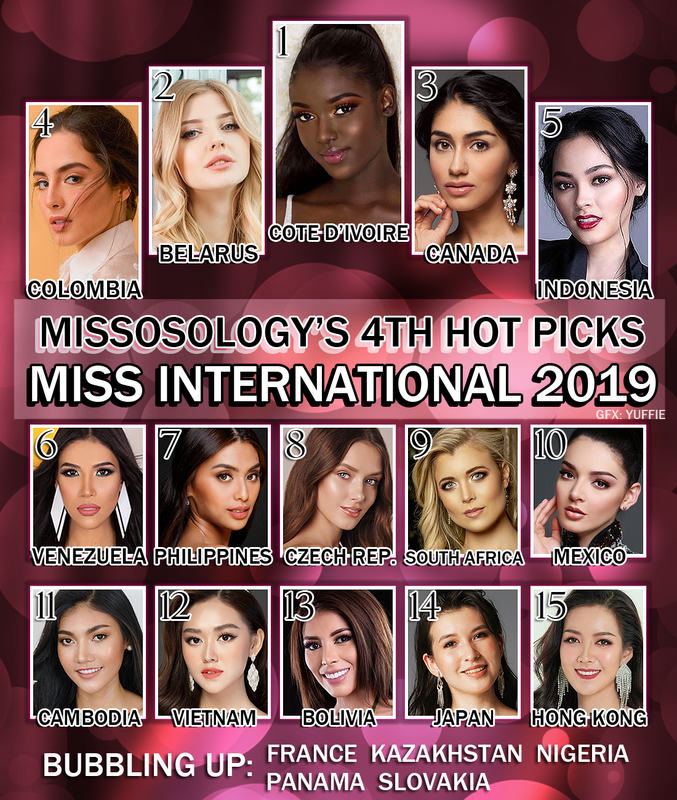 To start with, there's a record number of Sub-Saharan African countries that will participate at Miss International 2019 pageant. The list is encouraging, based on a Facebook post by one of the Miss International staff members who used to cover the pageant for Missosology. Second, Miss International is taking a lot of steps internally to align itself to a more modern and diverse perspective. African countries this year will have a very realistic chance to win the Miss International crown. There is no doubt that Tara Gueye is the front runner among the beauties from the continent. If she will be successful in her quest, she will make history.
Occupying the second place of this list is Maria Perviy of Belarus who is a serious threat to a possible win by an African country. There is a chance that Miss International is not yet ready for a radical change. Maria's model-esque figure and her doll-like features appeal to wide variety of tastes. She is the safest bet that Miss International can choose if the pageant succumb to its cold feet.
Meanwhile, Canada is sending its best bet at Big5 pageants to Miss International. Megha Sandhu was tagged as the front-runner at the Miss Universe Canada pageant but she was bestowed with a first runner-up title and later as Miss International Canada 2019. Her wit, beauty and curvaceous figure will not go unnoticed in Japan.
Last week's topnotcher is yet to give up her fight. Miss Colombia Alejandra Vengoechea is still in contention and is placed fourth in this Hot Picks. Colombia is most successful at Miss International and has already 3 crowns. Alejandra is a prototype candidate for Miss International and it is very likely that her country will have its 4th crown this year.
Completing the Top 5 is Miss Indonesia Jolene Marie Rotinsulu. She is currently the front-runner among the Asian beauties and given the fact that her country seems to have perfected the art of making an impact at the Miss International stage, her chances are pretty good.
Here are the remainder of contestants who made it to the 4th Miss International 2019 Hot Picks:
6. Venezuela – Melissa Jiménez
7. Philippines – Bea Patricia Magtanong
8. Czech Republic – Andrea Prchalová
9. South Africa – Nicole Middleton
10. Mexico – Andrea Toscano
11. Cambodia – Kachnak Thyda Bon
12. Vietnam – Nguyễn Tường San
13. Bolivia – Valentina Pérez Medina
14. Japan – Tomomi Okada
15. Hong Kong – Kaye Cheung