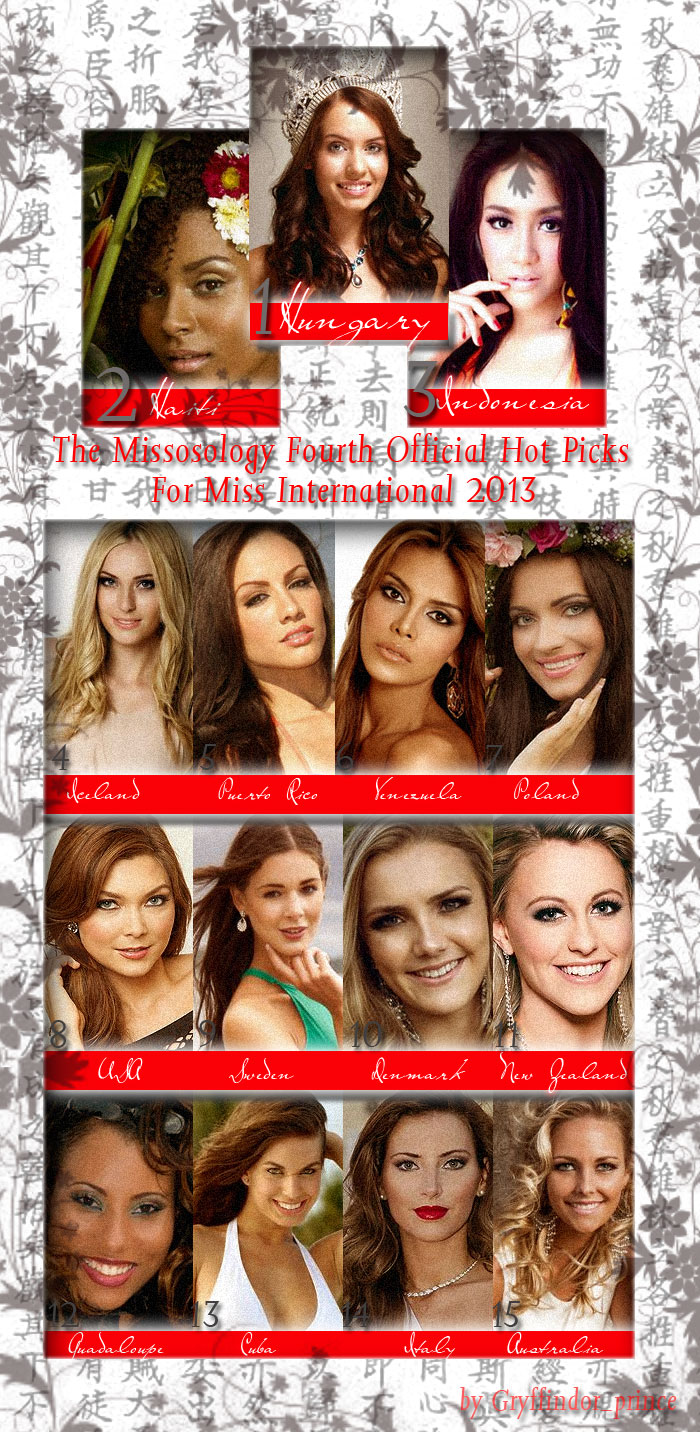 MISS INTERNATIONAL 2013 4th Official Hot Picks
1. HUNGARY
2. HAITI
3. INDONESIA
4. ICELAND
5. PUERTO RICO
6. VENEZUELA
7. POLAND
8. USA
9. SWEDEN
10. DENMARK
11. NEW ZEALAND
12. GUADELOUPE
13. CUBA
14. ITALY
15. AUSTRALIA
Two more months to go, and the official contestants for this year's Miss International Beauty Pageant  – the last to be held among the Big4 Pageants – are slowly being revealed by the International Cultural Association in their Facebook fan site.  Along with that comes a major revamp in our 4th Official Hot Picks, which is dominated mostly be new faces.
Topping this month's Hot Picks is the queenly Hungarian delegate, Brigitta Otvos.  After being crowned some weeks back, her presence has been well-received by MI followers and she is now pegged as the one to beat, after placing third in last month's list.  Not far behind is the very beautiful black barbie from Haiti, Clara Luce Lafond.   After being crowned as Miss Haiti International, not much hype was heard about her because most of the focus were relegated to their Miss World bet.  But now, a lot of Missosologists have started to notice her potentials, and she is definitely one exotic beauty to watch out this year.  In third place is the very much improved delegate from Indonesia, Marissa Sartika Maladewi.  Since her crowning, she was being criticized for her weight, but, it could not be denied that she's very charming and pretty.  Now that she had lost some extra pounds, a newly transformed Marissa has just emerged as a main contender for this year's MI crown.
In fourth place is the Icelandic goddess, Sigrún Eva Ármannsdóttir.  She was unfairly ignored during her Miss World stint in 2011, and now, she is back in full force to conquer another MI crown for her country, after 50 years!  The last time this volcanic island had won the crown was in 1963, courtesy of  Gurdrun Bjarnadóttir.   Meanwhile, another Caribbean beauty is expected to rock the MI stage through Puerto Rico's Ashley Beth Pérez, who is in fifth place.   A well-experienced pageant veteran, Ashley is expected to give a strong showing this December.

Venezuela's Elian Herrera is back in our Hot Picks at sixth place, after disappearing at last month's list.  Her recent appearance at the Miss Venezuela 2013 pageant further affirmed that she is still a serious contender for the crown.  Not to be missed is Poland's Katarzyna Oracka, who is new on our list at seventh place.  Since last month, many pageant fanatics have demanded for her inclusion.   In eight place is USA's  Andrea Neu.  This intelligent and gorgeous contender from Colorado is armed with a strong organization that is preparing her very well, leading to the pageant. Sweden's Eleonore Lilja is up at ninth place, and she is expected to go up further.  She might as well be her country's first ever Miss International winner.  Another Scandinavian beauty completes our Top 10 with Denmark's Josefine Egebjerg.  This sweet blonde beauty has a strong fan base in her native country, and she has all the reasons why.
New Zealand, Guadeloupe, Cuba, Italy and Australia complete our Top 15.   Casey Radley, the kiwi nation's bet, just revealed herself with a stunning profile pic, which is hard to ignore.  Megane Monrose of Guadeloupe has this very infectious smile that can light up a whole room!  Cuba's Claudia Valdes has a slight resemblance to last year's Miss Philippines, Nicole Schmitz.  In the meantime, the newly crowned Miss International Italy, Sara Cavagnari, drew attention for her strong Mediterranean features, but she needs to tone down her body in order to be ranked higher.  Last month's second placer, Johanna Parker, plunged to 15th place due to lack of new updates about her.
So this is our 4th Official Hot Picks!  If you want your bet to be included in next month's list, share them to us by leaving a comment below!