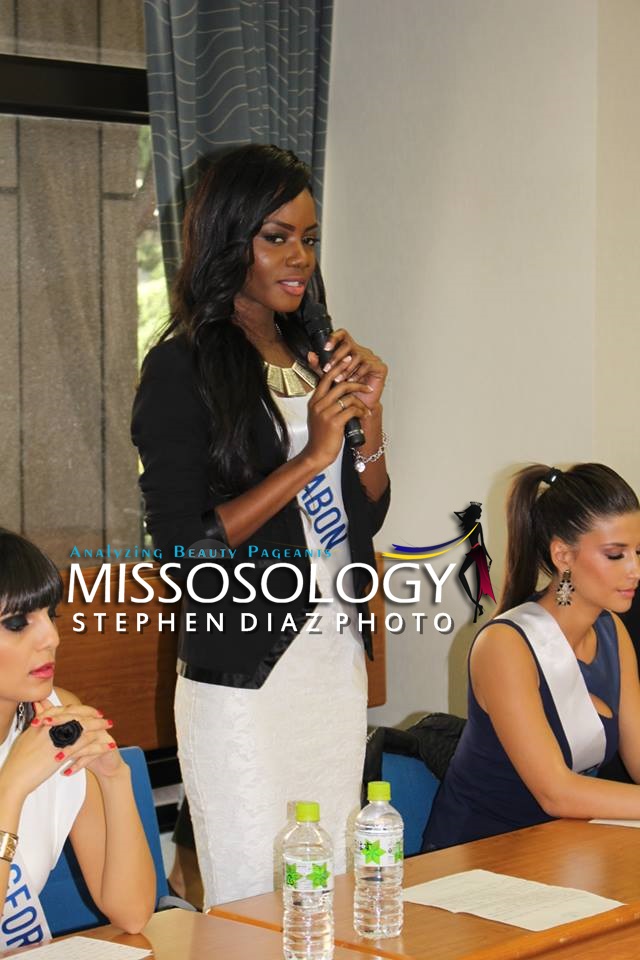 MISS INTERNATIONAL FORUM 2014 Review
"And everyone was listening…"
This year marks a historical year for Miss International.  74 wonderful ladies from all over the world have gathered in Tokyo, not just for the Miss International 2014 coronation night, but also for the largest MI Forum ever in the history of the pageant.   Hosted by Showa Women's University in Sangenjaya, Tokyo, this year's MI Forum was held in a huge conference room where all the delegates have a perfect chance to speak their chosen topic.  Days ago, all the delegates were given five topics to choose from and they all prepared for this moment to prove that they are worthy spokesperson for the organization that they will represent in the next year.  Not only that, many seemed to be very attentive, while some girls were obviously pretending to listen while others were busy memorizing their speech while another person was talking.
Let's find out who were those who really stood out during this event, by dividing them according to the topic that they had chosen: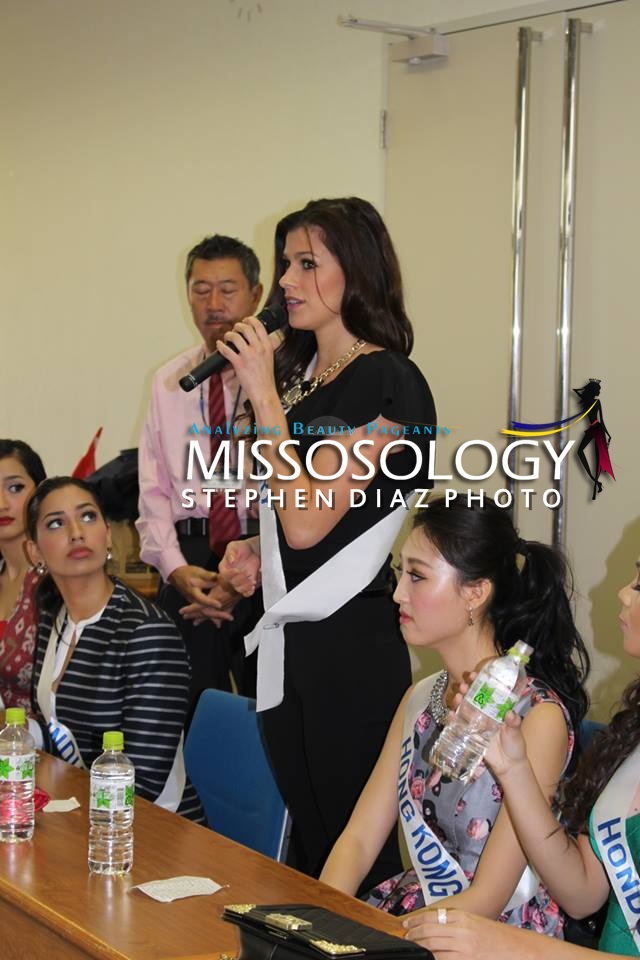 1.  What are the social problems in your country and what have you done in order to solve them?
On top of this list was the young and very outspoken delegate from Lebanon, Lia Saad, who was so vocal about her desire to have a better world, and that, instead of looking for people to blame for our problems we must start within ourselves.  Although she is one of the youngest delegates, this year, the 19-year-old from Beirut was so convincing in her overall delivery.  Guyana's Ruqayyah Boyer was also amazing in this round, speaking about her own NGO, in which is the chairperson.  Miss Sri Lanka Tamara Shanelle Makalanda was very emotional about her desire to promote education, and that, every child deserves to be educated.  Philippines' Bianca Guidotti opened her speech in the same way Bea Rose Santiago did hers, but this time, instead of using the typhoon victims as an example, she used the victims of displacements due to conflicts as her opening salvo, as evidenced by her involvement in an NGO.  Other notable speeches were that of Miss Finland, Miss Colombia, Miss Malaysia, Miss Indonesia and Miss Zambia.
2.   As a beauty queen, if you had $1 million dollars with you, how would you spend it?
Miss Singapore, Vanessa Sim,  was very candid and honest with her reply to this question.  She told everyone about her involvement in a relationship where she was emotionally and physically abused, so, if she had a millions dollars, she would open a foundation that would support those victims.  Miss Hungary, Dalma Karman's response was very specific, where she said that a million dollars would be too much for a student like her, and that she would spend it for her education, help spread the Miss International brand in Central Europe, and finally, to help her brother's family.  Miss United Kingdom, Victoria Tooby, wanted to use the money for a foundation that supports the victims of Parkinson's disease, because her grandmother suffered from it.   And finally, Miss Gabon Maggaly Nguema wanted to build houses for the victims of leprosy, because as Miss Gabon, she has been involved in helping leprosy victims receive love and attention after they were disowned by the society.
3.  Aside from your family,  who is the person whom you respect the most and why?
Miss India, Jhataleka Malhotra was memorable with her speech about Mahatma Gandhi, because for her, he had proven that we could achieve peace through non-violent means.   Miss Belgium, Gonul Meral, was charismatic in the way she answered her speech in her cute Turkish-Belgian accent.  She said Princess Diana was her role model.  Miss Denmark, despite some slight glitch at the opening parts of her speech, was able to compose herself well and delivered her thoughts well.  Miss Turkey, despite not being fluent in English, was also very good!
4.  Why do you think wars and battles occur?
For such a sensitive topic, Miss Russia Alina Rekko did wonderfully well!   Miss Australia Brigette Rose-Talyor and Miss USA Samantha Brooks with their perfect English, were also able to deliver their respective speeches in a convincing and clear manner.  Miss Egypt, Perihan Fateen, was also very passionate with her delivery where she spoke about people with different backgrounds, races and religion being able to live together in harmony, such as what is going on in the Miss International pageant.
5.  Ten years from now, what will you be doing and why?
There is no doubt, Miss Slovakia Lucia Semankova brought the house down with her very honest, spontaneous and heartfelt speech about how she perceives herself in ten years time.  She said that she wants to continue with her passion, which is being an opera singer, and hopefully she will have a family of her own, but first, she needs a husband.  With that, she lightened up the mood, and got laughter from everyone.  Miss Mongolia, Bayartsetseg Altangerel, wants to see herself doing well in the film industry.  She is very fluent in English, and it was only later that we found out that she is an actress in California.
If the Miss International crown will go to the one who delivered the best speech during the MI Forum, it will be a toss between the delegates from Lebanon, Slovakia, Sri Lanka, Egypt and India.  But there were other factors that had to be considered, such as the overall presentation, fashion statement, listening skills and behavior of the girls all throughout the duration of the two-hour conference.
After all these being said, it was indeed great to hear lots of speakers appreciating everyone for listening. /Stephen I. Diaz