Miss International 2016 6th Official Hot Picks
Less than a week to go before the Miss International 2016 coronation night, and the girls have done all the sponsor visits and VIP parties.  So, who has gained momentum since our last hot picks?
No. 1 right now is Miss New Zealand, the very elegant and soft-spoken Jessica Tyson whom many compare to a Disney princess whenever she appears to the crowd.  But, it's not just the physical appearance and the blonde hair that made Jessica appealing to the Japanese crowd.  We at Missosology are aware of Jessica's golden heart.  She is a woman of action, and is very active in her charity work back home.  Pageantry is just one way for her to become more influential, that is why she has been involved with pageantry since her teenage years.  Armed with rich pageant experiences, we believe that if the competition is held right not, we won't be surprised if Jess is going to win it all.
In second place, is still the unstoppable Felicia Hwang of Indonesia.  Everytime there is a hot pick, we at Missosology never run out of good things to say about Felicia.  We have to say it here, and we can say it loud: Felicia is a genuine and true person.  Whatever you see about Felicia – in videos or still photos – is what you get, and because of that, she is loved by the staff members and her group mates.  She is caring, showing the true tropical island hospitality that her country is known for.  The question now is, can she win it all?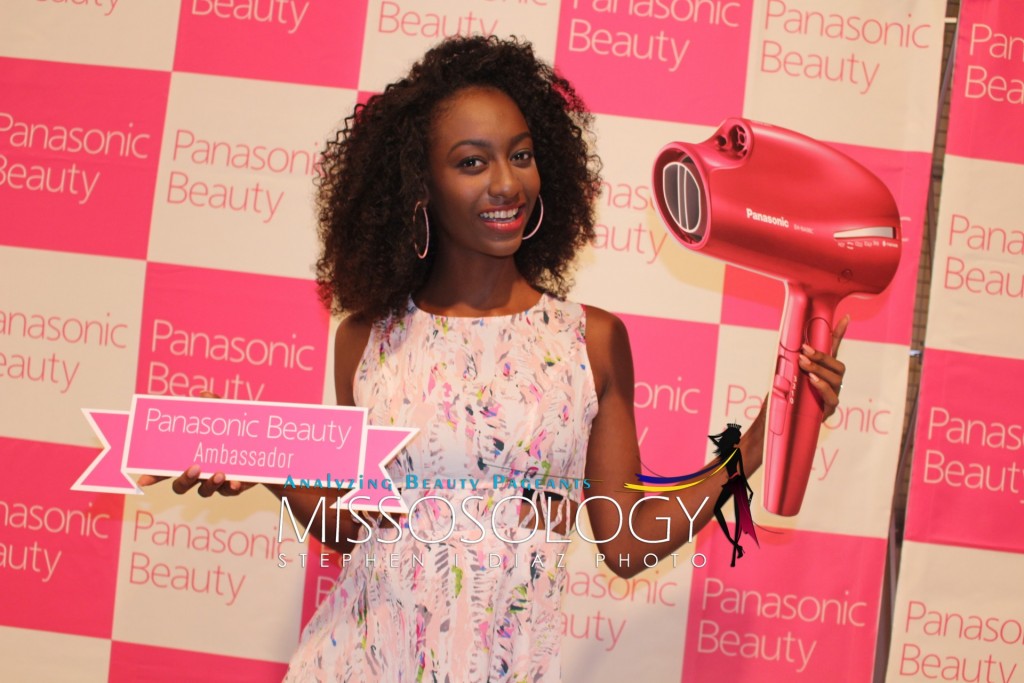 Maybe some will be surprised, but the ebony goddess from Guadeloupe, Presile Adolphe has definitely caught our attention and she zoomed up to third place!  Presile can speak English, aside from her native French.  Her overall presence reminds us of Zuleika Suarez who was Colombia's representative at Miss International two years ago, and the 1st Runner-up to Valerie Hernandez.  But Presile is the French-speaking version of the well-loved Zuleika.  She is definitely the front runner among the black beauties this year!
In fourth place is Geraldine Ponce, the very mystifying beauty from Mexico.  If only Geraldine can be as outgoing as Edymar Martinez, this would have been an easy win for her.  But, her being demure and reserved could be interpreted as being introvert, which is something that the current Miss International Organization is not looking for a winner.  Geraldine still has a few days to really prove that she can be sociable and relatable, and then we can witness the third MI crown for Mexico!
And completing our Top 5 is none other than Emilia Seppänen of Finland.  A lot of pageant fans are actually speculating that Miss Suomi organization decided to send their best bet to Miss International this year, which is the reason why Emilia, a heavy favorite to win Miss Suomi (Miss Finland) this year, was just given the 2nd Runner-up position.  That position has brought Emilia to Japan, and join in a pageant where historically, blonde Finnish girls have a better chance of winning.  Viivi Suominen was 1st Runner-up in 2012 and Mila Romppanen was 4th Runner-up in 2014, and both were blonde beauties.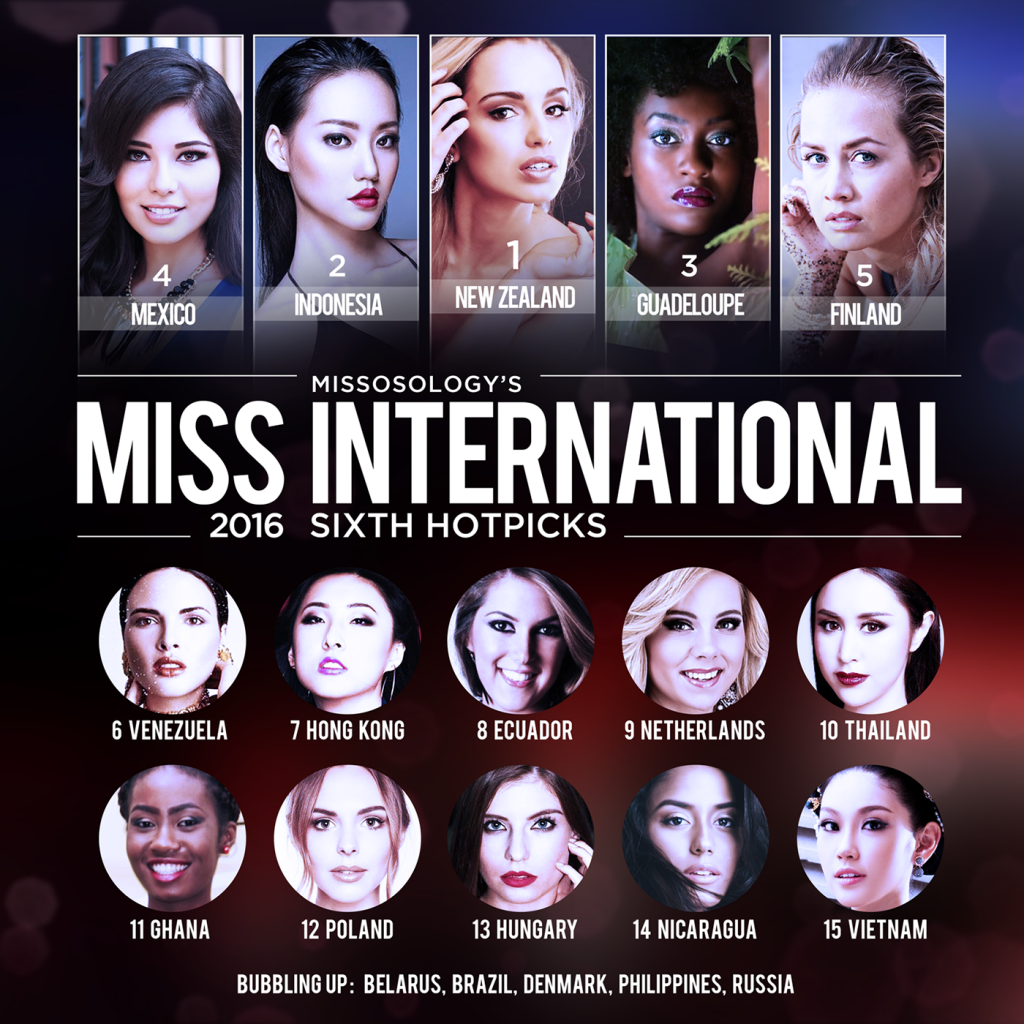 Jessica Duarte of Venezuela has remained in 6th place.  Fans in Missosology were quite disappointed when Jessica would show up with heavy make up while wearing black dress.  And with her silky white skin and jet black hair, it made her look like a character from the Addam's Family.  But in some other events, we were glad to see Jessica sporting a lighter makeup and her true beauty radiated from there.  This accomplished woman, who is actually a dentist, is actually a major favorite among the Japanese.
Hong Kong's Kelly Chan is going further up now, and is in 7th position.  What we like about Kelly is her bubbly personality and sense of leadership.  Being fluent in English and Mandarin will certainly work well for Kelly because Miss International is trying to promote Japanese tourism, and Kelly can be a great ambassador for Japan, promoting the country to the Chinese-speaking market.   As a model, she is already famous back in Hong Kong and the southeastern region of China.
Ecuador's Ivanna Abad, meanwhile, is back in our list at 8th Place.  This friendly and lovely Ecuadorian was just appointed to compete in Miss International when Bianka Fuentes gave up her title, so Ivanna may have come with less preparation but her wardrobes are always great!  Although she sometimes lacks self-confidence, she must remind herself that beauty is always in the eye of the beholder.  And she is one of the few Latinas who socializes with the staff while trying to speak in English!  We appreciate that!
Netherlands is on our list for the first time, and she is in 9th position!  Melissa Scherpen's beautiful rendition of "Ave Maria" propelled her up to the Top 10 from out of nowhere, and she has gained a lot of fans who will be rooting for her this coming Thursday.  This 19-year-old singer is well-mannered and is always polite and courteous to everyone.
Thailand's Pattiya Pongthai is in 10th place, and we cannot ignore her commanding presence everytime she walks on the aisle.  Officially, she is the tallest Asian who is competing this year, and her statuesque stance, long neck and small face represent the typical Miss International prototype.  Our only concern about her is her English-speaking ability.
Ghana's Cindy Kofie still remains to be Africa's front runner and is in 11th Place, while Poland's Magdalena Bienkowska dropped to 12th position.  She needs to have confidence in herself and fix her hair on all occasions.  The future politician from Hungary, Csillag Szabo remains in the Top 15.  Nicaragua's Brianny Chamorro, who is in 14th place, has already caught our attention with her amazing command of the English language, which was caught on video in a couple of occasions now.  Finishing our Top 15 is Vietnam's Pham Ngoc Phuong Linh, who is the current the leader of our online poll, and has been seen being called out for private interviews by sponsors several times.