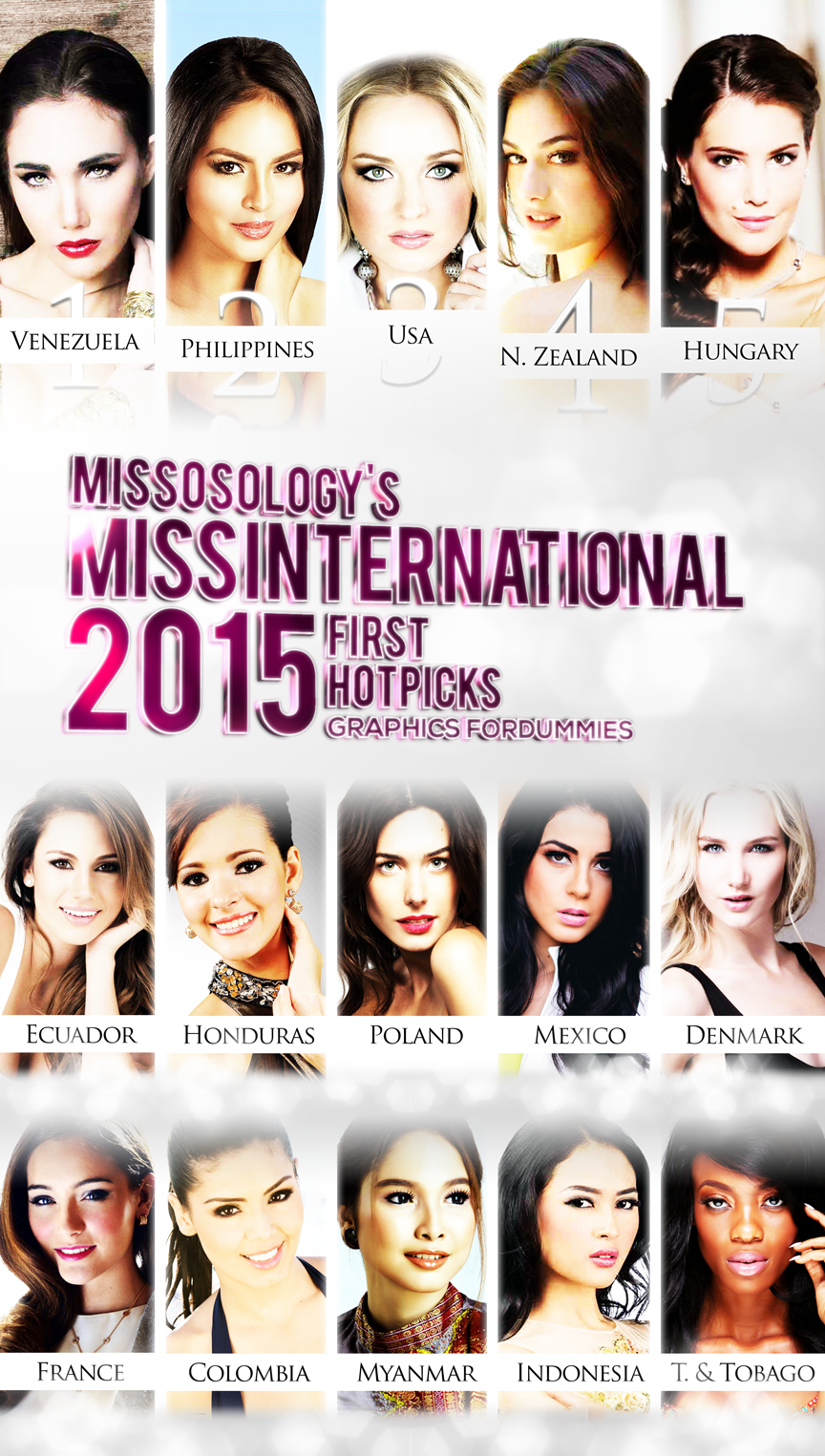 MISS INTERNATIONAL 2015
1st Official Hot Picks
First, allow us to point out that the Miss International Beauty pageant, since the acquisition of Akemi Shimomura from Hirofumi Hashimoto, has never been this interesting!  A lot of stunners and top notch delegates have been crowned, appointed and selected so far. Many have even described that this could be the year that Miss International can surpass the other BIG 4 pageants in terms of excitement and entertainment value.  But, it must also be noted that this pageant is also the hardest to predict.
Year after year, equally beautiful and stunning delegates have appeared but were simply ignored by the judges, with whom pageant experts and analysts alike have cruelly described as incompetent and "not fit for judging".  This is something that Miss International Organization should really think seriously because the success of their pageant largely depends on the acceptance of the public regarding the result, and how close they are to the predictions of major pageant websites.   A pleasant surprise is a welcome treat, but not to the extreme level.  If that happens again, another pageant year will be over and Miss International will be another forgotten edition.
So while we are all into it, let us introduce to you the "hottest" girls, so far, who are heading to Tokyo, Japan for the 55th Miss International Beauty Pageant:
1. Venezuela (Edymar Martinez) – After two consecutive years of failing to place in the semifinals, Venezuela is definitely back with a vengeance.  A top favorite to win the Miss Venezuela title last year, Edymar is young, tall and has a beauty that is strikingly captivating and is totally a level of her own.  Right at this point, there is no contestant who is close to her level.  She is the one to beat!  It will be hard to ignore this Venezuelan charmer once she arrives in Tokyo, and mind you, she is also intelligent and witty in interviews.
2. Philippines (Janicel Lubina) – Even before being crowned as Miss International Philippines, Janicel had made waves in the media for her Cinderella story which had also reached Japan afterwards.  Just like Edymar, she was a favorite to win her national pageant, but only settled for the second most important title despite winning two of the major special awards – the Best in Swimsuit and Best in Evening Gown.  This young Filipina lass has the exotic sweetness that will do well with the Japanese locals, and if the MIO will not change their pool of judges, Janicel can easily pull an upset win over Edymar at the very last moment.  After all, Japanese love sentimental stories like hers.
3. USA (Lindsay Becker) – Finally!  A blonde Miss America!!!  Well, the Japanese would call Miss USA as "Miss America" in the local language, and having a blonde beauty representing the United States simply goes well with the stereotypical "American Beauty" that they Japan is so fond of.  So yes, she is the American girl that fits the Japanese description of an American beauty queen.  Although this is simply a superficial justification of Lindsay's inclusion in the Top 3 spot, one cannot deny that Lindsay is also armed with intelligence and social skills that are well appreciated in Japan.  After all, she is a professional flight attendant, so expect her to handle everything with grace and poise even under pressure.
4. New Zealand (Hayley Robinson) – Here is another delegate who, just like Edymar and Janicel, is someone who was a heavy favorite in the national pageant but only settled for the second place spot, thus sending her to Tokyo for a showdown with other very strong contenders.  Hayley will surely make a strong showing for New Zealand, two years after Casey Radley's memorable victory in Tokyo.  Beauty-wise, she has the youthful vibrance that is favored by the Japanese taste.  Her beauty, though, is not just limited for the Japanese market.  She has this universal appeal that will work well in many regions all over the world.
5. Hungary (Linda Szunai) – When the Miss International Hungary organization had officially announced that they were appointing Linda (mind you, Linda had the initial intention of joining the Miss International Hungary pageant since last year), it came out as a big surprise.  It turned out that MIH had decided to hold a pageant last July of this year, to select the delegate for next year's Miss International (they are very serious with this!), so Linda Szunai, a former Miss Hungary and a quarterfinalist at the Miss World 2011 (Hungary's first placement at Miss World), was asked to step in and prepare for Tokyo.  She has been working very hard since then, and has expanded her learnings about Japan and Asia.  While working at the Philippine Embassy in Hungary, she has been given tips and advice by her mentors and friends on how to win the crown, which will be Hungary's first BIG 4 win, just in case.
6. Ecuador (Daniela Amijos) – Young, tall and pretty, a lot of pageant followers were shocked when Daniela did not win the Miss Universo Ecuador title early this year.  So, as the 1st Runner-up to Franceska Cipriani, she is bound for Tokyo to give Ecuador their second placement since Maria Fernanda Cornejo won the crown in 2011.
7. Honduras (Jennifer Valle) – Technically and literally, she is back!  In case most people do not know, Jennifer was expected to compete in Tokyo for the 2013 edition of Miss International.  However, the MIO was not informed that she could not compete and that Natalia Coto was sent instead of her.  Because of that, Natalia was sent back to Honduras as soon as she stepped in Narita Airport, while Jennifer's name remained at the official souvenir program.  Now, at the age of 20, Jennifer has probably gained a certain level of maturity, and we are expecting her to do well this year.  Who know, this year might just be a lucky year for her!
8. Poland (Ewa Mielnicka) – Initially, there was a little bit of confusion as to who was holding the Polish franchise for Miss International in the year 2015.   As the confusion was brought into light, and it was made clear with the official announcement of Ewa as the official Polish delegate for Miss International, many welcomed the news with gladness.  As the reigning Miss Polski, Ewa did not have the chance to compete in an international pageant, so it is great to see a reigning national beauty queen compete at the Miss International stage.
9. Mexico (Lorena Sevilla) – As the 3rd Runner-up in the Nuestra Belleza Mexico pageant, she was appointed by Lupita Jones as the Nuestra Belleza Internacional Mexico.  Although considered as a bit of a downgrade to last year's major goddess, Vianey Vazquez, Lorena is a decent follow-up and may continue Mexico's placement for the second straight year.
10. Denmark (Mette Riis Sørensen) – Just recently, Denmark held a highly publicized Miss Universe Denmark pageant where Mette was crowned as the Miss International Denmark 2015 winner.  Being one of the early favorites for the crown, many thought that Mette was meant for Miss Earth because of her intelligence and commanding stage presence.  In the MUD system, the Miss Earth Denmark title was considered higher than Miss International Denmark, but then again, it is another blessing for MI to see a blonde beauty representing the Danish archipelago.
11. France (Charlotte Pirroni) – France has appointed their Miss France 2nd Runner-up as Miss International France.  Charlotte represented Cote D'Azur at the very sophisticated and respectable Miss France 2014/15 pageant, and she is the second from her batch to be able to compete at a BIG 4 pageant this year.  The first one was Camille Cerf, who competed at the Miss Universe pageant in January this year, while Alyssa Wurtz and Hinarere Taputu will compete in Miss Earth 2015 and Miss World 2015, respectively, later this year.
12. Colombia (Natalia Ochoa) – Colombia is one of the most successful countries in Miss International and their delegate always do well especially when the pageant is being held in Japan.  Natalia, although not as charming as her predecessor, will surely be noticed in Japan.
13. Myanmar (Emerald Nyein) – It is great that Myanmar has slowly adapted to global standard in terms of selecting their delegate and Emerald is definitely the best that they will be sending since their major comeback in 2012!
14. Indonesia (Chintya Fabyola) – The very cute and exotic Chintya has several fans rooting for her at this year's Miss International pageant.  If you actually look closely at her facial profile, she looks like a Japanese manga character.  Such cuteness is indeed favored by the Japanese locals.  And also, we expect her to have a fabulous national costume!
15. Trinidad & Tobago (Avionne Mark) – We are so delighted to learn that Avionne is going to compete at Miss International!  She was great during Miss Universe 2012, and we believe that it was a shame that she did not place in the Top 15 that year.  She deserved to compete again at a BIG 4 pageant, and Miss International must appreciate this lovely lass not because of her skin color or whatnot, but simply because we believe that Avionne is a rare find!