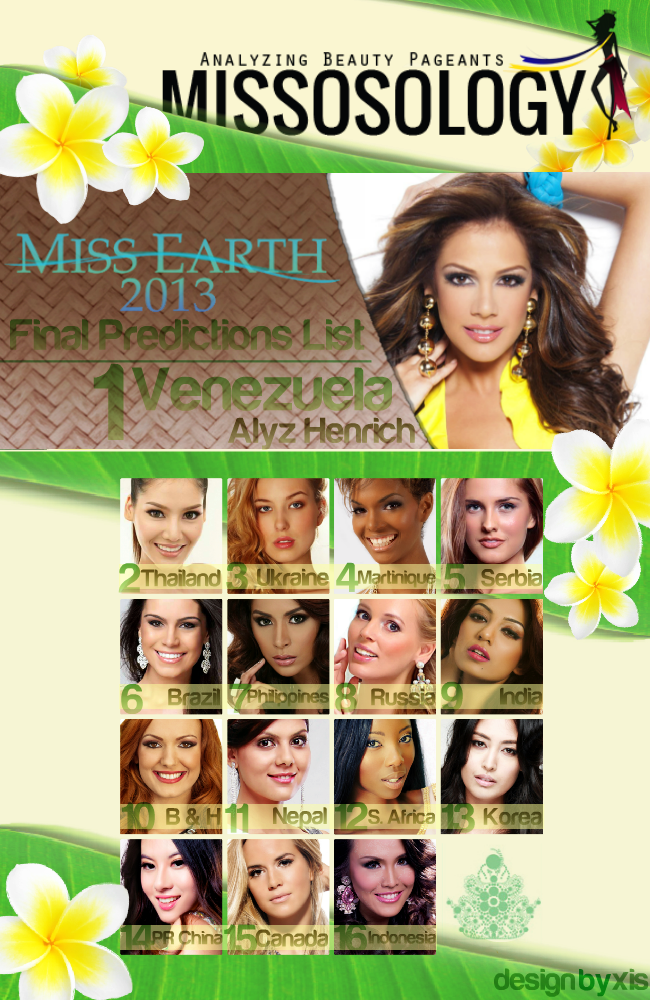 Miss Earth 2013 Final Predictions
1.) Miss Venezuela Alyz Henrich – it is expected that Venezuela will assert its dominance in the world of pageantry. Haters gonna hate but there is no denying that the second most powerful nation in the world of pageantry has sent a top notch beauty at Miss Earth 2013 pageant. She is perfect in every way. She took the gown competition by the storm and wowed everyone in the swimsuit contest. She is highly visible and clearly a top favorite. Venezuela has only won the title once and that wasn't even under the tutelage of the god of the pageantry Osmel Sousa. Pretty sure that before Osmel exits, he would want a Miss Earth crown in the bag. Alyz, being a perfect delegate, will realize Osmel's dream.
2.) Miss Thailand Punika Kulsoontornrut – Punika or Polly is a charming Asian beauty that is currently the leading contestant from the region. She is also a top fave in the pageant and could also easily walk away with the crown. She represents Thailand's bounce at the pageant after a gross injustice last year. Polly can also boast 2 gold medals and one of which was won during the resorts wear contest. She garnered numerous sponsor awards and she is simply one of those contestant that are genuinely concern in helping out and promoting the pageant's advocacy.
3.) Miss Ukraine Anastasia Sukh – The winner of the swimsuit contest will be a formidable opposition to all contestants dreaming the crown. Anastasia is already a favorite even before she set afoot in the Philippines, a head turner when she arrived, a highly praised contestant during the prelims and will surely win so many hearts come finals night. She has a body to die for and truly a drop dead gorgeous blonde.
4.) Miss Martinique Rani Charles – Martinique has almost clinched the title back in 2004 and with Rani, the French overseas department has a lot to hope for this year. Rani is one of the applauded contestants. She is bubbly and has a good rapport to her fellow contestants and to the public as well. She exudes confidence and very much comfortable onstage. Miss Earth will need this kind of queen who can spell out the organization's advocacy clearly.
5.) Miss Serbia Andjelka Tomasevic – one of the most angelic faces in the pageant that could easily change everything at the finals night is Andjelka. She is a gorgeous, very glamorous, very supermodel-like contestants that could easily take it all.
6.) Miss Brazil Priscilla Martins – Priscilla represents a nation that has a very heavy sash weight at the pageant. Brazil is a force to contend with at the pageant and it is very consistent in sending world class beauties. Pricilla represents that Brazilian strength and could easily be in the Top 4 or even walk away with the third title for her country.
7.) Miss Philippines Angelle de los Reyes – the host country is very much well represented this year with a very articulate, intelligent and confident contestant. Angelee is a manifestation of the Philippines' golden era in the world of pageantry which is ongoing right now. She is shapely, she is genuine and while some people don't consider her beauty as one of the best in the pageant, she is actually gorgeous in person.
8.) Miss Russia Olesya Boslovyak – Olesya is another contestant to watch out for because she can easily change the dynamics of the race. Up close, this girl is angelic and simply divine. Her Russian beauty shines through all the time.
9.) Miss India Sobhita Dhulipala – Sobhita has the entire nation of India behind her in her quest to take the second title for India. She represents the comeback of a nation that was once feared in pageantry. After winning the fan vote at Miss Photogenic and Miss Eco-beauty, Sobhita's confidence is boosted and she will definitely unleash that charm and intelligence that allowed India to become a superpower nation.
10.) Miss Bosnia and Herzegovina Vera Krneta – Vera is another Slavic beauty making waves at the pageant. She is one of the favorite beauties at Miss Earth 2013 for being shapely and this red-head is has a killer smile and magnetic eyes.
11.) Miss Nepal Rojisha Shahi Thakuri – one of the underrated contestants in the competition, she surprised everyone by clinching the silver the crucial gown contest. Watch out of this beauty as she could easily be in the Top 4!
12.) Miss Korea Catharina Choi – the truth is, Catharina is not just your conventional Korean beauty. She is very gorgeous up close and she has that aura of elegance and sophistication. This Korean beauty could easily shine at the finals night.
13.) Miss South Africa Ashanti Mbanga – also an underrated beauty, she is actually of the favorites and she won several gold medals prior to the finals.
14.) Miss China Lisa Xiang – a talented Chinese beauty that is not being talked about but could pull a last minute surprise.
15.) Miss Canada Sofiya Chorniy – she was a top fave prior the arrivals but she kind of fading at the competition. Nevertheless, one can't deny that she is one of the beautiful faces in the competition. Expect a good comeback for Sofiya.
16.) Miss Indonesia Nita Sofiani – one of the gorgeous looking beauties from the Asia-Pacific region, Nita will sustain the Indonesian momentum at the Big4 pageants. She has a lot of fans and a lot of hardcore supporters in town. She also won a gold in national costume contest and various sponsor awards.