by Forémalogy
Welcome to another edition of forémalogy – the study of the gowns. Let's take a look at the gowns of Miss Earth winners. Below is the photo of Miss Earth 2007 Jessica Trisko, Miss Earth 2010 Nicole Faria, Miss Earth 2011 Olga Alava and Miss Earth 2012 Tereza Fajksova. In what way that their gowns are all similar? Pretty obvious isn't it? Their gowns are all in white – the symbol of purity and cleanliness in the Western world.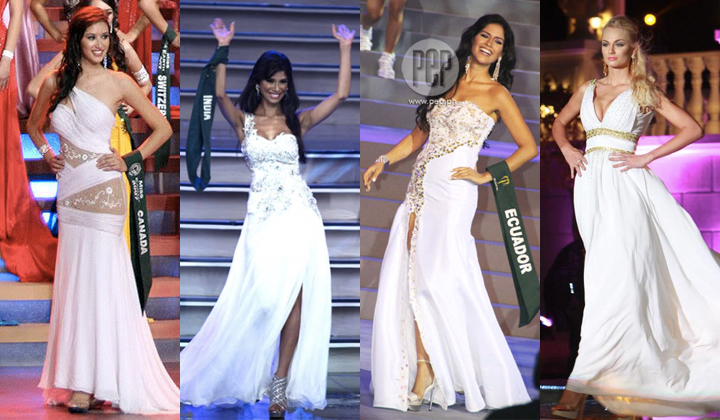 Now, let's have another set of winners in here. Check out the gowns of Miss Earth 2013 Alyz Henrich, Miss Earth 2006 Hil Hernandez, Miss Earth 2008 Karla Henry and Miss Earth 2009 Larissa Ramos. In what way they are similar? Perhaps you may notice that they have revealing necklines but that's not the real answer. Can you see what I mean? All of these gowns have flowing skirts and all of these four winners twirled their skirts during the gown competition!

What can we learn from these? Well, gown for starters, is a crucial element in determining the Miss Earth winner because there is a dedicated segment for it. Thus, it should help the National Directors to understand that flowing gown skirts and of white color is the right gown for a Miss Earth contestant based on the trend above.
However, Miss Earth is a pageant that does not really delve deeply into the gown. It is more about the girl. Even if the contestant is wearing a white gown with flowing skirt, she must learn to be comfortable with it and of course she must rock on the stage before she can have a rightful claim at the crown.