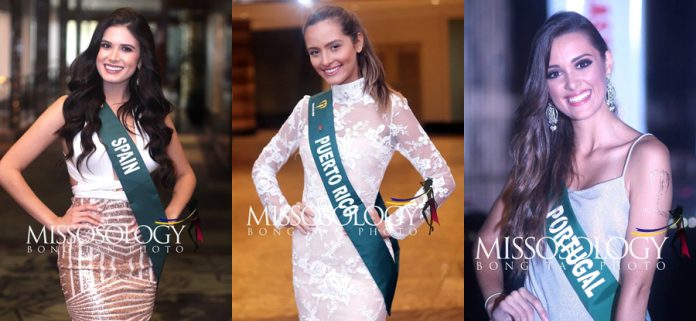 Miss Earth 2018 has finally kicked off and the contestants were divided into three elemental groups. The Air Group were presented at the Pan Pacific Hotel Manila while the Fire Group were presented at Diamond Hotel and the Water Group at Century Park Hotel.
Based on the reports of our editors, correspondents and Chief Photographer Bong Tan, this year is a tough fight with a lot of strong contestants. Miss Poland Aleksandra Grysz is arguably the most beautiful of them all. Miss Puerto Rico Krystal Xamairy, Miss Spain Carolina Jane, Miss Serbia Nina Jovanović, Miss Ukraine Anastasiia Kryvokhyzha, Miss Korea Su-hyun Song, Miss Mexico, Miss Philippines Celeste Cortesi, Miss Guam Emma Sheedy, Miss Peru Jessica Russo, Miss Crimea Ksenia Sarina and Miss Chile Antonia Figueroa are considered as frontrunners.
Miss Portugal Telma Madeira has a very pleasing personality and she gave this Demi-Leigh Nel Peters vibe so we need to watch out for her as she could be Portugal's first ever Miss Earth winner. Miss Spain and Miss Puerto Rico also exuded great personality. They are not just beautiful outside but inside as well!
For now, our panel of experts are betting on Miss Spain and Miss Puerto Rico but the dynamics of the game can easily change. The women participating in the pageant must prove that they will be effective environmental advocates and must show their sincerity to the cause of mother nature.
Miss Earth is pretty much unpredictable but we will soon update our Hot Picks. Meanwhile, check out the photos of the candidates taken at their respective hotels when they were presented to the press. Note that some of the contestants are yet to arrive in Manila.
Texts by Ric Galvez – @the4ofustraveling
Photo by Bong Tan/Missosology.Org – @bong.tan