The search for the next Earth Warrior is officially on amid the Covid-19 pandemic, with the Miss Earth season kicking off with the "Earth Talks" sessions on September 21.
The Miss Earth pageant is marking its 20th year with a virtual competition, the only Big5 pageant to push through this year. Despite that, the contest has attracted a lot of stunners this year once again proving its relevance.
USA's Lindsey Coffey leading our First Hot Picks is a no-brainer. This 28-year-old model and political science graduate is hoping to become the USA's first Miss Earth winner. With her beautiful face and gift of gab, it looks like the crown is in the bag for the United States.
Giving Lindsey a run for her money is Australia's Brittany Dickson. This animal bioscientist and brain cancer survivor and ambassador joined the Miss Earth Australia pageant thrice before finally bagging the crown. Her dedication and story are proof that she is in the game to win the game.
Fan-favorite Estrella Danieri of Argentina is not far behind at third. This 21-year-old model and entrepreneur is ready to give Argentina its first Miss Earth crown. With that stunning face and a great team supporting her, winning that crown is within reach.
Rounding out the Top 4 for now is pageant veteran Tessa le Conge of the Netherlands. This 26-year-old communications graduate and Miss Asia Pacific International 2016 winner is ready to add another international title under her belt.
Also worth noting are Venezuela's Stephany Zreik and the Philippines' Roxanne Allison Baeyens who are both highly equipped to bring their respective powerhouse countries back to the Top 4. Stunning Gwenivere Ifeanyieze of Nigeria will surely give Africa a great chance to win the title, while beautiful Krystal Badillo of Puerto Rico has big shoes to fill as she vies for a back-to-back. Aside from them, Teeyapar Sretsirisuvarna is back as Thailand's representative.
Check out the full list below:
1 USA, Lindsey Coffey
2 AUSTRALIA, Brittany Dickson
3 ARGENTINA, Estrella Danieri
4 NETHERLANDS, Tessa le Conge
5 VENEZUELA, Stephany Zreik
6 NIGERIA, Gwenivere Ifeanyieze
7 PHILIPPINES, Roxanne Allison Baeyens
8 PUERTO RICO, Krystal Badillo
9 THAILAND, Teeyapar Sretsirisuvarna
10 PANAMA, Anayansi De Gracia
11 INDIA, Tanvi Nitin Kharote
12 BELARUS, Mariia Reznyuk
13 INDONESIA, Safira Ramadhanti Rumimpe
14 COSTA RICA, Kelly Avila
15 SOUTH AFRICA, Lungo Katete
16 MYANMAR, Win Lei Lei Naing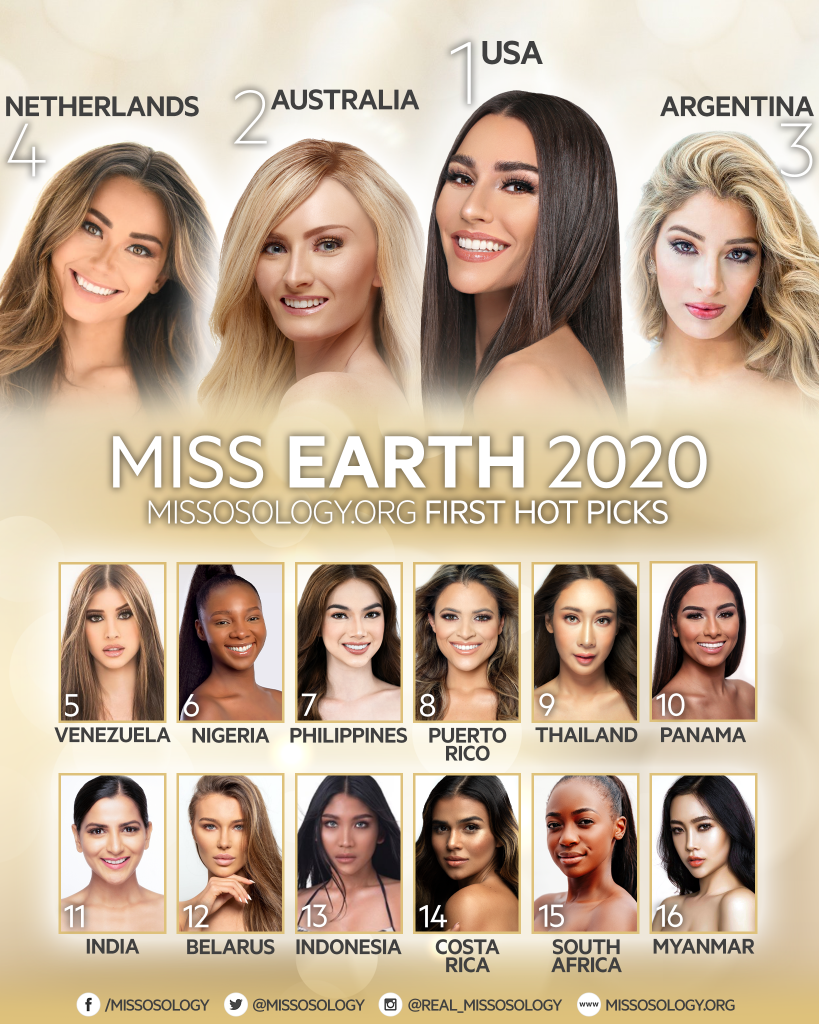 Follow Missosology's social media pages for more updates. Missosology.Org