We are just a month away from the crowning of the next Earth Warrior who will embody the Miss Earth pageant's ethos of "Beauties for a Cause".
With each candidate busy not only with pageant preparations but also in promoting their respective advocacies, it is high time to reveal our initial power rankings!
It is a no brainer why India's Tejaswini Manogna is leading our First Hot Picks. The 23-year-old gifted prodigy has one of the most impressive credentials among this year's delegates. She is is a doctor, Bharatanatyam dancer, Carnatic vocalist, yoga practitioner, sports person, motivational speaker, philanthropist, and a medal-winning NCC cadet. But more than her impressive portfolio, she has the face and the pageant experience, too. It looks like India has finally found the lady who will succeed their first Miss Earth winner, Nicole Faria.
In second place is pageant veteran Emanii Davis of the USA. The 25-year-old environmentalist and future school counselor from Georgia is finally representing her country in a Big5 pageant after two runner-up finishes in other national pageants in 2016 and 2017. Her strong stage presence and gift of gab should be used to its fullest potential.
Another top contender is Puerto Rico's Nellys Pimentel. After struggling to place in the Miss Earth semis the past years, it looks like the island has found a gem. Nellys is in all aspects ready to win the crown for her country. With her strong stage presence and stunning face, she will definitely be up there come finale.
Rounding out the Top 4 for now is another pageant veteran, Alisa Manenok from Belarus. Her experience in Miss International 2016 (Top 15) and World Beauty Queen 2018 (winner) will come in handy when she competes in the Philippines next month. Her effortless charm will definitely bring her closer to the crown.
Check out the complete list below:
1 INDIA Tejaswini Manogna
2 USA Emanii Davis
3 PUERTO RICO Nellys Pimentel
4 BELARUS Alisa Manenok
5 GHANA Evelyn Appiah
6 COLOMBIA Yenny Katherine Carillo
7 VIETNAM Hoàng Thi Hanh
8 NETHERLANDS Nikki Prein
9 CHILE Fernanda Mendez Tapia
10 NEW ZEALAND Tashan Kapene
11 CZECH REPUBLIC Klara Vavruskova
12 SPAIN Sonia Romeo
13 SIERRA LEONE N'Jainatu Sesay
14 NEPAL Riya Basnet
15 DOMINICAN REPUBLIC Yasmin Evangelista
16 BELGIUM Caro Van Gorp
17 VENEZUELA Michell Castellanos
18 PHILIPPINES Janelle Tee
19 GUAM Cydney Shey
20 BRAZIL Maria Batistel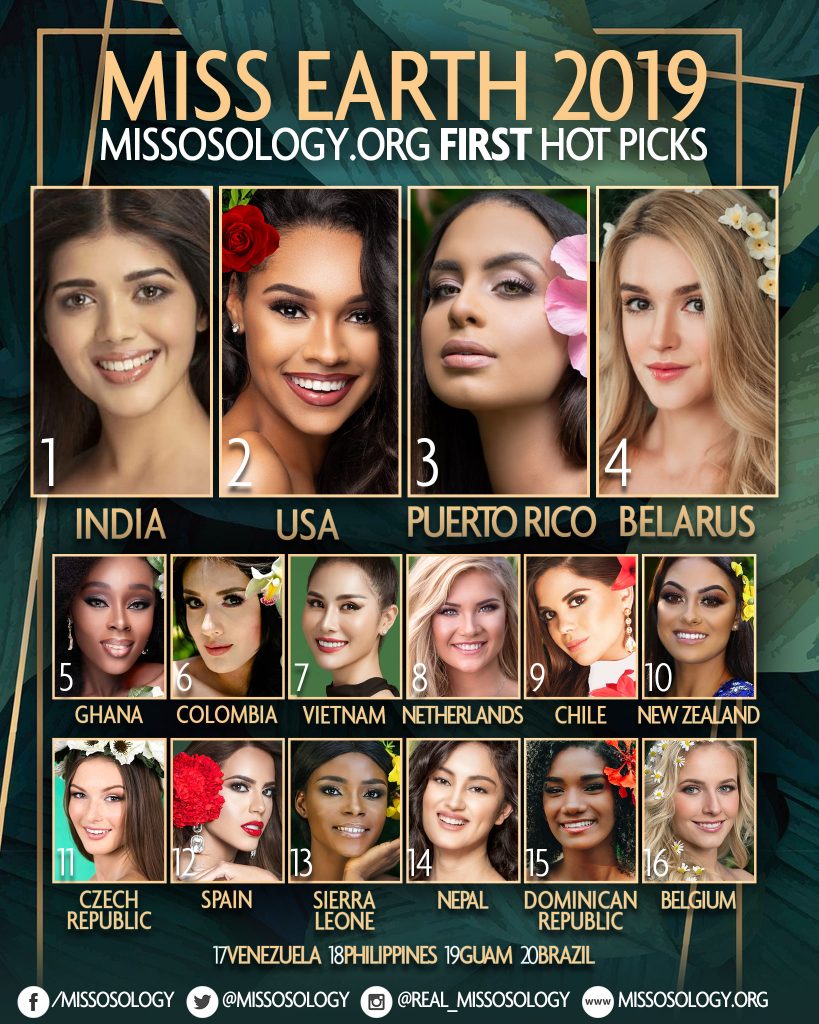 Follow Missosology on social media for regular updates on the Big5 and other relevant pageants:
FACEBOOK: www.facebook.com/missosology/
TWITTER: www.twitter.com/missosology
INSTAGRAM: www.instagram.com/real_missosology