La candidata del estado Lara, Ninoska Vásquez, fue coronada Miss Earth Venezuela 2017, la madrugada de este lunes en el salón Tamanaco, del hotel Tamanaco Intercontinental. El cuadro final quedó compuesto por Miss Tierra Fuego fue Miss Cojedes, Miss Tierra Agua fue Miss Mérida, Miss Tierra Aire fue Miss Nueva Esparta.
The representative of the state of Lara, Ninoska Vasquez has been crowned as Miss Earth Venezuela 2017 in the early hours Monday in an event held in the Tamanaco Gall of Tamanaco Interncontinental hotel. Completing the Top4 are Miss Cojedes who was crowned as Miss Earth Fire, Miss Merida who was named Miss Earth Water and Miss Nueva Esparta who is Miss Earth Air.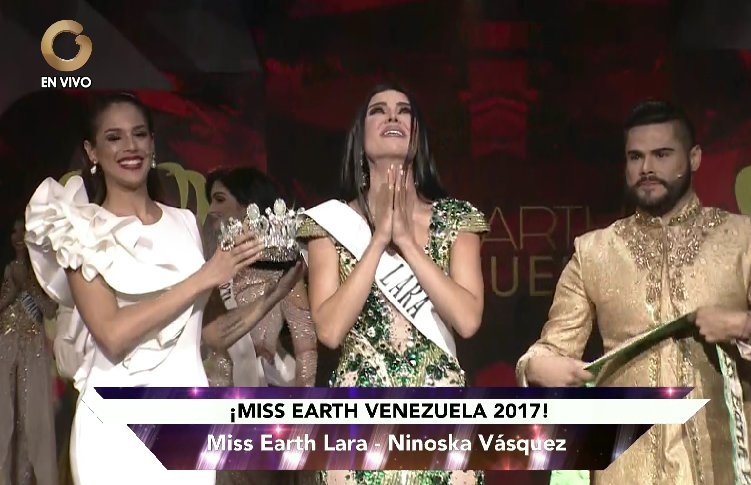 Ninoska Vásquez fue coronada por los directores del certamen,Prince Julio Cesar y Alyz Henrich. Conducido por la animadora estrella de Venezuela, Maite Delgado, comenzó el Miss Earth Venezuela 2017 por la pantalla de Globovisión. En un espectacular opening, con las 26 candidatas y un cuerpo de baile, se dio inicio al certamen, siendo Rocío Higuera la encargada de dar la bienvenida a la audiencia. El dúo zuliano San Luis puso la primera nota musical de la noche.
Ninoska Vasquez was crowned by the owners of the contest – Prince Julio Cesar and Alyz Henrich. Led by the star host Maite Delgado, the Miss Earth Venezuela 2017 formally opened and aired on the Globovision channel. The spectacular opening saw 26 candidates dancing at the start of the competition with the host Rocio Higuera welcoming the audience. The Zuliano duo San Luis provided the opening music of the night.
Ninoska Vásquez competirá en el desfile Miss Earth 2017 a finales de este año, que se celebrará en Filipinas.
Ninoska Vásquez will compete at the Miss Earth 2017 pageant later this year which will be held in the Philippines .