We are just two weeks away from the much anticipated Miss Earth 2019 coronation night. With the pre-pageant competitions happening each day, some delegates have started to cement their "front-runner" statuses in the competition.
It shouldn't come as a surprise that Ghana's Evelyn Appiah is topping our second hot picks. This stunner is probably the hottest candidate right now after bagging two gold medals in the resort wear adnd talent competitions. Evelyn is one of the most consistent ladies in terms of styling and overall packaging. It is very evident that she has trained and studied her every move for this pageant. It's high time for another woman of color to wear the Miss Earth crown and Evelyn would be an incredible choice.
Not far behind is last hot picks' number 1, India's Tejaswini Manogna. The pre-arrival favorite is living up to all the expectations. Despite not bagging a medal yet, Tejaswini has impressed fans and the media during the press presentation last week. It's no surprise given her good communication skills and charming personality.
From sixth place, Colombia's Yenny Katherine Carillo is now occupying the third slot. This lady continues to wow everyone, especially when she arrived in Manila. She is definitely a show-stopper, and is most likely to give her country another Top 4 finish in the competition.
Rounding out the Top 4 (and still occupies the same spot) is Alisa Manenok from Belarus. She is undeniabley one of the most beautiful faces, if not the most beautiful, in this year's competition. But more then just the looks, she also has the heart for the cause and the dedication to bring it to fruition.
Check out the complete list below:
1 Ghana | Evelyn Appiah
2 India | Tejaswini Manogna
3 Colombia | Yenny Katherine Carillo
4 Belarus | Alisa Manenok
5 Puerto Rico | Nellys Pimentel
6 USA | Emanii Davis
7 Czech Republic | Klara Vavruskova
8 Spain | Sonia Hernandez
9 Philippines | Janelle Tee
10 Venezuela | Michell Castellanos
11 Ukraine | Diana Shabas
12 Vietnam | Hoàng Thi Hanh
13 Netherlands | Nikki Prein
14 Portugal | Bruna Silva
15 Indonesia | Cinthia Rani
16 Poland | Krystyna Sokolowska
17 Fiji | Zaira Zureen Begg
18 Cambodia | Thuong Mala
19 Nigeria | Modupe Susan Garland
20 Belgium | Caro Van Gorp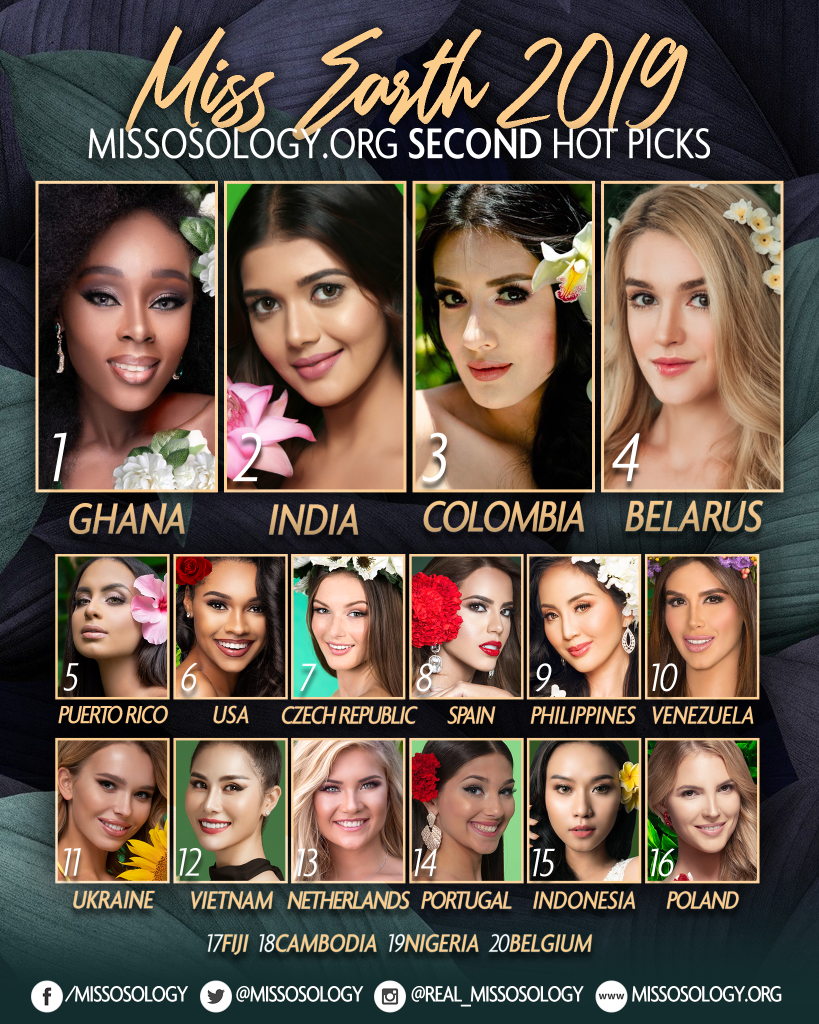 Follow Missosology on social media for regular updates on the Big5 and other relevant pageants:
FACEBOOK: www.facebook.com/missosology/
TWITTER: www.twitter.com/missosology
INSTAGRAM: www.instagram.com/real_missosology