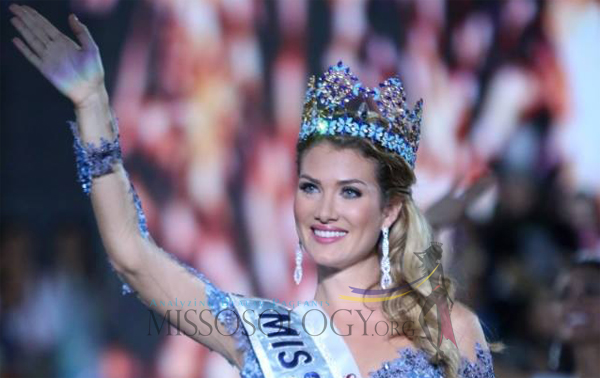 It seems like winning the Top Model challenge sealed the deal for Miss Spain Mireia Lalaguna Rozo but it was a result that caught many pageant experts off guard. Nevertheless, as Spain's first ever Miss World, Mireia made history today by winning the coveted blue crown.
Many Latinas were largely ignored including the superpower Venezuela. India, which is also a Miss World heavyweight did not make the cut as well. Good news for Indonesia as this is its highest placement ever at the pageant. In overall, the Southeast Asian region did well as they are the prominent in the Top 11.
Held in an open air amphitheater in Sanya, China, the pageant was marred by political manoeuvrings of communist government which made sure that Canada's representative, a vocal critic of China's human right violation, will never be able to compete. If there is any consolation, at least the local delegate did not make it past the Top 21. However, the vocal countries with territorial spat with China – Vietnam and the Philippines – made it to the Top 11. Vietnam was the people's choice and the winner of the World Designer Award.
Complete results as follows:
Miss World 2015: Spain – Mireia Lalaguna
1st princess: Russia – Sofia Nikitchuk
2nd princess:  Indonesia – Maria Harfanti
Top 5
Jamaica – Sanneta Myrie
Lebanon – Valerie Abou Chacra
Top 11
Australia – Tess Alexander
France – Hinarere Taputu
Guyana – Lisa Punch
Philippines – Hillarie Parungao
South Africa – Liesl Laurie
Vietnam – Trần Ngọc Lan Khuê §
Top 21
Brazil – Catharina Choi
China PR – Yuan Lu
Ecuador – Camila Marañón
Kazakhstan – Regina Vandysheva
Netherlands – Margot Hanekamp
New Zealand – Deborah Lambie
Northern Ireland – Leanne McDowell
Poland – Marta Pałucka
Scotland – Mhairi Fergusson
South Sudan – Ajaa Monchol