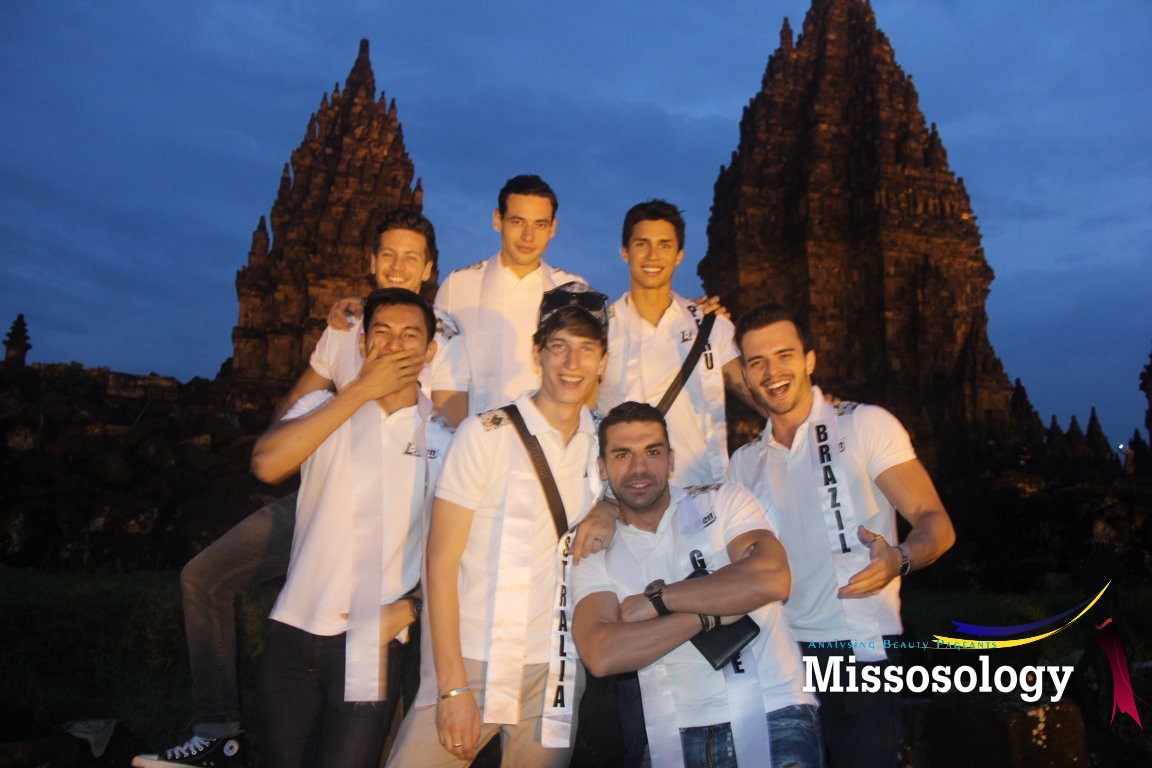 To kick off the beautiful rainy day in Yogyakarta – the cultural heart of Java, the Mister International 2013 contestants were brought to one ancient Javanese store/house to learn how to make Batik. The very handsome Mister Czech Republic who bought "batik" for himself said "You may think that you own batik clothes while it's actually just a printed batik motif clothes. From my experience of learning the batik making process, you'll realize that it takes a lot of effort to make it and it changed my point of view about it.
Each of the candidates were given their own patterns and they were given a rare chance to personally learn the process which can take a minimum 3 months up to 1 year to get the good quality batik. Mister Thailand who truly enjoyed the whole creative process said, "They explained to us the writing process of a batik from zero step until the batik is colored and finished. Then we understood why batik is included in UNESCO world heritage intangible asset."
Just a few minutes' drive north of Yogyakarta's commercial center is a very large compound of Hindu temples which provides a great view of Gunung Merapi, the active volcano in Jawa Tengah. The contestants had great privilege to set foot on the stunning ancient temple complex in Central Java which is constructed from volcanic rocks. The Prambanan looks imposing and serene, ornate and intricate. Mister Puerto Rico who was taken aback with the majesty that is Prambanan said: "The guide for this visit was very helpful. The stories, humor, and local context made the experience a lot more memorable and I grabbed the opportunity to take lots of photos."
Mister Spain was also in total awe of Prambanan. "It has been the highlight of my Javanese adventure so far," he said.
Although Borobudur normally takes centre stage, the Prambanan temple complex is also another historical site worth visiting for the candidates. Considered as the largest Hindu temple in Southeast Asia, Prambanan was believed to have been built in the 10th century. The temple complex consists of three main temples – Vishnu, Brahma, and Shiva temples – which symbolizes the Trimurti in Hindu belief.
As if it weren't enough, the contestants also watched a spectacular show based on Ramayana, telling the ancient story of prince Rama and his beautiful loyal wife Sita. Since it was raining, the performances were held in a roof-covered theater. Throughout the show, all contestants were literally glued to the Indonesian unique style of music, art, costumes and the convoluted story lines. Mister Sri Lanka, who was truly fascinated with this piece of Indonesian culture said: "The stage show & the dancers' attire catch my attention. I can say I had never seen anything like it."
All these were made possible by L-Men. Access their official site for more snaps: http://www.misterinternational2013.com
Countless of photos from this event! Access the photo gallery here: CLICK THIS LINK
Countless of photos from this event! Access the photo gallery here: CLICK THIS LINK