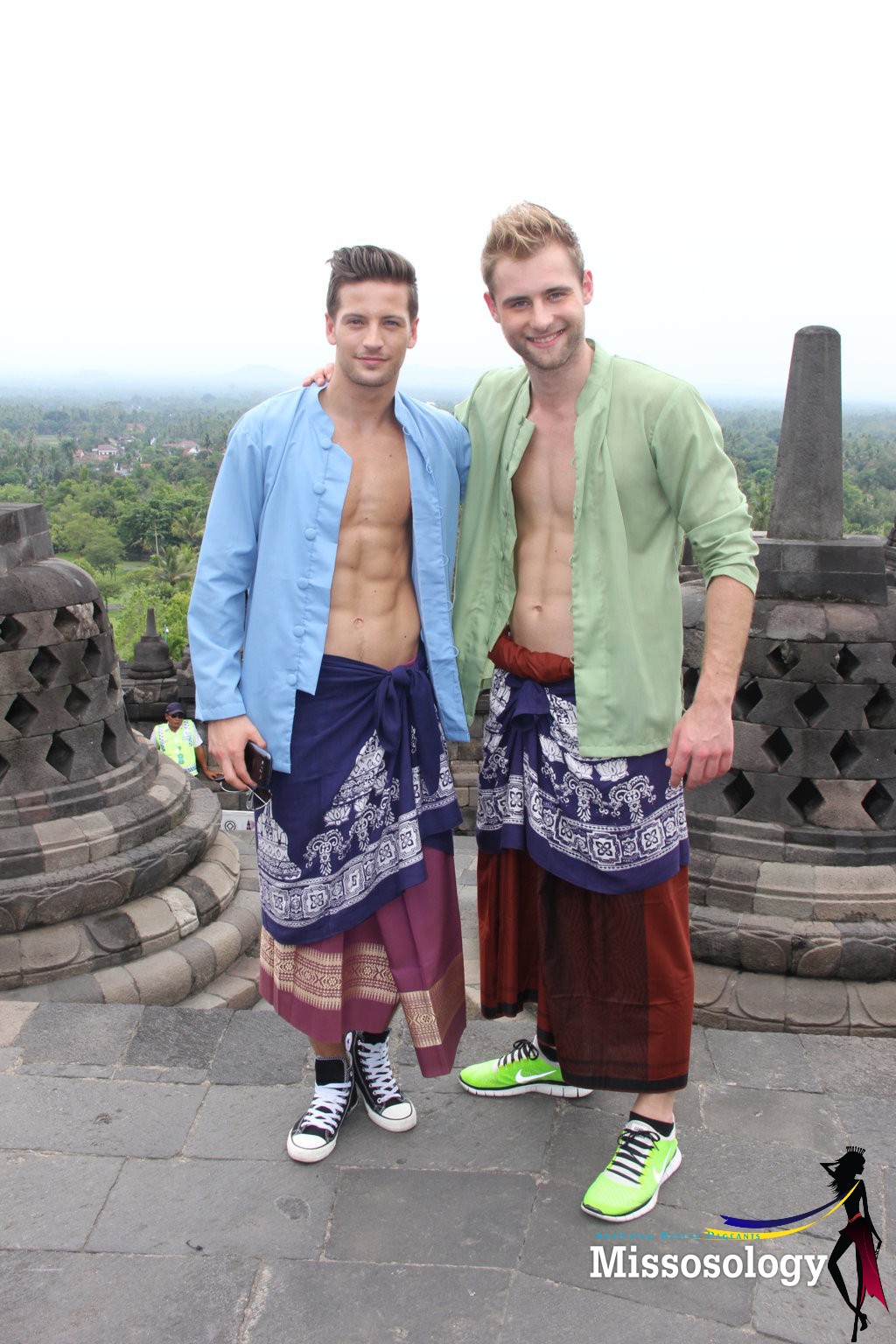 This alone is a reason to visit Indonesia – Borobudhur. The Mister International 2013 contestants have traveled thousands of miles not just to compete for one title but also to experience the beauty of a predominant Muslim country. The L-Men group has offered all of them many things to love about Indonesia, but the trip to Borobudhur Temple on Java Island – one of the 7 Wonders of the world, is simply the best.
All contestants were made to wear a sarong. Mister Turkey said upon contemplation, "I found it interesting that this amazing Buddhist structure has been sustained by a predominant Muslim community. Somehow the thought of 2 religions co-existing in this way is amazing.
Mister Russia got speechless when he reached the peak of the temple. "It is so peaceful, full of breezes & it feels like being in heaven on earth," he said.
Borobodur is a 9th century Mahayana Buddhist Monument in Central Java, Yogyagarta said to be the single most frequently visited tourist attraction in Indonesia. Mister Australia, Danyon Edwards who is currently working for Facebook said "It's amazing that we are able to travel to another country to visit an ancient wonder of the world." The entire Mister International organizers and L-Men staff surprised the birthday boy from the land of down under amidst the loud cheers & birthday wishes from his co-candidates.
Right after exploring the Javanese treasure, all contestants saw the amazing view of green fields of Jogja's countryside through a horse and carriage.
Mister India, Hukupa Thuluo who felt so privileged with the experience said "With an incredible view of mountains that transport you back to rhythm of old Java, I must say that this is really a special place.
All these were made possible by L-Men. Access their official site for more snaps:
http://www.misterinternational2013.com
Countless of photos from this event! Access the photo gallery here: CLICK THIS LINK

Countless of photos from this event! Access the photo gallery here: CLICK THIS LINK