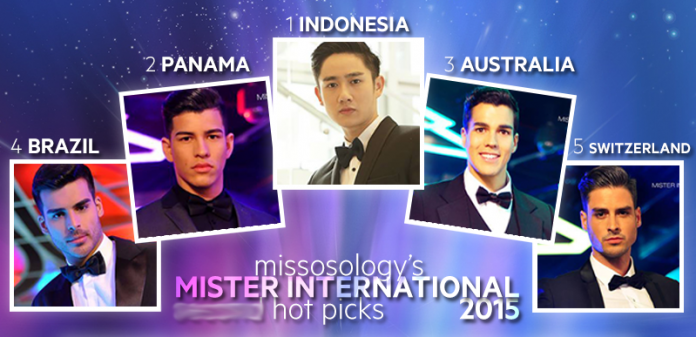 From the sumptuous meals, to scenic spots and a grand national costume show, the Mister International 2015 candidates surely had the time of their lives in Ilocos Norte.
The activities in the province made a major impact in our rankings. Before the last phase of the pageant commences, we present to you our third hot picks.
We have three new entries in the top 5 and they are leading the pack at this stage.
Indonesia's Kenny Austin is proving to be a major contender in this batch. Aside from the obvious good looks, he is very accommodating with fans (in fact he's one of the most applauded in the national costume show).
Panama's Julian Torres is also giving a good fight. This dancer always wears his winsome smile. He has great stage presence, too!
Australia's Chris Nayna could pull off a huge surprise come finals. He definitely knows how to play the game and he is nailing it. Great stage presence and sex appeal, plus his impressive communication skills could work to his advantage.
Check out the full list here:
Indonesia – Kenny Austin
Panama – Julian Javier Torres
Australia – Chris Nayna
Brazil – Aderson Tomazini
Switzerland – Pedro Mendes
Puerto Rico – Fernando Álvarez
Czech Republic – JakubKraus
Venezuela – Rafael Angelucci
Poland – Rafał Jonkisz
Dominican Republic – Freds Rivera
Spain – Daniel Barreres
Lebanon – Farid Matar
Belgium – Karim Setta
Sweden – Ivan Djelević Virriat
Philippines – Reniel Villareal
Almost there: Colombia, India, Mexico, Italy, Singapore